Welcome to my Book Store.
All of my books are available in a number of formats and can be bought exclusively online.
Traditional paperback copies can be ordered exclusively online. Orders are printed on demand and delivered in 2-3 days. Order in bulk to reduce the postage and packing costs!
You can read the book immediately in PDF format on your computer, laptop or mobile. All you need is a free copy of Adobe Acrobat reader installed on your device.
If you don't have a Kindle or Apple device, you can read them in e-book format by install free e-book reading software to your laptop or computer when you make your purchase.
For paperback, PDF and ePub formats go to my Store on Lulu.
All my books are also available to buy in Amazon Kindle format. If you don't own a Kindle, but you do have an Amazon account, you can buy and read them via the free to install Kindle App on both Android and Apple mobile devices.
For Kindle formats, please visit my Amazon Sales site.
Here is my price list and you can browse and purchase from each book's synopsis further down the page.

Sam Plank's Disco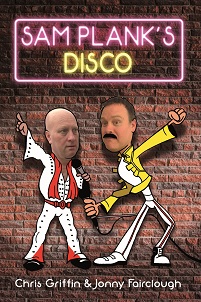 Everybody loves a good play on words, and famous quotes, or lines from famous songs, offer great opportunities to deliver a cringingly corny pun or two. 
Down at Sam Plank's Disco, DJs Jonny and Griff spin the vinyl, happily singing along to a very eclectic set list from a wide range of artists; from Sinatra to Madonna, The Stones to The Beatles and Sir Cliff to Sir Elton. 
Yet, it seems that Griff and Jonny have only the most tenuous grasp of the correct lyrics to all of these songs. Don't tell them they're wrong though, because they have a very detailed – if barely convincing – story to fully explain their bizarre version of the lyrics. 
Sam Plank's Disco is guaranteed to make you groan and giggle in equal measure – assuming you can work out the lyrics, that is. And if you can't, then the we've helpfully provided the answers at the back of the book.

A.R.S.E.D! Following A Failing Football Fan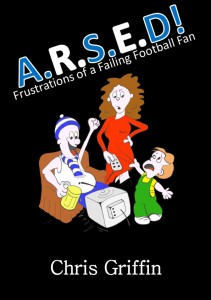 There comes a time in a man's existence when a wife, child, career and mortgage should take priority over travelling the length and breadth of the country watching his beloved Wigan Athletic, sitting in front of the TV watching any old football match that happens to be on and spending the rest of his waking hours immersed in his fantasy football competition. Griff reached that point in his life some time ago.
So why is he quite happy to give up a lucrative job in the South of France and fly home to uncertain job prospects at the height of the biggest global financial crisis to hit the world since the Great Depression of the 1920s?
Why does he attempt to lie, cheat and con his way out of his domestic and parenting duties simply to watch Shrewsbury Town play Gillingham on TV? And why on earth does he have such an unhealthy obsession with the fortunes of Manchester City's Emmanuel Adebayor?
Find out in A.R.S.E.D!, as we follow a failing football fan.
Virgin Parents – What It Doesn't Say On The Tin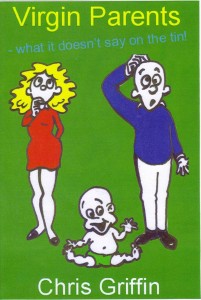 Helen and Chris are not stupid people. So, when they learned that they were going to have a baby, they knew that their lives would change forever and that they would have to acquire many new skills.
What they didn't fully appreciate was the extent to which their lives would change, or how many new things they would have to learn, nor how quickly they would have to learn them. And all this with little or no help from other people.
Neither did they have any idea how their social lives and TV habits would be transformed beyond all recognition.
Follow their adventures from the conception to contraction and beyond. You never know, if you are a Virgin Parent yourself, you may even learn something useful along the way.