We're always doing something at work for charity even though, to be fair, it's often for our own Home Instead Senior Care UK charity, the Bring Joy Foundation. And no, I make no apology for giving it a blatant plug here. After all, "it's my story and I'll plug if I want to" as Lesley Gore or Barbara Gaskin might well have sung in the dim and distant past. Anyway, back to the charity stuff, this week, for example, there was a fund-raising bake-off which meant that – yet again – the office kitchen was awash with cakes, pies, meringues and all manner of diet-sabotaging goodies.
As we considered the effect these cakes would have on our collective weight-loss campaigns, we all agreed that it was acceptable for the diet to suffer provided that we were doing our bit for charity. It was at this point that a colleague, a lady of French origin, announced that she was about to "try" being a vegetarian and wondered if she should get herself sponsored for that to raise even more money for the Foundation.
I questioned what was so special about playing at being a vegetarian for a month or so that would encourage people to actually stick their hand in a pocket and give her some money. She argued, quite reasonably, that it wasn't so much that she going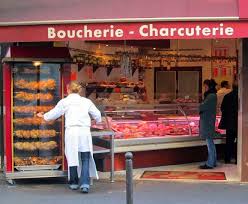 veggie that was so impressive, it was more the fact that a French person was giving up eating meat that was so extraordinary. They love their meat, do the French, you see. She likened it to me giving up fish and chips for a month. Now, obviously, one doesn't obtain this svelte-like figure by eating fish and chips all the time so that doesn't really apply to me personally, but I took her general point about the Brits in general.
It did get me thinking about what things other nationalities would have to give up, or stop doing, saying or thinking before it became anything like news-worthy. So, with apologies in advance for trotting out a whole raft of lame, nationalistic stereotypes, let's see how many people I can offend in one 1100-word blog. I just hope that the Unsubscribe button and the Facebook likes don't get too much clobber.
"And now, it's over to the International desk for some breaking news from our overseas cultural correspondent…."
… in Paris today, Julien Grenouille, a 56-year old French civil servant, took just thirty-minutes for his lunch break, during which time all he ate was a sandwich and a packet of crisps he had brought with him from home. For the rest of the day he sat working quietly at his desk without taking the usual four, twenty-minute smoke and coffee breaks. On leaving the office at five o'clock, he did not meet his mistress in a hotel for two hours before going home to his wife and kids, nor did he blockade any ports or shrug his shoulders or curl his lip in protest at the recent EU decision to dismiss the French government's request to celebrate Eric Cantona Day every 25th January on the basis that the eighteen public holidays already enjoyed annually by the Gallic nation is amply sufficient.
… in New York today, Chuck Fastfoodberger, a 36-year old sales manager for a multi-national freight forwarding company, drove to work without stopping off at Starbuck's on the way for a large cappuccino and cream cheese bagel. He parked his car on a Walmart car park next door to the Starbuck's restaurant which was a good half a mile away from his place of work and completed the rest of the journey on foot. As he arrived at his company premises, the security officer on duty not courteously open the door for him, Chuck did not say "thank you" fourteen times consequently eliminating the need for the guard to repeat the words "you're welcome" fourteen times, too. During his lunch break, Chuck took an internet geography quiz and correctly identified the names and locations of all the countries of Europe.
… in Glasgow today, Willie McBitterentwisted, a 67-year old retired docker from the Govan district of the city went to Hampden Park today to watch his beloved Scots' football team take on the auld enemy,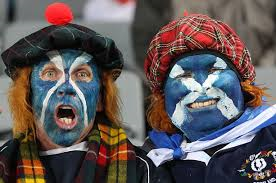 England, in a European Championship qualifier. Pre-match, Willie enjoyed a cheese and ham salad for lunch, washed down with some delicious cranberry juice. He arrived at the stadium in good time to join in a hearty rendition of God Save The Queen before politely applauding the far superior English team who comfortably won the game, running out 5-0 winners. Back in the city centre afteb the match, Willie did not have a fried Mars bar washed down with eight pints of Heavy, nor did he bestow the Glasgow kiss on any passing, celebrating Englishmen. Tomorrow, Willie says that he plans to vote conservative in the General Election.
… in Sydney today, Bruce Sheelberitemate, a 23-year old beach bum from Wagga Wagga, showered and dressed in a formal suit and proper shoes before traveling by bus, not skateboard, to an office where has recently started a real job. He took part in three conference calls throughout the day during which he did not sneakily watch any of the English Premier League footy highlights from last night. When a colleague in the firm's London office emailed to ask if it was still compulsory to have a criminal record to enter Australia, he simply smiled and made no smart-arsed comment whatsoever. After not booking a holiday to Bali, Bruce left work at 6:30pm, walked straight past the pub on the way to catch the bus back home stop, threw no shrimps on his Barbie in the backyard, nor did he later watch a re-run of a Kylie Minogue gig or take in six back-to-back episodes of Prisoner Cell Block H.
… and finally, in England today, Dick Head, a 31-year old Manchester United fan, born, bred and still living with his mum and dad in Chelmsford, Essex, boarded the 07:37 train into Liverpool Street station. On the train, he vacated his seat and offered it to a heavily pregnant lady and then engaged in idle chit-chat with complete strangers. On arrival in the city, Dick took a cab, the driver of which did not think he owned the road, nor was the world's leading expert on all matters relating to British social and political life. At lunch-time, Dick went to see a doctor for treatment for a totally trivial condition without having made a prior appointment. He then did not spend the rest of the afternoon sharing memes of Jeremy Corbyn and alleged ISIS terrorists on Facebook and Twitter or in a lengthy email debate with his male colleagues rating all the girls in Marketing on a scale of 1 to 10.
See you in the real world – Griff