Given that it's Easter and its association with fluffy bunny rabbits, plus the likely imminent arrival of a new pet chez Griffin, I have dedicated this week's 5-4-Friday to all things animal. Well, not quite all things animal; some subjects are simply not suitable even for this blog. I have some standards, after all. They are pretty low standards, granted. Lower than a snake's scrotum, in fact. But they are standards, nonetheless.
Stop the pigeon! – Many of the more regular readers of this blog do so to hear stories about Wigan Athletic. I
have therefore managed to dredge up a Latics-related animal story without even mentioning lame ducks or donkeys. In the last game of the 2002/2003 season, with promotion to the Championship already secured, the end of season party against Barnsley was threatening to turn into the dampest of squibs until a pigeon landed on the pitch. It positioned itself on the edge of the Wigan penalty area in the huge gap between Ian Breckin and Matt Jackson. It stayed there for the whole match, showing much better and more intelligent movement than Nathan Ellington did at the other end. Goalkeeper John Filan spent most of the second half in an ultimately vain attempt to catch it. Disappointingly, the game's sponsors failed to award the pigeon the man of the match accolade. It was the best non-Latics player performance seen at the stadium that season, apart from an empty packet of Walker's Smokey Bacon crisps that turned up one Saturday and swirled  around the centre–spot, unchallenged, for the whole ninety minutes.      
Attack dog – When I was five we got a dog, a border collie called Shandy. Apparently, we only got the dog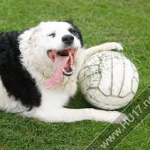 because I insisted on it. This holds water, of course, because as a five-year old, I clearly got to make all the key decisions in our family at that time. Although I liked the dog, it was a pain in the arse, particularly as it interrupted our football kick-abouts on the nearby school field. It got to the stage where my mum would lock it in the shed whenever we went out to play but somehow, magically, by the time we got to the field, it was already there, waiting for us. It took me a few years to twig that she simply let it loose once we had disappeared around the corner. Within seconds of the game starting, the dog would tackle one of us and run off with the ball. It was lightning fast, an excellent dribbler but had no concept of passing or team play. It's been dead for years, but I think it has re-incarnated itself as Ian Bentley and now turns up regularly at our Thursday Night Football.                
Snakes (and budgies) alive? –  As a kid growing up in Wigan, if we weren't out playing football then we
would be out riding our bikes. A favourite haunt for us was the patch of overgrown waste ground at the top of Broadway in Hindley at its junction with Sandy Lane. One day, a huge squeal alerted us to an apparently interesting find. As we furiously pedalled over, the first to arrive at the scene shouted that they had found a snake. For me, a snake should not be viewed close-up unless it is in a zoo and behind a thick panel of plate glass. Consequently, me and my bike made a U-turn quicker than a Lib Dem minister, and so I never actually saw the snake in the skin, so to speak. Through the mists of time, I have started to doubt the whole story, and it may well have been apocryphal. It's a bit like the one about our next door neighbour who accidentally hoovered up the family budgie while cleaning out its cage and promptly buried it in the garden. However, the poor thing was only stunned and, apart from coughing up little bits of soil for weeks, it was perfectly fine once we had dug it up. Again, this might be an urban myth, but surely even our family wouldn't make that one up and then repeat it regularly for the next forty years?   
A load of old bull – As a kid growing up in Wigan, if we weren't out playing football, or riding our bikes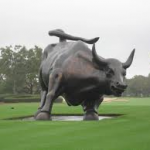 we would be playing golf. Andy Charleston and I spent almost every day of every summer holiday playing golf at Great Lever golf club in Bolton. Playing the 4th hole one day, Andy drove his ball out of bounds into the farmer's field on the right. His provisional drive went down the opposite side and as my tee shot had also flirted with the out of bounds on the right, it was left to me to climb into the field to retrieve his ball. I searched around for a while without success and shouted to Andy to give me a line of sight on where he thought his ball might be. He said nothing, but as he pointed vaguely in the direction over my right shoulder. I could see his shoulders shaking. On further inspection, I could see he was laughing uncontrollably. Turning to look towards where he was looking, I saw the object of his mirth. It was a huge bull – a snorting, angry and charging bull, which was, by now, a mere fifteen to twenty yards shy of impaling me on its not inconsiderable horns. This was around 1980, so for those that remember the athletes of the day, I covered the thirty or so yards that separated me from the safety of the fairway quicker than Alan Wells and cleared the barbed wire fence more easily, though perhaps less gracefully, than Daley Thompson would have done. We left Andy's Penfold Ace golf ball behind, as a peace offering to the bull.             
Cat cruelty – When my nephew was around five or six, he was obsessed with Star Wars.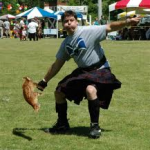 He would play for hours on end with his Star Wars figures, re-creating scenes from the films on the lounge carpet. I was at their house one day watching him do this, and was amused by the fact that the cat, Garfield, kept walking past and knocking the figures over. I was equally impressed with my nephew's patience, however, as he calmly put everything back in place every time she did this, without complaint. I was on my way into the kitchen to tell my sister about this remarkable show of control and restraint, when the air was pierced by a terrible feline scream. I turned back just in time to see the cat fly though the air and hit the lounge wall, flung there by my nephew, whose patience had clearly now expired. A few weeks later, the cat was found in the washing machine amongst the sheets. Fortunately, it was spotted before the cycle started. To this day, we have no idea how it got there, although I have my suspicions. For the record, my nephew now loves animals – or so it it says here.           
Happy easter, enjoy! – Griff