I suppose if I had teeth that could eat an apple through a letterbox like Luis Suarez, I might be tempted to show off my talents to the world too. I would probably stick to the apple and letterbox trick though, rather than sinking my gnashers into an equally obnoxious Chelsea player's arm like he did last Sunday, especially if the world has already seen you take a chunk out of PSV Eindhoven's Otman Bakkal just a couple of years ago. There's a certain delicious synergy in the footballer with the horse's teeth being something of a one-trick pony when it comes to footballing bad behaviour. I am reluctant to give Liverpool FC and its fans any further opportunity to play the victim card and so I have omitted Suarez from the following Bad-Boy Footballer roll of dishonour. That still leaves me with a big field from which to select, but I suspect most of you would have gone with more or less the same five names that I have plumped for, given the choice. Anyway, see what you think.     
Zinedine Zidane – at some point in the future I will undoubtedly write a "5 Favourite Footballers"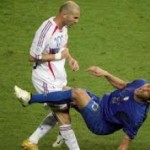 and Zidane will feature heavily in that as he is my number one favourite player of all time. I'd prefer not to include him in a bad-boy list at all but, for his one moment of madness in the 2006 World Cup Final, he deserves to be included. In response to a throwaway, and not very cutting comment about his sister, Zizou recklessly head-butted the talentless Marco Materazzi, was sent-off and promptly ruined France's chance of winning the trophy. I have a character flaw that means my first instinct is always to try to defend my heroes.  For Zidane, my defence is this: he was brought up in the Castellane district of Marseille. I worked in this district myself for two years. It is an absolute shit-hole, an area that is rougher than Ghandi's feet. I only had to spend four days a week working in the place, and so I can only imagine what it must have been like to actually live there. Given his impoverished upbringing, I think Zidane had every right to have been angry. God bless, Zizou!           
El Hadji Diouf – there aren't many people that I dislike intensely but El Hadji Diouf is one of them.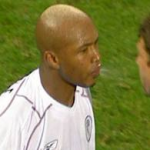 I never saw the attraction in him as a footballer, and whilst a player's ability is a totally unreasonable basis on which to dislike someone as a person, it hasn't stopped Wigan fans from hating Jordi Gomez. It is widely accepted that one of the nastiest, most despicable crimes to commit on a football field – anywhere, for that matter – is to spit at another human being. Diouf has collected spitting victims like other players collect international caps. He has spat at West Ham fans, Celtic fans, a young Middlesbrough fan and, worst of all in my book, he spat in the face of ex-Wigan saint and all-round hero, Arjen de Zeeuw. He is the luckiest man alive that 'Arry is such a decent human being that he refrained from murdering him, there and then. Neil Warnock, no first-choice dinner party guest himself, labelled him a sewer rat.  Oh, and he once told a ball-boy to "F*** off, white boy" because he had the temerity to throw the ball back to him a little too vigorously. Lovely chap.   
Eric Cantona – it isn't a really big stretch to guess that King Eric would be included in this list. He would qualify by most people's yardstick for his infamous attack on Matthew Simmons at Selhurst Park in 1995. However, Cantona was no angel in his early days as a footballer in France, either. As a Marseille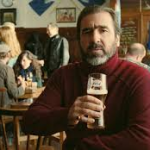 player – there must be something in the water in that city – he threw a tantrum in a game against Torpedo Moscow, kicking the ball, and throwing his shirt, into the crowd, for which he was banned for a month. This was in addition to previously receiving a three-month ban for a wild tackle on a Nantes player and enduring a brief ban for throwing his boots into a team-mate's face whilst on loan at Montpellier. Playing for Nimes, he was charged for throwing the ball at a referee. At the subsequent disciplinary hearing, he was given a one month ban which was immediately increased to two months as he walked up to each member of the panel in turn to call them an idiot. Genius! To be honest, I can accept most of this bad behaviour on and around the field of play – particularly the kung-fu kick on the Palace fan, as there are some real annoying idiots in football crowds who deserve much more than they normally get – but I have to draw the line at his Thunderbird-esque acting in those current Kronenbourg ads on TV. For those performances alone, he deserves to be on the list.       
Roy Keane – I've always had a soft spot for Roy Keane since the day he played for Nottingham Forest and scored the first goal at Villa Park when I had a tenner on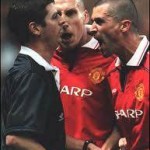 him at 20-1 to do just that. He was never able to do much wrong for me after that and, to be fair, although he was an extremely aggressive and combative player, he was never in the Cantona or Diouf league for outrageous behaviour. OK, he stamped on Gareth Southgate, walked out on the Irish world cup squad, elbowed Jason McAteer in the face – yes, and? – then deliberately clattered Alf-Inge Haaland, a crime he freely and unrepentantly admitted to in his autobiography. Despite all these offences, he was always a player who I would rather have on my team than lining up against me. That was, however, until he bad-mouthed the Wigan Athletic ticket office team because he turned up to try to pay on the day for one of the biggest matches of the season without being on the club's client database. He was heavily disguised, to maintain his anonymity, yet still accused the ticket office staff of ignorance and incompetence for not recognising him. Berk!   
Joey Barton – and last, but by no means least, we have the absolute gobshite that is Joey Barton. He received his first red card playing for Manchester City against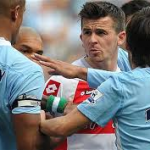 Tottenham for arguing with the referee at half time. From there, his rap sheet grew ever more serious and deteriorated rapidly. He sparked a ten-man brawl in a friendly against Doncaster, he stubbed out a cigarette in a City youth team player's eye, he ran over a pedestrian in Liverpool, he assaulted a 15-year old Everton fan on a pre-season tour to Thailand, he received a four-month suspended prison sentence for assaulting team–mate Ousmane Dabo and was arrested and subsequently sentenced to a six-months jail term for attacking and knocking unconscious a member of the public outside a McDonald's in Liverpool City Centre. Playing for QPR in the last match of last season at Manchester City, with Rangers possibly needing a draw to stay up, he contrived to get himself sent off in the 55th minute for elbowing Carlos Tevez – yes, and? – before stamping on Sergio Aguerro and attempting to head-butt Vincent Kompany on his way off the field for an early bath and tweet. He was banned for twelve games and, in order to get some football, was shipped out abroad on loan to… yes, you guessed it, Marseille! Allez l'OM! – the home of the footballing thug!
Enjoy the weekend, Griff