It's Easter time and, given that we live in a world that is obsessed with social media, commercialism, materialism and celebrity, I think it is sometimes easy for us to lose sight of the true meaning of Christian religious festivals like Easter and Christmas. I wonder how many of us actually realise that the real reason we celebrate these holiday periods is… because, with not one, but two, bank holidays straddling the weekend, you can take loads of time off work without it eating in to too much of your precious annual leave entitlement.
Actually, Easter is really just like any other normal long, bank holiday weekend these days. For example, Asda is mobbed with panic-buyers on the Thursday because it will be shut for all of 24 hours before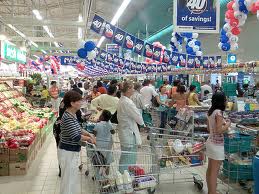 opening again on Saturday. At which point, it will be mobbed again as they are shut on Sunday for, yep, another 24 hours. What do people do on Friday with all that stuff they only bought on Thursday that means they have to raid the shelves again on Saturday?
Easter was different back in the day, though. Most of the weekend was a virtual shutdown, especially on Easter Sunday. Nothing was open, nothing at all, apart from churches. We weren't allowed to play amateur football matches on the Sunday and even the professional game didn't schedule any of its fixtures on that day. Sky's money put an end to all that, of course, and here are a few other old Easter traditions that seem to have fallen by the wayside in recent times.
Easter outfit – growing up as a young catholic lad, Easter in our house was more about the spiritual side, as you might expect. Not only did we have to go to an extra-long mass on Sunday, but there was another service to endure before that on Good Friday. And all you got by way of recompense for this torture was a new, smart Easter outfit that you were forced to wear on both occasions. These days, forget getting new clobber, Easter appears to be a sort of pseudo-Christmas given the plethora of presents that kids receive. And, not forgetting, a Happy Easter card for everyone. Those definitely didn't exist when I was a kid.
Rivington Pike – We used to walk from Hindley Green – and other parts of Wigan – up to Rivington Pike on Good Friday. I don't know why, really. I'm sure that there were plenty of people who did this as some kind of homage to the walk up to Calgary but, in our case, I am fairly convinced it was just an excuse for a few sneaky illicit cans of Kestrel lager and an opportunity to cop a cheeky feel under the bridge across the M61 motorway. I don't think it is something that happens much any longer. The walk up to Rivington, I mean.
Southport Pontin's – To brass bandsmen and women, Easter was always known for being "Pontin's weekend". It was a huge brass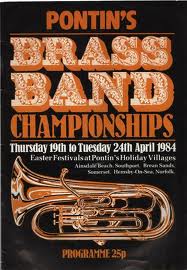 band competition held at three Pontin's sites across the country with the best bands qualifying for the finals weekend in Prestatyn in November. There were four days of competition with the 4th section playing on Friday, then the 3rd, the 2nd and ending with the Championship section on the Monday. For years I played at a sufficiently poor standard to ensure that my performing duties were all done and dusted by Friday tea time. This meant that the euphonium could be locked up in the Southport chalet (nope, no euphemism there, kids!) and we would get right royally clattered for the rest of the weekend. And, provided you were prepared to cram yourselves into an 8-berth chalet, at about £15 per head from Thursday to Tuesday, it was a very cheap do, too.
Fish and Chips – Talking of Friday tea time (look closely at the paragraph above, I actually was) all us good Catholics used to have fish for tea on Good Friday as meat was strictly off the menu. Theoretically, you were supposed to fast entirely, though I doubt that anyone outside of the Vatican City actually did that. So, we compromised by having fish. Until Chinese and Indian takeaways, McDonalds, KFC and Pizza Hut came along that is, and then the fish-only diet seemed to go for a burton, just like the Rivington Walk. Incidentally, look out for a new feature coming soon to www.chrisgriffinsays.co.uk to be called 5-4-Tea, based on the concept of the traditional Wigan Friday night chippy tea – fish dish, or otherwise.
Wigan v St Helens – At the risk of upsetting my fellow Wigan Athletic fans, 3pm on Good Friday (for those who weren't showing off their new Sunday outfit at mass, at least) was all about the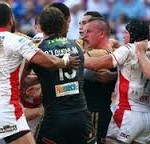 traditional rugby league derby between Wigan and Saints. Once I was old enough to make my own decision about not going to mass, that's where I was to be found. Well, what self-respecting thirty year-old, recently freed of his religious obligations, wouldn't have been? Especially as it was one of the only places you could get a beer at that time on Good Friday. Sadly, the rugby league's acceptance of the Sky shilling, and the emergence of Wigan Athletic as a half-decent, half-successful football team, seems to have reduced the importance of this fixture. Still, Latics are at home to Reading tomorrow at 3pm, so no real harm done.
See you in the Sullivan Bar! – Griff