I can probably rattle off every FA cup final result from 1970 through to 1990 without even pausing for breath. At a push, I could probably give you ninety per cent of the scorers too. From 1990 onwards the sequence of winners gets a bit hazy, due to a combination of me growing up (a bit), alcohol poisoning and succumbing to the general apathy that has developed towards the world's oldest and most famous club football knockout competition in recent times. However, there is no doubt that Wigan Athletic's imperious march to this year's final against Manchester City has re-ignited the fire of enthusiasm for the old trophy, certainly in God's good borough of Wigan. Here are the five FA Cup finals from history that resonate specifically with me. I'm sure you all have other, equally treasured memories of past finals.
1972, Arsenal 0 Leeds 1 – The first final of which I have any recollection at all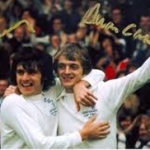 was the 1971 2-1 victory for Arsenal over Liverpool, though the first one I took any real notice of was the following year, the Centenary final. Arsenal were in the final again, this time against Leeds, the team I supported as a very young boy. My favourite players were Alan 'Sniffer' Clarke and Peter Lorimer (pictured) and it was Clarke who proved to be the match-winner in the fifty-third minute, scoring with a diving header from a low Mick Jones cross. Jones dislocated his elbow just before the end and had to be helped up the steps to the royal box to collect his medal. Not that I cared, my beloved Leeds United (well, they were at that time) had won the FA Cup for the first time in their history.      
1973, Leeds 0 Sunderland 1 – Another year on, and Leeds were back at Wembley.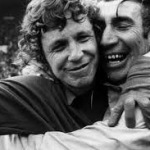 This time, not least as cup holders, they were the overwhelming favourites to beat Sunderland, unexpected finalists from the Second Division. However, what transpired that day was to become one of the biggest FA Cup upsets of all time. Ian Porterfield scored what proved to be the winner on the half-hour and, with the Mackem's goalkeeper, Jim Montogmery, performing miracles to keep Leeds out, Sunderland held on to win. Resplendent in beige mac and red tracksuit bottoms, manager Bob Stokoe danced a hideous jig of delight on the hallowed turf at the final whistle. I didn't see this because, five minutes before the end, I repaired with my football to the back garden wearing my full Leeds kit, complete with sock tags, to take my mind off the impending defeat and, I admit, to shed a couple of eight-year old's tears. It is the only time I have ever left a football match early – apart from Wigan away at West Ham about ten years ago when we were getting battered 4-0 and there were strippers awaiting us in the Flying Scotsman near King's Cross station.           
1981 Replay, Manchester City 2 Tottenham 3 – I have only actually attended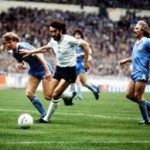 two FA Cup Finals in person – very soon to be three, of course – the last one being the 1999 final when Manchester United secured the second part of that famous treble by beating Newcastle 2-0, in what was a fairly dull encounter. My first final was the 1981 replay, contested by Tottenham and Manchester City, the one hundredth FA Cup final and the first ever replay to be held at Wembley. The original game ended 1-1 and Andy's dad somehow got tickets for the replay on the following Thursday night. We hung about all day at the factory in Rochdale where his dad worked – I think we were supposed to be working too – and then drove down to Wembley. None of us were City or Spurs fans, couldn't care less which team won and, as such, could watch the game in a fairly relaxed manner. We were lucky enough to be sat directly behind the goal to witness Ricky Villa score what has been nominated many times as the best ever FA Cup final goal. Well, it was alright, I suppose. Pretty ordinary defending actually, if you want my honest opinion    
1988, Liverpool 0 Wimbledon 1 – Fifteen years on from the biggest ever FA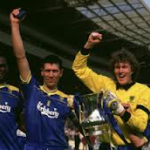 Cup final upset, plucky little Wimbledon (where have we heard that patronising moniker before?) had the chance to replicate Sunderland's 1973 giant-killing act when the when they faced the mighty Liverpool in the 1988 final. Nobody gave the "Crazy Gang" a prayer and who would with Vinny Jones, Lawrie Sanchez and that horrible little snot, Dennis Wise, in their ranks? Yet, for all the perceived gulf in quality and class between the two sides, it was the South London upstarts who emerged victorious. The scowling Sanchez scored with a looping header after half an hour or so and, to put the tin hat on it, that horrible epitome of Scouse-ness, John Aldridge, had a penalty saved by Dave Beasant. Oh, how I laughed! Suffering the ultimate indignity, Aldridge was substituted after an hour and wasn't seen again until he emerged with his two brothers in a Harry Enfield sketch. Let's hope that Carlos Tevez or Sergio Aguerro or Edin Dzeko or Samir Nasri or Yaya Toure suffers a similar fate against Ali Al Habsi on Saturday. Oh, and thanks to the Liverpool fans misdemeanours at Heysel a few years earlier, Wimbledon were denied the right to experience the joys of European competition the following season.    
1991, Notts Forest 1 Tottenham 3 – The most recent FA Cup final that I can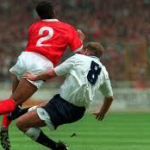 recall getting remotely excited about was the 1991 final between Spurs and Nottingham Forest. Paul Gascoigne had threatened to make that year's competition all his own by playing a starring role in every round of the cup, culminating in a magical performance in the semi-final against old rivals Arsenal. Gazza scored with 400-yard free kick, if you believed some of the over the top press reports of his performance, and generally bossed the game from start to finish. By the time the final itself came around he was more seriously wound up dangerous, more so than an Afghan exchange student with a bulging rucksack. He kicked Garry Parker in the chest in the opening few minutes and hacked Gary Charles in two a matter of minutes later. The referee failed to send him off but Gazza's knackered cruciate knee ligaments would have saved him the bother anyway, as he left the scene on a stretcher and in tears – again. Old Golden Bollocks himself, Gary Lineker, had a penalty saved just like Aldridge had three years earlier but at least avoided a starring role in a Harry Enfield sketch and went working for the BBC instead. The unflappable Des Walker scored an own goal to gift Spurs the trophy and the Forest manager, Brian Clough, got off his face on whisky to drown his sorrows. Probably.   
No own-goals on Saturday please, Wigan – we have had quite enough defensive howlers for one season, thank you very much.
Enjoy the weekend – Griff