I wrote last week that the football transfer window is usually an opportunity for Wigan Athletic to rectify mistakes made in previous transfer windows.  This year was definitely no exception as the Latics laid on a shuttle bus from Manchester Airport to the DW Stadium to save money on taxi fares for all the comers and goers. .
There are two main schools of thought as to why Wigan are so poor this season and why relegation in May is looking more and more like a certainty. One theory is that the manager is bobbins, a man who clearly has lost any kind of football credibility he ever had because he called someone a chink. The other is that, for whatever reason, players who were once heroes of the Wigan fans no longer wish to play for the club and/or manager or are deemed no longer good enough to do so.
The manager, Malky Mackay, clearly reckons it is Answer B as he has shipped out a large number of – allegedly – high-earning,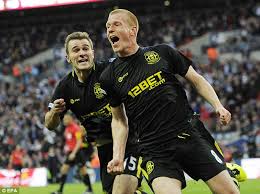 under-performing, ageing, surplus to requirement players since the turn of the year.  Players like FA Cup winners like Maloney, McManaman and Sir Ben Watson. And also players who have allegedly never really been given a chance to show what they can do – Forshaw, Delort, Riera and Tavernier – have also been shown the door.
When you do that as a manager, and bring in a pile of new faces to replace them, you can no longer hide behind the defence of being saddled with a squad of players that you didn't choose. So, having signed somewhere between seven and nine players in January – I seriously have lost count exactly how many– who are these newcomers in whom Malky has placed his faith?
Well, few of them would be considered to be household names, far from it. In fact, when Dave Whelan sees the names Kim-Bo, Oji and Bong on the teamsheet, he could be forgiven for thinking that his club has been sponsored by a Nigerian law firm.  He'll be spinning in his Barbados hammock when he realises we've actually signed them as players.
Jason Pearce – By all accounts, Malky is looking for a bit of steel in defence and so has signed the no-nonsense Jason Pearce from Leeds. However, since he has arrived, he has been getting splinters in his arse on the bench while Leon Barnett his allowed to continue with his particular brand of nonsense defending.
Sheyi Oji – Sheyi is the latest in a long line of big club starlets, this time from Liverpool, to come to the DW stadium on loan to get some game time. He was only born in 1997, so he can't play midweek game as they finish well past his bedtime and his mum won't let him stay up that long. 1997?! He's 17 years of age! I have socks that older than him. I'm not really sure we should be expecting this lad to drag us out of a relegation dog-fight.
Kim-Bo Kyung – Kim-Bo was allegedly the man at the centre of the "chink" text scandal which still h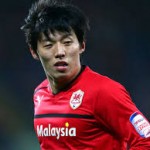 angs over Mackay. It looks like Kim-Bo isn't too upset by it. It also looks as if he is about as fit as me at the moment so hopefully he will improve in time. Quickly, with a bit of luck, as we don't have a lot of time before May when we will be relegated, along with Blackpool.
Billy McKay/Leon Clarke –A lack of goals has been arguably the biggest issue at the DW and it remains to be seen if these two will prove to be the answer.  McKay has come in from Inverness via Northampton while Clarke has had more clubs than Tiger Woods' car bonnet. At least Clarke scored in his first game which is more than Delort ever looked like doing. It's a pity Delort had already packed his bags and gone back to Ligue 2 in France, he could have maybe taken a photo of it for posterity, in

case we don't get another.
Gaeten Bong – If this fella is the answer. I'm not sure what the question was. Still, his comedy name and his alleged penchant for flamboyant attire will make him a fan's favourite in no time at all. That may be a bit unfair, given that he's another one we haven't seen play yet, but I can't see that clobber going down to well with the fans after he has taken part in a 3-0 drubbing at Fleetwood on a cold, wet Tuesday night.
See you in League 1 – Griff