Away trips are usually conducive to a good old sing song, especially when you're winning. As a Wigan fan, of course, this opportunity occurs all too rarely. Last Sunday's dismantling of Huddersfield Town in the 5th Round of the FA Cup was a joyous occasion for the traveling horde (ahem!) of Wiganers. Ably assisted by the later than usual kick-off time, which provided for an extra hour or so in the pub, the Latics Ultras (I really can't believe I wrote that) were in fine voice throughout the match.
Wigan fans aren't very original, nor are they particularly witty, when it comes to creating chants and songs. We resort to the usual six-fingered jibes at Bolton and Burnley fans and we obviously give Preston fans some much deserved abuse for, well, just being from Preston. On Sunday, however, set to the fairly common terrace tune of "La donna e mobile" from Verdi's Rigaletto (look it up, you'll definitely know it) the vanquished Huddersfield fans leaving the ground in their droves before the final whistle were sent on their merry way with the taunt of "is there a fire drill?" ringing in their ears. It's hardly Chris Difford and Glen Tilbrook standard, granted but, for Wiganers, it's not too bad. There have been better, though. Read on.       
Hello sailor!  – Actually, the butt (excuse the pun – read on, all will become clear) of this first chant was Brighton, a town a good few miles along the south coast from the maritime town of Portsmouth where sailors traditionally live. Brighton is, of course, fairly well-known for having residents who, how shall we say this, perhaps play for both City and United, or both Hove and Albion, if you will. To the tune of Bread of Heaven, one of the earliest melodies to be adapted for a football chant, Huddersfield fans were once heard to taunt the visitors from Brighton with:
"We can see you holding haaaands…
we can see-ee you-ou holding hands".
Allegedly, the Brighton fans responded by pouting, flicking their hair and throwing lipsticks into the home supporter's stand.
You little bush-tucker! –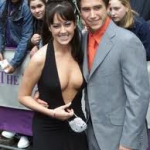 The tune to the eighties hit "Tom Hark" by The Pirahnas has become probably the most common, and most annoying, of all the football tunes. There are literally hundreds of variations on this simple ditty but, to my knowledge, only one of note created by Wigan fans. Liverpool were in town for a Saturday lunch-time kick-off. The night before the game, the comedy duo (?) Cannon and Ball were air-lifted into the reality TV show, "I'm A Celebrity…Get Me Out Of Here", joining the wife of Liverpool's Harry Kewell, Sheree Murphy, who had already been in the camp for the best part of a week. Displaying a sharpness sadly lacking on the pitch that afternoon (I think we were 4-0 down by half-time) "Tom Hark" was hi-jacked by the Wigan fans to inform Harry Kewell that:
"Cannon and Ball, are shagging your wife…
Cannon and ball, are shagging your wife!"
 It must have been funny – even that miserable bastard Steven Gerrard laughed.     
Keeping your own counsel –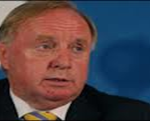 Wigan Athletic fans have had a long-running feud with the town's council due mainly to the perceived bias shown towards the town's rugby team by the local authority at the expense of the football club. There is no doubt that the rugby team used to receive preferential treatment, especially when it came to either the relaxation or the imposition of ground safety rules, for example, when either team had a big game looming. The Wigan rugby club's chairman throughout much of this period was a man called Maurice Lindsay. Now, I don't wish to cast aspersions on Mr Lindsay's personal life, but let's just say that there's a good chance that he may have spent some time living in Brighton in his murky past. To this day, Lindsay has his very own song at Latics. To the tune of "Knees Up, Mother Brown", it goes along the lines of:-
"Who's up Lindsay's arse? Who's up Lindsay's arse?
We all, we all, we all know. All the council's had a go"
Harsh? Maybe.
The Klumps –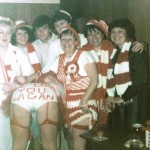 most football teams have a big local rival. Wigan is no exception and, as I mentioned earlier, Bolton and Preston in particular come in for some stick. However, most of the fan's vitriol and hatred is reserved for fans of the club's lodgers, the Wigan Warriors rugby team, known locally as The Klumps. In bygone days, when Wigan Athletic were not the Premier League force that they are today (really? I'm sure some of this stuff I'm writing is actually libellous) the rugby club would have gladly seen them go out of business. Latics fans of a certain age will never, ever forget this attitude. My favourite of all the anti-rugby songs is set to the tune of the theme from the "Addams Family":-
"They're scruffy and they're smelly.
They come from Scholes and Whelley.
They haven't got a telly –
The Wigan Warriors"     
Childish, but it always tickles me.
Five Times A Night –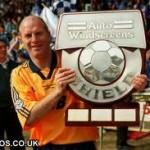 Most neutral football fans hate Manchester United. I don't. I hate Liverpool instead. With a passion. Every year I want Manchester United to win the Champion's League so that they can catch up with Liverpool's haul of five titles. This might then put an end to that horrible warbling ditty, set to the Beach Boys' "Sloop John B", which glorifies their European Cup wins:
"We won it five times, we won it five ti-imes.
In Istanbu-ul… we won it five times".
 Wigan can only dream of such success. In fact, the only time we get to play in Europe is when we play Swansea away. Therefore, imagine my delight and pride, when my mate and match-going companion, Mr Paul Fiddler, once famously responded to this dirge with his version celebrating our own cup successes down the years:-
"We won it two times, we won it two ti-imes.
Auto-Windscreens… we won it two times"   
Genius – take a bow, son!
Enjoy the weekend – Griff