Tonight (Friday, 8th) there is a charity football match taking place between the Wigan Athletic Development Squad (a fancy new name for the reserves-cum-youth team) and a Select XI of Wigan Athletic legends. The game kicks off at 7:30pm at Ashton Town Football Club and is in aid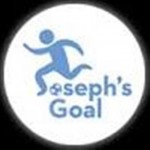 of Joseph's Goal, a fantastic charity supporting research into a very rare disease that affects young Joe Kendrick, the son of Wigan journalist and Latics fan, Paul Kendrick.
Organiser, Ashton Town chairman, Mark Hayes, has pulled together a remarkable squad for the event, including such club legends as Roberto Martinez, Graeme Jones, Nathan Ellington, Graham Lancashire and David Lowe, not to mention current player Emerson Boyce and new club manager, Gary Caldwell – I'll give Gary sixty minutes before he gets caught flat-footed on that notorious slope and is red-carded for a professional foul, by the way! Only joking, gaffer!
That stellar line-up alone would be enough to convince me to shell out the five quid entry fee to go along to see them all play. The fact that all gate proceeds will go directly to Joseph's Goal makes the decision even easier. The fact that Ashton Town FC is about a hundred yards from my front door makes it a total no-brainer.
Now, as good as the assembled squad is, I can't help but think that Mark has missed a trick here. I appreciate that commitments, location, logistics, age and fitness are crucial factors in determining who could play and who couldn't but, why, oh why are these five heroes missing from the Legends' team announced so far?
Stefan Bidstrup – heralded as a box-to-box midfielder when he arrived in November 2000, I think something must have been lost in translation from his native Danish. If, by box-to-box, they meant he would never venture outside the centre-circle before disappearing back home to Denmark fifteen games and seven moths later, they were spot on.
Jeff Peron – A great servant to the club, when he boarded the Dave Whelan gravy train in 1999. However, his worth was more to the laundry department than the playing staff as I doubt there was ever much need to wash his kit in the short time he was with us.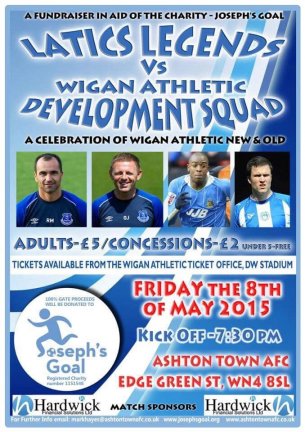 As lazy as he was useless. Still, God loves a trier. If only he had done.
Julius Agahowa – Agahowa's goal celebration, an elaborate series of back flips, was by far the most impressive of any Latics player I have ever seen, past or present. I never tired of watching that post-scoring routine. Only on YouTube mind, whilst playing for somebody else, of course, because we never actually got to see it in the flesh down at the DW Stadium. If Julius wasn't available for Friday night, then surely Olivier Kapo could have played in his stead. He was another world-beater.
Vladimir Stojkovic – Latics have been fortunate to have had quite a few decent keepers in years gone by. Vlad the Bad, was definitely not one of them. Fortunately, Chris Kirkland is due to play in goal tonight so we should be OK. Provided, that is, that Chris's glass back survives the arduous hundred yard journey from Golborne Road down the cobbles and potholes of Edge Green Street to the gates of Town's ground.
Simon Howarth – Was there ever a more gifted, yet lazy and unfulfilled Latics mon than Simon Howarth? The only time he ever showed any real interest on the pitch was the time he pledged his allegiance to the Cardiff fans with his "Ayatollah" gesture in one of his final appearances for the club. Thank God, he hasn't been selected to grace my local team's pitch. What's that, Mark? He is playing? Well, that's great stuff! I always said he was a good 'un! "Fancy coming round to my gaff for a beer after the match Simon, me old mucker? It's only round the corner".
See you at Edge Green Street – Griff