Let's be clear here, I am not a lazy person. I'm certainly not physically lazy, though there are times when mentally I would probably benefit from a metaphorical kick up the jacksy.  I play football and, faced with the choice of phoning someone at work or walking to their desk to see them, I will generally take option B.  Furthermore, I always take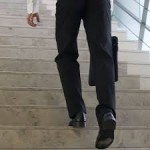 the stairs rather than the lift, despite my office being on the top floor – except sometimes on Friday mornings when the effects of Thursday Night Football makes that a little too painful.  
However, I definitely don't run very often. There are generally only two things for which I will run. One is a football, and there are some who would argue that I do that neither sufficiently often nor sufficiently quickly. The other is last orders in a pub or bar but, thankfully, given the much more civilised licensing laws we now have in this country, I don't have to resort to doing that very often either.
I was reminiscing with Ste Bentley the other week about – amongst other things – our respective schools and how far we had to walk to get there. He was surprised that I walked from where I lived in Hindley Green to my school in Hindley. "I bet you wouldn't do it today, would you?" he claimed, and he'd probably be right, for two reasons. Firstly, I didn't have the luxury of owing a car in those days and, secondly, there would be little point walking to my old school – it was flattened about twenty years ago to make way for a housing estate and I know no-one that lives there. However, it did bring back a number of walking-related memories. 
School Run/Walk – This is the route that prompted the whole walking conversation with Ste last week. I had the option of
taking the 603 bus from just around the corner from home which would drop me around the equivalent distance from school of a walk from my form class to the headmaster's office, a trip that I never had to make, of course, me being the well-behaved lad that I was. However, a few of us chose to walk most days, approaching the school from the north-west but meandering away from the direct route of Crossdale Road/Lancaster Road as we called for more classmates along the way. On the way home, I would often head in a more easterly direction, partly to spice things up a bit, but mainly in the hope of bumping into Pamela Beardsworth in the vicinity of Argyle Street. Sadly, I rarely did. 
Good Friday, Rivington – Now, this was what you could legitimately call a proper walk. From where I lived in Hindley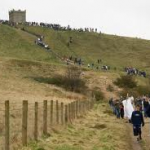 Green it was around 10 miles to Rivington and you wouldn't dream of doing it on any day other than Good Friday. I think the only real reason people did it on Good Friday was in an attempt to symbolically re-create the whole Jesus, Calgary and Easter thing – minus the hassle of carrying crosses or being stoned by the masses or being bullied by Roman centurions. I caused a huge family argument one year by refusing to go to 3 o'clock mass in favour of trogging up "Rivi" with Karen Cunliffe and a packed lunch. The only reason I would contemplate going to Rivington these days is if it was covered in snow and there was some decent sledging to be had. And even if it was we would drive there.  
Walk of Shame – Saturdays in the late-eighties and into the nineties were very long days. After the usual Wigan Amateur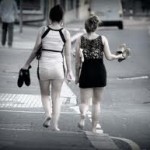 League football defeat we would land in the pub around 4pm and that would be it for the rest of the night. Drinking would generally finish around ten hours later and by that time, the taxi queues were longer than the second world war. Devastated at the prospect of the lengthy wait for a ride home we would invariably repair to the Santi Bag for a curry. Quite how we thought this would help this situation, Lord only knows, because by the time we finished eating, the wait for the taxis would be even longer. And so, ironically, because we were too lazy or impatient to wait in line, we would attempt to walk the 3.5 miles home. At a rate of three steps forward and one step back, this always seemed a much better idea at the time than it did the following morning.
Hindley Hall Golf Club – all complaints about walking are completely null and void when it comes to golf. I would happily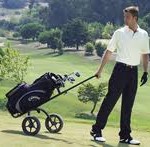 walk for miles on end if I was dragging a trolley full of golf clubs and whacking a small ball into unfeasibly difficult places to retrieve it from. In the summers of '80 and '81, Andy Charleston and I would be dropped off most days at 7am on Plodder Lane adjacent to the 14th tee of Great Lever and Farnworth Golf club. We would be picked up and taken home around twelve hours and 54 holes later. We did this most weekdays and never, ever got tired. A few years later, we played a round one evening at Hindley Hall golf club and then enjoyed a few games of snooker and one or two beers in the clubhouse. The last bus had gone by the time we finished and so we had to walk the 2 miles home. Andy had a locker but I had to take my tackle with me. We shared the load, me carrying the clubs and Andy carrying the trolley. We had made it half way home before it dawned on us that it would be much easier to attach the bag to the trolley and take it in turns to drag it home. Ah, the folly of teenage drinking!       
Marseille – Whoever designed Marseille's Metro systems was an idiot. Firstly, it only serves about 10% of the city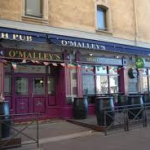 and secondly, given that the summer temperature regularly hits 35 degrees and above, it has no air-conditioning. Beyond about 6pm, trains appear as regularly as one of my hair cuts. This meant that descending into the station to wait for a train was like sitting in a sauna for half an hour. As such, when I worked there, we would often choose to walk the 2-3 miles from the office back to the hotel. Clearly, undertaking such a long walk in 35 degree heat, suited and booted, carrying a bulging lap top bag, is a health risk. Fortunately, someone, presumably not the guy who designed the Metro, had the foresight to situate the Vieux Port – the City's eating and drinking centre – at round about the halfway point of this walk. It would therefore have been rude not to stop off at one of its Irish bars for some liquid refreshment. Often, we would do the second leg of the journey home by Metro. Well, the subways had normally cooled down sufficiently by midnight.
See you on the ice – Griff