What's your favourite ever song or what song means the most to you? We've all been asked that question a thousand times, I suppose. The following are not necessarily my all-time favourite songs, not by a long chalk. That would bore the life out of everybody. The five I have chosen have all been selected because they trigger a memory of some kind. Clean ones, that is. I could have picked 105, not just 5. I'm sure you could too. Let's hope these don't bore the life out of you either…
My Way, Frank Sinatra/Sid Vicious – My earliest memory of records is my mum and dad's singles collection. They kept them in a gold coloured metal rack that look like a toast rack for extremely thin toast.  My Way was just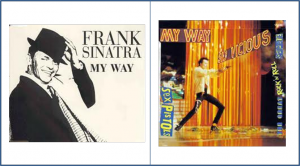 one of the fifty or so singles they had in that rack. I chose it because Sinatra was my dad's favourite and I recollect him singing My Way over and over again using the old Ewbank (look it up, young 'uns) as an impromptu microphone. I also remember my sister and I receiving the biggest bollocking of our lives when he came home once and found us skating up and down the hall using his beloved discs as circular ski shoes.  You couldn't half go fast on one of those records. Fast forward about eight years to 1978 and my dad, having a bad back at the time, was lying on the lounge floor while we watched Top of the Pops. As the Sid Vicious version came on we thought "this might be fun". Dad lay motionless on the floor because of his bad back.  The song came and went and dad still never moved, staring blankly at the screen. I thought he'd passed out. He was actually just speechless. Disgusted of Hindley Green just doesn't cut it.
Top of the Pops LPs  – I guess these compilations were the 70s version of the "Now… 867" CDs that we have today. Except these must have been the ultimate bootleg albums as they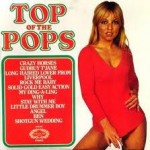 obviously weren't allowed to use the original artist because some of the versions were atrocious and bore very little resemblance to the original. I recall in particular the bloke that covered Noddy Holder being pretty poor and the Leo Sayer impersonator struggled at the top end of his range. By far the worst, however, was the version of The Osmond's Crazy Horses by a bloke called Tony Rivers which was included on the album in the picture. In the chorus of the original, there was a quite clever (for its time, anyway) keyboard bit that was supposed to sound like the whinny of a horse. On the TOTP version this was replaced by what sounded suspiciously like a kid blowing a kazoo. I kid you not, here it is on You Tube. It was probably Tony Rivers' kid that blew the kazoo.
Going Underground, The Jam – I am most definitely a chid of the late 70s and 80s when it comes to my musical tastes and my favourite band was The Jam. I pretended to be Paul Weller in my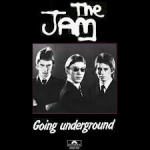 bedroom using my cricket bat as a guitar just like everybody else did. Didn't you? Aw come on, yes you did. Every single, every album was bought on the day it was released and in those days of course you had to physically queue in the shops to buy it. No internet in those days. Then, they would be played to death until the stylus wore out, driving my mum and dad nuts, I reckon.  Still it must have been a blessed relief from the Cliff Richard and Elvis that they had to endure when my sister was at home. I came home from college one day and my mum was ironing and listening to Radio 1. Going Undergound was on and I thought she was the coolest mum ever when I caught her singing "MAKE THIS BOY SHOUT, MAKE THIS BOY SCREAM!" along with Weller!
What!, Judy Street – I have still not forgiven my mum and dad for never letting me go to Wigan Casino. From the age of about fourteen as well as being into The Jam I was, and still am, a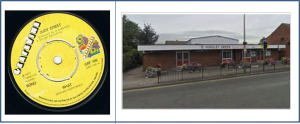 big Northern Soul fan. But I never got to go to the world famous Casino. By the time I was old enough, the place had burned down and closed forever. We had to content ourselves with local soul night discos in Hindley and Hindley Green. Monday was the Monaco, Tuesday was the Social Club and Thursday was The Bethel, pictured left. The Bethel was a local church community centre by day and was the highlight of our week come Thursday night. In terms of the song, well, I could have chosen from hundreds: There Was A Time, Time Will Pass You By, The Snake, Seven Days Is Too Long, Tainted Love (no young 'uns, not the crappy, doleful Marc Almond version, the original *see foot of page), Too Late, Tell Me It Is Just A Rumour Baby… the list was endless . So why did I pick What! By Judy Street? Well, because I liked it and it reminded me of a girl I was obsessed with at the time. I wonder if she still lives in Argyle Street?  
The Answer To Everything, David Alexander – Saturday nights in the late 80s and early 90s were spent round Wigan after playing football, usually losing, in the afternoon before heading straight out for a night on the town. If we were lucky enough to be allowed in, the night ended at Pemps, the legendary – now sadly defunct – club at the bottom end of King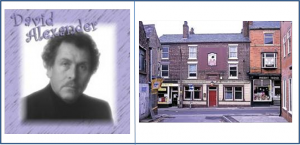 Street West. Barbara, god rest her soul, was the owner and bouncer and your admittance to the club depended entirely on Barbara's mood. In order to drum up some Dutch courage before facing Barbara we would often stop off in The Bricklayers on Hallgate on the way down. This was a real old fogey's pub, the type where the piano would stop playing when young un's walked in. Or it would have if they had one. They didn't, but they did have a juke box. This would play away to itself largely unnoticed all night except for when this particular song, The Answer To Everything, came on at which point the whole pub would join in. Not just a few of them either , it was everybody. And when it was over, the whole clientele fell silent again save for the clink of glasses and the ring of the till. It was like some kind of hypnotist's act. We would walk in and stick 10p in the juke box just to see if they'd spontaneously burst into song again. And they never let us down. Derren Brown? He had nothing on the lads of Hindley Celtic with that juke box.
*there were (at least) two versions of Tainted Love that were better than Marc Almond's. Ruth Swann did one, my favourite, as did Gloria Jones.
Enjoy – Griff