Those who follow me personally on Facebook will know I've just come back from a holiday in Orlando. It was my third trip to the Sunshine state, but the first for almost twelve years. I know that people have their own favourite holiday destinations like Magaluf, Cancun, Goa, Clacton, Turkey – hmm, maybe not so much Turkey anymore – but, for me, it's Orlando all the way.
I get that you have to be a bit of a theme park fan to get the full benefit of Orlando and I am. Sitting on a beach, or lying by a pool, is not really my thing. I'm far too fidgety for that. But, if it's lounging about in the sun that you want, you can do that as well in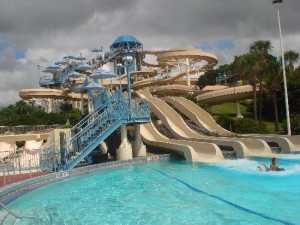 Orlando as you can in any of the world's other favourite sun-spots.
My ten-year old son, who had his first taste of Orlando on this trip, has agreed to give you the low-down on his top five rides and attractions, and this will appear in a future 5-4-Friday; a rare and welcome week off, to which I am really looking forward.
For this week, here's my essential guide to Orlando, a discussion of things that you can expect to find, or things that might help the first-time visitor. Actually, it's not remotely essential. As usual, for a 5-4-Friday, it's just a collection of random thoughts that I have thrown together, That is particularly true this week, having just realised that it's ten o'clock on Thursday night and that I am no longer on Florida time and had better get my finger out.
Disney – Obviously, Orlando is renowned the world over for Disneyworld, first and foremost. And to be fair, it is a magical place – but only if you have spawned pre-pubescent daughters. Having a ten-year old boy myself, you spend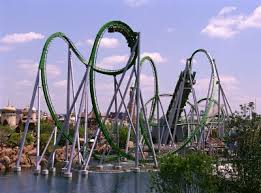 most of the time in the Disney parks avoiding princess-clad little girls queuing for photographs with Snow White and Cinderella and those two annoying bints from Frozen. To be fair, there is the odd decent coaster to enjoy for everyone else.
Universal Studios – If I was told I could choose just one theme park to visit while in Orlando, then I would pick Universal. Although, strictly speaking of course, it is two parks – Universal Studios and Islands of Adventure. I waited twelve years to get back on the Spiderman ride and the day we turned up it was shut for maintenance! We got on it eventually, but the new rides built since my last visit (Rip Ride Rocket, Transformers, Simpsons, Harry Potter, Minions) added to the old favourites (Hulk, Men in Black, Dragon Challenge) left us with plenty to do. It is, quite simply, the best day out, ever!
Water Parks – if Universal and Disney could be said to be the major attractions, there is also Sea World and Busch Gardens down the road if you need a change of coaster scenery. If you're not coaster-mad though, Orlando is packed to gills with water parks. From the old favourite, Wet n Wild, to Blizzard Beach and Aquatica, if it's a free colonic irrigation you are after then get yourself plunging down those watery chutes. And if you can pick yourself up a pair of asbestos feet from Walmart, you will be doing yourself a huge favour when it comes to walking across the burning concrete and the blazing steps as you make your way to the rides.
The American Dream – As good as the theme parks are in their own right, it is the top-notch Florida organisation and care-free approach to life that makes the whole Orlando experience so enjoyable. From pain-free car parking, to the efficient FastPass systems that provide legalised queue jumping, from restaurants offering their full menu as a an easy-to-use carry-out service to cheap, friendly shopping. The whole place puts the UK's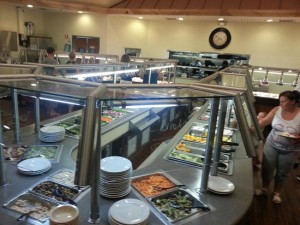 efforts at customer service to utter shame. I know they can be cheesy and appear insincere at times but, as my favourite comedian of all time, Jeff Green, once said: "I'd rather be told to have a nice day by someone who doesn't mean it than to be told to piss off by someone who does!"
The Brit Abroad – To take full advantage of Orlando, please do your homework and prepare in advance. Plan your days, give yourself time off for good behaviour or you will burn out after five days. And check out the Ponderosa breakfast buffet. It will set you up for the day and save you a fortune in the theme parks. And seriously, there's no need to eat everything they have on offer. Stick to the cereal, fruit, bacon, eggs and sausage and toast. Although they sell corned beef hash, ice cream and sponge cakes, it isn't compulsory. Neither is it big nor clever to say "yes" when they invite you to add a 10oz rib-eye steak to your breakfast order for just three dollars. Ask yourself, would you even dream of doing that at home? No, of course you wouldn't, so just say "no".
See you in Walmart – Griff