This week we have all mainly been pre-occupied with football transfer windows, apart from the Manchester United and Newcastle United management teams, of course. First of all we had the on-going saga of the worldwide football leagues' transfer window or the "What Gareth Bale did on his holidays" story, to give it its more accurate title.
The transfer window, the period of time within which football clubs are allowed to buy and sell players, has been in place in its current format since the 2002/03 season. Designed ostensibly to give players stability and security –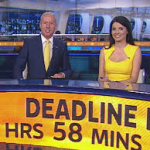 like they need it on a measly £50k per week – it has now degenerated into a three-month long rumour mill that has very little activity until the final twenty-four hours.
And that final day, now universally identified as Deadline Day, as if it was Easter Sunday or Boxing Day, or something real, has become a major event in itself. It has become synonymous with TV presenter Jim White, reporters camped outside training grounds nationwide, Harry Redknapp being interviewed through car windows and the yellow "breaking news" ticker on Sky Sports. People take the day off to sit in front of the TV to watch the "action", despite the fact that all the action tends to occur in the final hour.
I had the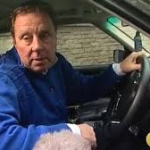 pleasure of being in the Tottenham Hotspur boardroom after a Wigan Athletic midweek game on the night the January 2012 transfer window came to a close. Actually, the transfer window doesn't close; it slams shut, apparently. Anyway, I digress. As the, now extremely, famous Spurs' chairman Daniel Levy conducted some feverish transfer business in the bowels of White Hart Lane with his wheeler-dealer manager-cum-spiv, Harry Redknapp, I was upstairs being entertained and plied with champagne by the delightful Mrs Levy and her friends. If that doesn't earn me this week's Clang! award for gratuitous name-dropping then I don't know what will.
However, as entertaining as Deadline Day undoubtedly is (to football fans, at least), it cannot hold a candle to the riveting excitement and tension of the auction night for the Dream league, our slightly quirky variation on the myriad fantasy football competitions that litter our newspapers and offices. In our version, sixteen team owners bid against each other to buy a squad of eighteen players from the English Premier League and Football League Championship divisions. Once the dust has settled, each team will play the other fifteen teams twice over the course of the season under standard league competition conditions. The rules are quite simple. If my team members score more than yours, I beat you. It can't be too complicated; we have team managers from Standish who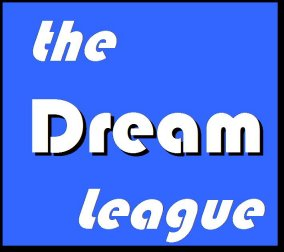 struggle to grasp the concept of having a maximum number of eighteen players in your squad and so it pays to keep the thing as simple as possible.    
You might think that a bunch of forty-something, mainly married men with families, would have better things to do with their time and you'd probably be right. However, I first got involved with this game almost twenty-five years ago when I was working at GUS, took it with me when I went to work in Liverpool and for the last eleven years, have been running it with a very settled group of Wiganers and a few notable guests – I, and they, see no real reason to stop now.
The consensus of opinion amongst the group is that the auction night is the pinnacle of the whole competition. It all becomes a bit of a chore after that, relatively speaking. Most of the oft-repeated tales from down the years originate from the auction night. They are very much in the "you had to be there" category of story but I make no apology for listing some of these in-jokes here as I have had very little chance to think of anything else this week.
Emmanuel Adebayor –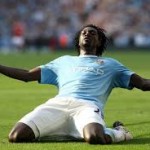 one of the main objectives of the auction night is to bag yourself a top-notch goalscorer or two, the catch being that, as with all the good things in life, they cost a lot. Some people spend the lion's share of their £30 million budget on a single striker in the hope that it pays off. I have only had the balls to try that tactic once. I paid £10.3 million for Adebayor when he was at Manchester City a few seasons back. He started the season injured, got himself banned for a month, got injured again and when he eventually got himself fit by January, he went off to the African Nations Cup and was shot at. He totally lost his form and threatened to pack in playing altogether. His ten goals that season cost me a cool million quid each. I won't be going down that route again in a hurry.   
Michael Owen – Mind you, I had better luck with Adebayor than Phil Bradley had one season with Michael Owen. In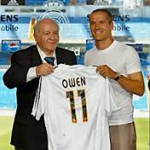 the Dream league, only players in the top two divisions of English football are eligible. Players outside of those divisions, either in Leagues One and Two or in one of the other European leagues, are not permitted in the league. Phil was delighted with his work, and the size of his balls, when he toughed out a particularly tense bidding war and secured the services of the non-descript, goody two-shoes from Chester for £11million. He spent the rest of the night crowing about it. He wasn't so vocal the morning after when Liverpool sold him to Real Madrid. He never even got to pick him. "No Phil, there are no refunds. What's that? No, sorry. Not even if you still have the receipt".
Shefki Kuqi – Shefki Kuqi was a journeyman Finnish footballer who has had more clubs than Jack Nicklaus. He quickly became a bit of a cult hero in the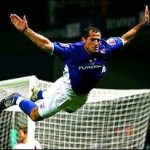 Dream league after I initially put him in the player pool simply to see if the auctioneer could cope with the pronunciation of his name. Andy Charleston bought him every year, virtually unopposed, for the minimum bid of 100 thousand pounds, – or "nought point one", as the opening gambit is usually articulated, as in £0.1 million. Andy got a bit giddy one year, opening up with an aggressive and extravagant bid of £1 million. It was met with a stony silence, a cheery "Sold!" from the auctioneer, and the sickening realisation for Andy that he had just thrown away £900 thousand. Or "point nine", more to the point!
Old chestnuts – As I said before, there is a bit of a cult building up around Sky's Jim White and his Deadline Day broadcast. People even play Jim White Bingo as there are so many stock phrases or events that occur over and over again with each closing – sorry, slamming – of the window. In the Dream league we too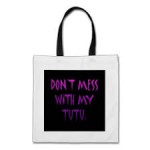 have a selection of lame phrases and/or 'witty' lines that are trotted out each year, sometimes multiple times each year. For example, as someone is smugly scribbling down details of a winning bid, another owner is bound to pipe up with "you know he broke his leg in training last week, don't you?" Also, as the price for a fairly mediocre player rises to perceived ridiculously high levels, someone not involved in the bidding will be heard to whisper the famous words "football's gone mad". My own favourite occurs when the bidding inches its way up slowly to the £2 million mark, and the sequence of bids "one-nine, two, two-one, two-two" will inevitably be met with the "two-two" bidder warning others not to "mess with my tu-tu". If they don't, they should. And if they don't, I will usually do it for them. It is met with polite smiles and thinly veiled pity. I see it, but it won't deter me. I should get out more.
Screen of Shame –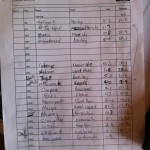 Some Managers turn up at the auction night totally unprepared. They don't even bring a pen – "Ah, it doesn't matter, Griff's bound to have brought some spares!" Others bring clipboards, and copious notes and well-thought out strategies. Either way, I will guarantee that at some point during the evening, every single manager will take a look at his hand-written sheet onto which he has scribbled his purchases and will dread the moment when the auctioneer pulls up his squad on the big screen for the whole room to see. By the same token, at the same time, there will be one self-satisfied, smug manager who is lovingly perusing his sheet thinking that he has written down the names of the next champions, right there. I'd bet my last nought-point-one that he finishes in the bottom half of the table and that the bloke with his squad on the big screen, who is currently being roundly laughed at, will be in contention for the big prizes come Week 30.
See you on the ice – Griff