Back in September 2011, the NHS abandoned its nine-year IT project that had, up to that point in time, cost just under £12 billion. They gave the US firm contracted to build the system a further £2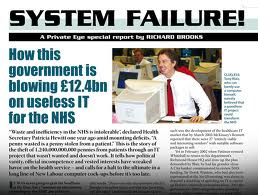 billion on top of that, presumably for the inconvenience of its staff having to source earlier than planned flights back across the pond.  It is good to see that lessons have quickly been learned, if my recent experience of the NHS over the last few weeks is anything to go by, because it is apparent to me that the NHS systems and processes are currently driven by a £0.69 app bought from iTunes.
I have had a dodgy elbow now for about two months. It is by no means life threatening but it stops me playing golf. My wife also stops me playing golf but, even if she didn't, the pain in the elbow would. Also, I struggle to pick up a pint glass with my left hand, which is a skill I sometimes need if I am simultaneously texting or phoning for a taxi.
I phoned to make an appointment to see the doctor at my local clinic. The automated message told me that my call would be transferred to a telephonist. It was. Immediately. It is always transferred immediately, so why bother with the message at all, why not put me straight through? The said telephonist immediately told me in no uncertain terms that this evening's surgery was strictly for emergency appointments, life-threatening situations only.  I told her that my elbow was feeling a bit achey and was immediately given the first appointment of the session. If that's the kind of service a dodgy elbow gets you then I presume that had I said I was experiencing crushing chest pains, someone would have come to collect me and take me to the surgery in person. Immediately, no doubt.
On arrival at the surgery, there is a thoroughly user-friendly touch-screen machine pinned on the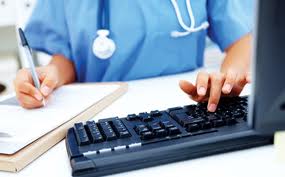 wall. Into this you tap your date of birth and sex and press enter. The system then tells you that it cannot find an appointment for today for someone of that gender and birth date and asks you to report and check-in with the receptionist instead. It always does this. All it needs to do is match a date of birth with a gender, come up with a name from the list of – oh, I don't know, maybe ten, fifteen? – appointments in total for that day, yet it fails spectacularly every single time.
The doctor saw me for less than five minutes, agreed that my diagnosis of tennis elbow was probably correct and issued a prescription for anti-inflammatories. I told him that I didn't much care for the brand he had prescribed as I have tried them before and, without question, he changed it. We really should have swapped seats.
When I arrived in the pharmacy next door, I was dutifully completing the name, address and date of birth part of the form when the chemist stopped me.
"Why are you filling that in, is that not your name and address that's printed on the other side?"
"Yes"
"Then why are you writing it out again?"
"I don't know, you tell me? Why do you have a box with an instruction to write my name and address on the back if I don't have to because it's already printed on the front?"  
"No idea, I'm just the chemist. I didn't design the form. But you definitely don't need to fill it in. It's a waste of time."
"Yes love, I'm starting to get that impression about a lot of things round here."
Inevitably, like everything else it seems associated with the NHS, the tablets didn't work.  Last Monday, I made another emergency appointment to give the doctor the benefit of my medical knowledge. It took me less than a minute to tell her that the tablets that I have taken for the last four weeks were useless and that perhaps we should now consider a steroid injection. It took her less than a second to agree with me and two more to tear off a yellow piece of paper from a pad and ask for my mobile phone number.  I thought it a bit forward of her, if I'm honest, but I gave her the number nonetheless, she wrote it on the yellow paper and told me to hand it in at Reception, which I duly did.
"What do I do now?", I asked of the Receptionist.
"Wait for us to type you a letter".
I duly waited.
"No, don't wait here now, we'll phone you when it's ready for you to come back to collect.
Exasperated, I went home. Apparently this letter will allow me to "Choose and Book", a new procedure whereby the patient is allowed to choose which bureaucratic labyrinth of a clinical facility gets to ignore you and mess you about next. The following day, I phoned the surgery to chase up my letter only to be told that the secretary was off work but that she will do it when she comes back. On enquiry, I was told that the secretary was off for the next two weeks and would get round to it as soon as she can upon her return. Not to put too fine a point on it, I blew my frigging stack! This evidently worked, because someone called Amanda – I don't know what position Amanda holds – said she would do it immediately and would text me upon completion (so that's why the doctor wanted my mobile number, how disappointing).
On Wednesday I collected my letter, the contents of which directed me to a website. Once there, I was given the choice of a telephone consultation or a face-to-face meeting with a real doctor who would hopefully stab me with cortisone and finally send me on my way. It was a no-brainer but when I went for Option B, the human consultation, I was informed that there were no appointments available for the foreseeable future and that I should try option A, the telephone consultation, instead.
This I did, and was duly assigned a booking reference and a time to call them; 12:10 precisely on Tuesday, 8th October, ie today. I was told to strictly honour the appointment date and time (12:10) but that I could call them anytime between 9am and 4pm on the appointed date. No, me neither.
I called this morning at 9:05am and gave my booking reference and date of birth.
"I can give you Platt Bridge, Wigan or Leigh"
"I don't want any of them love, they're all shit-holes. I just want an injection in my elbow"
"Pick one"
"Do I have to? OK, Platt Bridge then"
"25th October at 08:30"
"What about it?"
"That's your appointment date and time with the Consultant".
"I thought this appointment was going to be with the Consultant?"  
"No"
"Will I get my injection on the 25th?"
"Probably not, the Consultant will decided if you need one"
"But the doctor has already decided that I need one that's why I'm talking to you now!"
"No, I'm just booking your appointment, the Consultant will decide on the 25th".
I suspect this will run and run. It may be easier and quicker to chop my arm off just below the bicep and wait for it to grow back.
Watch this space!  
Griff