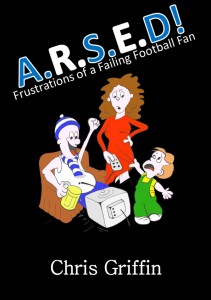 There comes a time in a man's existence when a wife, child, career and mortgage should take priority over travelling the length and breadth of the country watching his beloved Wigan Athletic, sitting in front of the TV watching any old football match that happens to be on and spending the rest of his waking hours immersed in his fantasy football competition.
Griff reached that point in his life some time ago.
So why is he quite happy to give up a lucrative job in the South of France and fly home to uncertain job prospects at the height of the biggest global financial crisis to hit the world since the Great Depression of the 1920s?
Why does he attempt to lie, cheat and con his way out of his domestic and parenting duties simply to watch Shrewsbury Town play Gillingham on TV? And why on earth does he have such an unhealthy obsession with the fortunes of Manchester City's Emmanuel Adebayor?
Find out in A.R.S.E.D!, as we follow a failing football fan.