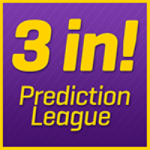 You can find the list of weekly fixtures and their odds here. Some weeks, particularly when there has been a full midweek programme, those odds may appear at very short notice.
3in! Prediction League members will have the fixtures and odds emailed to them as soon as they are available.his weekend is a double-week so please submit two sets of 3 fixtures. Do not repeat the same result.
Good luck! Hail Mary time!!
Fixtures for Season PL33 Week 20 (3/4/5 May)
| | | |
| --- | --- | --- |
| Date | Competition | Odds |
| Fri, 3 May | Premier | Everton  v  Burnley   6/10  3/1  24/5 |
| Sat, 4 May | Premier | Bournemouth  v  Spurs   17/5  3/1  3/4 |
| Sat, 4 May | Premier | Cardiff  v  Palace   9/5  9/4  8/5 |
| Sat, 4 May | Premier | Newcastle  v  Liverpool   9/1  4/1  1/3 |
| Sat, 4 May | Premier | West Ham  v  Southampton   11/8  5/2  15/8 |
| Sat, 4 May | Premier | Wolves  v  Fulham   1/2  16/5  11/2 |
| Sat, 4 May | League 1 | Blackpool  v  Gillingham   5/4  23/10  9/4 |
| Sat, 4 May | League 1 | Bradford  v  Wimbledon   11/4  12/5  1/1 |
| Sat, 4 May | League 1 | Bristol R  v  Barnsley   5/1  29/10  4/7 |
| Sat, 4 May | League 1 | Charlton  v  Rochdale   3/4  27/10  7/2 |
| Sat, 4 May | League 1 | Doncaster  v  Coventry   11/10  12/5  12/5 |
| Sat, 4 May | League 1 | Luton  v  Oxford   3/10  4/1  17/2 |
| Sat, 4 May | League 1 | Peterborough  v  Burton   23/20  5/2  23/10 |
| Sat, 4 May | League 1 | Plymouth  v  Scunthorpe   5/4  12/5  21/10 |
| Sat, 4 May | League 1 | Portsmouth  v  Accrington   7/20  4/1  15/2 |
| Sat, 4 May | League 1 | Shrewsbury  v  Walsall   19/10  23/10  7/5 |
| Sat, 4 May | League 1 | Southend  v  Sunderland   11/5  12/5  6/5 |
| Sat, 4 May | League 1 | Wycombe  v  Fleetwood   21/20  23/10  27/10 |
| Sat, 4 May | League 2 | Bury  v  Port Vale   1/2  10/3  6/1 |
| Sat, 4 May | League 2 | Crawley  v  Tranmere   3/1  13/5  1/1 |
| Sat, 4 May | League 2 | Forest Green  v  Exeter   6/4  12/5  2/1 |
| Sat, 4 May | League 2 | Grimsby  v  Crewe   6/4  13/5  2/1 |
| Sat, 4 May | League 2 | Lincoln  v  Colchester   5/4  12/5  23/10 |
| Sat, 4 May | League 2 | Macclesfield  v  Cambridge   16/11  9/4  21/10 |
| Sat, 4 May | League 2 | MK Dons  v  Mansfield   6/5  23/10  5/2 |
| Sat, 4 May | League 2 | Morecambe  v  Newport   12/5  13/5  15/13 |
| Sat, 4 May | League 2 | Oldham  v  Northampton   11/10  13/5  11/4 |
| Sat, 4 May | League 2 | Stevenage  v  Cheltenham   8/13  16/5  9/2 |
| Sat, 4 May | League 2 | Swindon  v  Notts Co   8/5  12/5  9/5 |
| Sat, 4 May | League 2 | Yeovil  v  Carlisle   3/1  13/5  19/20 |
| Sun, 5 May | Premier | Arsenal  v  Brighton   7/20  19/5  17/2 |
| Sun, 5 May | Premier | Chelsea  v  Watford   4/9  17/4  15/2 |
| Sun, 5 May | Premier | Huddersfield  v  Man U   9/1  17/4  3/10 |
| Sun, 5 May | Champ | Blackburn  v  Swansea   6/4  5/2  7/4 |
| Sun, 5 May | Champ | Brentford  v  Preston   11/10  5/2  11/4 |
| Sun, 5 May | Champ | Derby  v  West Brom   5/4  5/2  9/4 |
| Sun, 5 May | Champ | Hull  v  Bristol C   2/1  5/2  7/5 |
| Sun, 5 May | Champ | Ipswich  v  Leeds   4/1  37/13  9/13 |
| Sun, 5 May | Champ | Reading  v  Birmingham   7/4  12/5  13/8 |
| Sun, 5 May | Champ | Rotherham  v  Middlesbro   10/3  11/4  11/13 |
| Sun, 5 May | Champ | Sheff W  v  QPR   11/13  27/10  7/2 |
| Sun, 5 May | Champ | Stoke  v  Sheff U   14/5  5/2  21/20 |
| Sun, 5 May | Champ | Villa  v  Norwich   6/4  13/5  2/1 |
| Sun, 5 May | Champ | Wigan  v  Millwall   13/10  12/5  21/10 |