Very brief 5-4-Friday this week, as my limited leisure time has seen me totally pre-occupied with the pre-season auction night for the Dream League.
With sincere apologies to those who are not remotely interested – which I guess is everybody bar the 16 people who were in the room buying their fantasy football team – here are 5 of the more intriguing signings from last night.  Bear in mind that the idea is to sign players who will score goals on a regular basis and, in terms of defenders, those who play for teams who are likely to concede the least.
Oh, and the maximum anyone had to spend on a squad of 18 players was £35 million…
Radamel Falcao/Diego Costa (12.3m) – Just as in the real world, it is the celebrated strikers who tend to attract the big money fees, and this year was no exception. That said, £12.3m for the most expensive signing is quite cheap compared to past seasons. Austerity must be kicking in but the two new managers in the league – Andy Clucas and John Robinson – who bought Falcao and Costa respectively, mustn't have received the memo.
Wayne Rooney (£11.0m) – I will apologise to the nation right now. I bought Wayne Rooney last night for eleven million quid. I know there is a view out there that the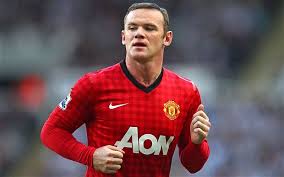 lad has past is best and if anything is guaranteed to make the lad suffer a sharp drop in form it is me paying £11m for his services. Either that, or he will break his leg before the end of October.
David De Gea (£10.0m) – Goalkeepers don't tend to go for much in Dream League, but this season proved to be an exception for Paul Fairhurst. Knowing that he was unable to attend the auction night in person, and safe in the knowledge that he would be able to buy a squad of players post-auction at knock-down prices, he decided to splash the cash on the pre-auction night goalkeeper email auction. On that basis, £10m on United's keeper is sort of understandable, but £2m for the Stoke keeper?
Craig Bryson (£4.9m) – The bidding only really gets interesting once we get to midfielders and strikers. And, as we attack them in alphabetical order, Craig Bryson of Derby was one of the first ones up for grabs. Since Shefki Kuqi retired, Andy Charleston, has had to change the focus of his purchasing strategy. He paid for £4.9m for Bryson. Just above Bryson in the list was Chris Brunt. Most of us believe that Andy thought he was bidding for him.
Andy Delort  (£2.0m) – Unless you're a Wigan fan, you won't have heard of their new French signing, Andy Delort. In fact, no Wigan has ever seen him kick a ball in anger yet. That didn't stop Paul Fiddler buying him. It later came to light that this was mainly because his mum thinks he's a bit of a looker.
If you want a real giggle, here is the rest of my squad (in £million) who, alongside Rooney, are set to disappoint for the season.
| | | | |
| --- | --- | --- | --- |
| Fraser FORSTER | GK | Southampton | £0.1 |
| Joe HART | GK | Man C | £1.3 |
| Kevin McNAUGHTON | DEF | Cardiff | £0.5 |
| James PERCH | DEF | Wigan | £0.5 |
| Marcos ROJO | DEF | Man U | £1.1 |
| Ciaran CLARK | DEF | Villa | £0.1 |
| Jack COLBACK | MID | Newcastle | £1.0 |
| Craig CONWAY | MID | Blackburn | £0.3 |
| Marc PUGH | MID | Bournemouth | £0.3 |
| James MORRISON | MID | West Brom | £0.1 |
| Dwight GAYLE | FWD | Palace | £0.7 |
| Nahki WELLS | FWD | Huddersfield | £3.0 |
| Wayne ROONEY | FWD | Man U | £11.0 |
| Cameron JEROME | FWD | Norwich | £0.1 |
| Andrew SURMAN | FWD | Bournemouth | £0.2 |
| Federico MACHEDA | FWD | Cardiff | £0.3 |
| Billy SHARP | FWD | Leeds | £2.0 |
| Matt SMITH | FWD | Fulham | £1.5 |
See you in the transfer market – Griff