We are just shy of a week away from the start of the latest instalment of the greatest sporting show on earth…. The FIFA World Cup. Like it or not, association football is the most popular sport in the world and, for its Blue Riband tournament, the whole world tunes in.
Even in places where other sports take local precedence – like India (cricket), The M62 Corridor (rugby league), East Africa (piracy) and North America (rugby, but with bike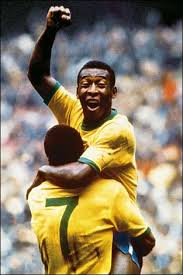 helmets and Joan Collins' shoulder pads) – football is still extremely popular and, as such, billions will watch the drama unfold on TV over the next month.
My earliest personal memory of the World Cup takes me back to the summer 1974 when I was just nine years old. Usually I can't remember what I was doing last week but there are a number of aspects of that, and subsequent, World Cups that I can recall as if it was yesterday. I confess I had to Google one or two minor details but most of them are still perfectly fresh in my mind.
So, as the England squad of 2014 prepares to put us through the emotional wringer again – until they duck out in ignominious failure at the end of the group phase – here are some abiding memories of the first five world cups of my adult life, from 1974 through 1990. Next week, I'll take a trip down memory lane to 1994 and drag us kicking and screaming all the way back to 2010.
1974 – Germany
My earliest ever 'real' World Cup memory was dashing home from junior school on my bike to watch West Germany play Poland to decide who progressed to the next phase. I almost shattered my personal best on the ride home – nothing to do with speed, I slipped off the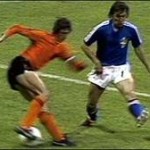 saddle and landed painfully on the crossbar – only to find the match delayed due to a torrential downpour in Frankfurt.  Elsewhere in this tournament, we witnessed the birth of the Cruyff Turn, the Dutch maestro turning Sweden's Jan Olsson inside out before leaving him sitting forlornly on his arse. West Germany won the final against the Dutch though it was the English referee, Jack Taylor, who took centre stage, awarding the first ever penalties in a World Cup Final. No show without Punch, eh?
78 Argentina – As with the majority of World Cups, there was some fantastic football played in Argentina in 1978. Yet my over-riding memory of that tournament was the crowds throwing ripped up pieces of paper, ticker-tape as it was dubbed, into the air. That's not strictly true, there was a n exceptional goal scored in a game involving Scotland. No, not Archie Gemmill's mesmerising dribble and shot against Holland (the Scots don't talk about that too much do they?), but rather  the thirty-yard pile-driver netted by Peru's 3-1 defeat of the Tartan cannon fodder.  Another top goalscorer, Mario Kempes, made quite a name for himself as the Argies took the trophy on home soil against the choking Dutch. At least the Jocks, Peruvians and Dutch were there – we English were sat at home watching Grease and The Deer Hunter.
82 Spain – This was Diego Maradona's first World Cup but I have to confess I don't really recall that. Whilst reading up on this blog, I learned that Claudio Gentile

committed twenty-three fouls on Maradona in the encounter. I remember Gentile. He was a proper thug. Yet the tournament will be remembered for a German foul, namely the assault by goalkeeper Schumacher on the French player Battiston. Other names that stick out for me included Scotland's David Narey who scored a screamer against Brazil. There was our own Bryan Robson, who scored against the French after just twenty-seven seconds and Paolo Rossi who emerged with Golden Boot. Most memorable player, though? Horst Hrubesch, whose surname sounded so hilariously similar to the word 'rubbish' that for the next few years anyone doing anything remotely shit was described as 'horst'. Hrubesch. Rubbish. Geddit? We were easily amused in Hindley Green in the early eighties.
86 – Mexico – The Argentinians owe me. I awoke one Saturday morning during the 1982 Falkland's conflict to a terrifying Daily Mail headline that read "Troops Land In Goose Green". Well, how was I to know there was a Goose Green in the South Atlantic as well as Wigan? Of course the whole world remembers the Maradona Hand of God goal followed by that sublime individual effort that knocked us out.  It was a goal worthy of comparison with anything produced by Gary Teale at his imperious best.  Form an English point of view, all we have to look back on fondly is Gary Lineker's hat-trick against Poland to shoe-horn us out of the group stages and Ray Wilkins getting himself sent off.
90 – Italy – For me personally, Italia '90 was by far the most memorable of all World Cups. Perhaps it was because England did as well as they have since 1966, but there were so many incidents that are as fresh in the mind today as they were twenty-four years ago. Deep breath, here we go… Gazza, 'daft as a brush'…  Nessun Dorma on the BBC… that England team shells-suit that everybody wore…  Roger Milla dancing round corner flags… Gary Lineker: "Have a word"… Sat in Denton cricket club when David Platt scored against Belgium… Toto Scillaci's mad eyes and Golden Boot… Gazza's boot not quite connecting with that cross…Frank Rjikaard gobbing in Ruud Voller's hair… Gazza's tears… Pearce's penalty miss… Waddles' penalty miss… Griff's tears (I didn't really)… And finally, indelibly, Gary Lineker, goody two-shoes, Mr Nice Guy, Gary Lineker having a poo on the pitch.
Phew, what a lot of memories!
See you on the BBC pundit's couch – Griff