Following on from last week's 5 good football managers, here is the promised list of 5 bad managers. But, whereas last week's was a very subjective list based on those managers that I like, or liked, personally with no real regard to their actual track record, this week's list does take a closer look at the records of the managers in question. Not too closely, though; there are still some who are purely in there because they piss me off.
Fat Sam – I can't bring myself to afford the man the respect of using his real name. This is nothing to do with the fact that he made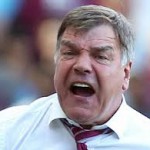 his name playing and managing those freaks from up the road in Horwich, though that certainly hasn't helped his cause at all. Although the thought would horrify him, he is another Wenger (without the talent, of course) in that he never sees any wrong in his players and believes the world is constantly against him. Well, he's not wrong there. Anybody whose footballing philosophy calls for signing Kevin Davies and Kevin Nolan everywhere he goes deserves no credit whatsoever. I once had the great pleasure of inadvertently stamping on his foot in the queue for security at Manchester airport.
Mark Hughes – Now here is someone who I admired greatly as a player and really hoped that he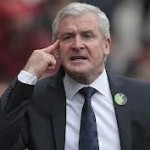 would translate that strength, flair and talent into the managerial arena. However, he hasn't really achieved that. There is no great shame in that as many a great footballer turned out to be bobbins once they donned the sheepskin jacket. My problem with Hughes is he is so flaming miserable with it. He is another one straight out of the Allardyce mould who is such a well-balanced individual that he has a huge chip on each shoulder. To be fair, he was harshly treated at Manchester City but I would have a little more sympathy if he just once showed a little bit of good grace and a pleasant demeanour.
Sammy Lee – "He's fat, he's round, he bounces on the ground, Sammy Lee, Sammy Lee". Sammy Lee was the gift that kept on giving.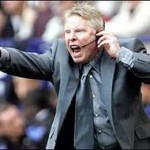 A Scouser who spectacularly failed as the manager of Horwich Wanderers, it couldn't have filled me with more glee. When Fat Sam left Bolton for pastures new in 2007, Fat Sammy was given the chance to take over the top job at the Reebok. He lasted a whole six months, though three of them were the cricket season when everyone was away on holiday. He won one game in eleven before being handed back the bibs and the cones and sent packing back to the training ground. If you detect a bit of Bolton bashing so far in this blog, well spotted – it's the derby against Horwich on Sunday and I am just metaphorically warming up.
Chris Hutchings – In the interests of balance, I will include a Latics' manager in the list to counter all this blatant Bolton baiting. Hutchings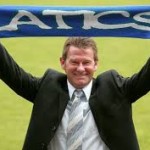 was the number two to Paul Jewell during the rise to the glory years at Wigan. He looked, and spoke, more like a second hand car dealer than a football manager. When he was given the chance to succeed Jewell he soon set about proving that he could manage a football team like a second hand car dealer, too. He didn't last long either, just like Sammy Lee. I first learned about his appointment as I sat in Hong Kong airport awaiting a transfer to Taiwan to go to work. By the time I arrived back in Hong Kong on the way back from my spell in Taipei, he'd been sacked. Not one of Mr Whelan's better appointments, it has to be said.
Alan Pardew – It's just as well that I limit myself to a couple of hundred words per entry in this blog because I could cheerfully go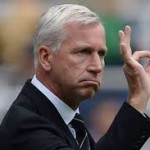 on for weeks about this horrible bastard. I don't like Kenny Dalglish because he's arrogant, surly, bitter and twisted and, well, I simply just can't take to him. But at least Dalglish has a playing record and managerial record to be arrogant about. What the hell has Pardew ever done in the world of football that gives him the right to preen and pontificate on our television screens every week? There aren't many people who I take an instant dislike to, but he is one. I have never forgiven Steve Bruce for not knocking him out when he had the opportunity in a play-off semi-final between Reading and Wigan many years ago. I have tried to mellow and like the man but, every time he speaks, he winds me up. For one thing, as I was saying to Glenn Hoddle just the other day, Pardew is constantly name-dropping about his tete-a-tetes with big name managers, and this is just one of his many, many annoying habits. I was sat in a hospitality suite at White Hart Lane a couple of years ago when who, of all people, should come and sit next to me but Alan friggin' Pardew. Completely ruined my foie gras and creme brulee. Horrible, horrible man!
And breathe!…
See you on the ice – Griff