It's been the numbers game all the way this week down at the Wigan Athletic forums this week. Or the Fickle-as-Feck Funny Farm, as it could more accurately be called. 4-4-2, 4-5-1, 5-4-1, 4-3-3… the arguments have raged amongst the armchair football managers as to which of these formations or systems would suit us best.
There is a growing clamour amongst the wannabee Wengers for Wigan to play with two strikers in tandem as this will cure all our ills. The theory seems to be that a striker who can't hit a cow's arse with a banjo on his own would suddenly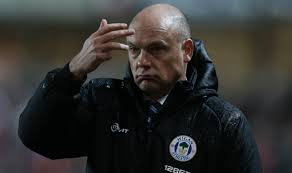 learn how to finish with aplomb if you partnered him with his mate who is equally inept in front of goal. I suppose it would be a case of two wrongs making a right.
What is clear is that there is a groundswell of opinion amongst the anonymous Arsenes in WN5 that our manager, Herr Rosler – a triumphant, Teutonic hero not twenty games back – can no longer be trusted to sit the right way round on the toilet, let alone pick the right eleven players to represent our club out there on the field.
And they may have a point as some of his recent inconsistent team selections have been quite baffling. Though "Pick a team and stick with it, you thick German twat!" probably doesn't fall under the category of constructive criticism.
Perhaps I should invite some of these clever Cloughies to try to manage one of the fantasy football teams in our Dream League to see how difficult a task it is. Four weeks into our season and team selection is proving problematic for our imaginary managers. Not me, of course – my team is riding high at the top of the fledgling league table – but spare a though for Paul Greenwood. Everybody he picks draws a blank while all his benched players are scoring for fun for their real teams.
In a joint View From The West/5-4-Friday offering this week, here is Greeny's 5-4-Friday bench of shame. Or, more likely, 5-4-Next Friday, as he slams that stable door and belatedly gives these guys a run out in the first team.
Week One #1, Leonardo Ulloa – It's always a bit of a gamble hoping that a guy who scores regularly in the Championship will continue to be prolific if he signs for a Leicester side that is newly promoted to the Premier League. You need to pick and choose his appearances, but if you're not going to give him an outing when he is only playing against Stoke, there clearly isn't a lot of confidence in him.
Week One #2, Nacer Chadli – I suppose this was a fair enough omission as Chadli has never been a regular starter in his Tottenham career to date. However, it took the Belgian just two minutes of the game at Sunderland to stick two fingers up to Greeny and open his account for the season.
Week Two, Ross McCormack – Again, on paper, it seemed a wise decision to bench the £11 million striker for struggling Fulham/s trip to the league leaders, Nottingham Forest. At eleven million quid, however, it was only a matter of time before he started scoring and sure enough Ross bagged two to make doubly disappointing for his Dream League manager.
Week Three, Thomas Ince – onto week three which coincided with the ties in the third round of the League Cup. That competition is always a selectorial minefield as you try to second guess whether real managers are likely to take it seriously or field a weakened team. It was tough luck on our hapless Dream League manager that Tom Ince decided to open his real Hull City account whilst simultaneously getting splinters in his arse sitting on Greeny's fantasy bench.
Week Four, Johnny Jackson – Into the latest week and has Greeny's luck finally changed? Nope, not really. If you're a less than prolific Charlton midfielder, only your mother would back you to grab the winner away at high-flying Norwich City. Then take a bow, Mrs Jackson – your boy, Johnny, did just that on Tuesday night. Is that the sound of a vote of confidence I can hear being rehearsed?
See you in the Chaiman's office, Greeny!  – Griff