Saturday sees the Latics play their last home game of the season tomorrow against Blackpool. On the pitch, Blackpool are struggling at the wrong end of the table, and their fans are embroiled in serious acrimony with the club management away from the playing field. On paper, it should be an easy three points which would see Wigan safely ensconced in the end of season play-off positions and push Blackpool closer to the drop to League 1.
Hopefully, there will be a celebratory, party atmosphere which apparently could have been bettered only if the game was to be played in
Blackpool rather than in Wigan. This is because the Wigan fans love a day out in Blackpool, although I have never really grasped the attraction. Everybody says that it's because it's a seaside town. But, as far as I am aware, not one of those Wigan fans spends part of the Blackpool trip on the beach, takes a donkey ride or splashes out on a Kiss Me Quick hat, so they hardly buy into the holiday town experience.
In that respect then, the Blackpool away-day experience is not too dissimilar to any other. Granted, it's only a relatively short train ride away and, if the weather's kind, you can stroll around the streets pre-match in your shirt sleeves. But, to be fair, that applies equally as well to a trip to Stoke, Crewe, or Stockport County.
I suppose part of the attraction is that Blackpool has a wider variety of pubs, bars and clubs to choose from than most places, though most of them are absolute hovels. The place is like a modern day Sodom and Gomorrah and most of the bars resemble the Mos Eisley Cantina from the first Star Wars film in terms of the clientele they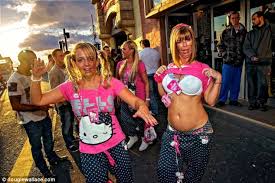 attract. By way of evidence, I offer you this little snippet from our last visit to the Fylde coast. In the Wetherspoon's pub beneath the Tower, we got talking to a group of women (-ish) from Barnsley, one of whom had recently upped sticks and moved permanently to Blackpool.
"What made you move to Blackpool from Barnsley?" asked one of the lads, not unreasonably.
Before she could answer, one of her mates jumped in and replied on her behalf: "Because she's already shagged everyone in Barnsley and she's now working her way round the country, alphabetically". No further questions.
That said, there are a few decent things in and around Blackpool. For example, I like the Sandcastle water park, I used to spend hours on the old pitch and putt course up at Cleveleys and, being the big fan of theme parks that I am, I could spend a good few hours wandering round the world famous Blackpool Pleasure Beach. Other aspects of the town, however, leave much more to be desired.
The Beach – If there is a shittier plot of sand outside of a bona-fide environmental disaster zone I have yet to see one. The beach at Blackpool is littered with condoms, syringes, and all manner of filthy detritus and the only place where you will find a higher concentration of dog turds per square flip-flopped foot is the city centre of Marseille, the Dog Shit capital of Europe. As for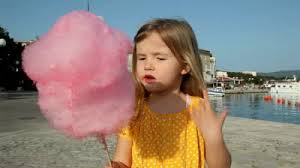 the sea, I reckon that even the most heinous of Bond villains would think twice about letting his sharks tread water in that cess pool awaiting a glimpse of Daniel Craig's Speedos.
Candy Floss – Not confined to Blackpool, I will concede, but what possesses people to eat this crap? It's just cotton wool, dipped in some kind of sickly, pink shit. You wouldn't dream of eating the contents of your pillow or that yellow stuff that's lining the floor of your attic now, would you? You may as well though, as I really can't see any difference in texture, or taste for that matter, between those two items and candy floss.
Glasgow Week – If it isn't t bad enough that Blackpool is full of slappers from Barnsley (see above) and itinerant workers from all over Eastern Europe hoping to earn a few bob on the slots, for a few weeks every July, Blackpool becomes a suburb of Glasgow. The place teems with fat, milky-white, ginger-haired bodies squeezed into Rangers and Celtic tops and you can't get near the front of a burger bar queue for love nor money. The sooner they get independence and can be barred from crossing the border, the better.
Locals – I have a couple of friends who live… close to, but wouldn't not normally be seen dead… in Blackpool. Now, I know you can't, or at least shouldn't, tar everyone with the same brush, However, whilst doing some, admittedly limited, research for this blog, I came across this stunning little perception of Blackpool's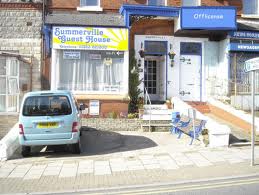 population: "Cheap town, average wage is 10 grand a year. Kids are encouraged to drop out of school at 16, work on the prom selling 2 quid shoes and then retire at 21 and live on the dole, stabbing grannies for crack money". Well, who am I to argue with that?
Blackpool B&Bs – One of the attractions – perhaps, the only one – of visiting the Fylde Riviera is that you can easily find cheap board and lodgings. And so they should be cheap. I was once given a tour of the impoverished townships of Soweto and saw cleaner and more welcoming digs there than can be found in the side streets of the Blackpool prom. It's coming to something when the poshest hotel in town is probably the Blackpool FC Hotel and Conference Centre that is stuck to the side of the town's football ground. That 'Conference' bit is quite handy as it means they won't have to rename it when they tumble out of the Football League in a couple of years' time.
See you from the top of the table – Griff