Traditionally, the beginning of July marks two things; the start and end of the British summer and an unending series of mind-numbingly dull end of term events at your kid's school. Many parents don't bother to attend these events but I do because a) I'm an absolutely brilliant dad and b) it's an excuse to take a couple of easy hours off work. Howver, as nice as it is to get a break from the office now and again, these events are not the most enjoyable.
Sports Day – If my experience of school sports day is anything to go by it is little wonder we produce so few Olympic champions. And to be honest, I'm not sure that the egg and spoon race is the best preparation for a life of athletic achievement. The technique in show is generally abysmal. At my boy's sports day this week, I reckoned that the egg was dropped on average half a dozen times in the fifty yard dash. Not one kid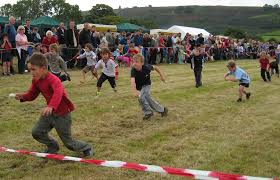 seemed to have had the gumption to slip a piece of Blu Tac in their pocket to aid stability. We're not even teaching the kids to cheat well.
Best foot forward – Still at the Sports Day, in the sprints (and I use the term in its loosest possible sense) I can't help thinking that the kids would fare an awful lot better if they concentrated on the track ahead of them instead of constantly glancing sideways at their fellow competitors. Also, black school pumps (or plimsolls, to give them their official name) are probably not the footwear most conducive to shattering your personal best. My lad wore his best Reebok trainers. He still didn't win.
All about the kids? – Is it bollocks! The teachers are split into three types; the totally unathletic types who look as if they are about to collapse under that strain of blowing the whistle to start the race, those who clad themselves in lycra yet look as if they are about to collapse under that strain of blowing the whistle to start the race, and the PE teachers who strut around thinking they are Sir Clive Woodward. If the teachers aren't bad enough then there is Competitive Dad, who thinks that failing to win the sack race is grounds for a month-long grounding. There are few things more amusing than seeing Competitive Dad's golden-bollocks' son stumble and fall just feet from the finish line in the fifty yard dash.
School discos – What testosterone-fuelled events these things are! Er, no they're not. The girls all hang around together singing and dancing along to Miley Cyrus and Katy Perry while the lads just charge around like lunatics, fighting with each other, climbing the wall bars and knee sliding across the floor on the way to the tuck shop to buy another bag of cheese Wotsits and a carton of Vimto. When you go to collect them it is like walking into a Mexican jail, such is the level of sweat and the toxic stench of thirty-odd nine year old boys (it occurs to me that that last sentence was probably Jimmy Savile's idea of heaven).
Performing Arts – And finally, the end of term arrives. The prospect of six long weeks of having to amuse your offspring over the summer break does not get off to a good start with the constant round of end of year assemblies and concerts. To be fair, this morning, it will make me quite proud to watch my son performing the theme tune from Pirates of the Caribbean which he has been learning all year on the piano but, unfortunately, it is not deemed socially acceptable to walk out after your kid has done his bit- you have to listen to all the other kids warble and screech their way through their pieces. I really should have fabricated an unavoidable meeting for this morning.
See you in the school hall
Griff