I stumbled across some old football photographs the other day which got me thinking about nostalgic, and in some cases tragic, football kits and accessories that hold some poignancy for me specifically. I know for a fact that a number of people reading this blog will also be able to relate personally to one or more of the five items under discussion.  This week's 5-4-Friday isn't really one for the ladies but I may make up for this by doing "5 great ironing piles" next week. Joke, sisters!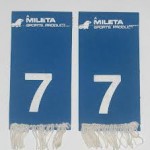 Sock Tags – as a 7 or 8-year old my mate's dad took us now and again to watch Leeds United. As such, being very impressionable young lads, we became huge Leeds United fans – for about a season or so, anyway. It was the famous team of Billy Bremner, Alan Clarke, Mick Jones, Eddie Gray et al. As well as its famous all white kit, the team was the only one in the league (to the best of my knowledge) to wear numbered sock tags like the ones on the left. Peter Lorimer was my hero – for that season at any rate – and I therefore possessed the number 7 sock tags. I am amazed that the money and merchandise-obsessed Premier League has not decided to give sock tags a comeback. That said, there is probably some health and safety law against it.
Sacred Heart RC Primary – The first team I ever played in was my primary school first XI.
I was quite proud of the fact that I was the first person ever to be selected to play for the school team from Junior Two (Year 4 in new money) as normally you had to be in Junior Three or Four to be selected. I was either that good or they had a flu epidemic that week. Replica kits were not as prevalent in those days but our school strip was very closely based on the one worn by Crystal Palace in the mid-late seventies.  It was quite trendy in its day.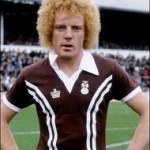 Coventry City Away Kit – there have been some truly horrendous football kits over the years but this away strip worn by Coventry City in the late Seventies takes some beating. It was a horrible brown colour with white stripes that came up the torso and followed the line of the shoulders.  The look is not helped by the modelling efforts of the Coventry player in the photo who looks camper than a row of tents. I am sure there have been much worse strips, but this one sticks in the mind.
Bridgewater Arms/Hindley Celtic – Ignoring the handsome young Adonis in the photograph if you can,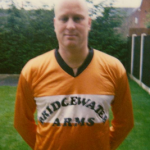 there is a story behind this kit. A bunch of like-minded young lads, mainly from Hindley and mainly of the catholic persuasion, established a new football team in the Leigh Amateur League back in 1888. Wishing to nod towards the geography and religion of its squad, the team wanted to play in the the green and white hoops of Glasgow Celtic and call itself Hindley Celtic. However the landlord of the local pub offered to buy our strip if we agreed to be named after his pub, the Bridgewater Arms, and for reasons lost in the mist of time, we abandoned those principles and ended up playing in the strip on the right. We were probably the only catholic team in history that chose to play in orange shirts.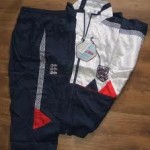 Italia '90 England Shell Suit – Italia 90 brings back memories of David Platt's last minute winner against Belgium, Gazza's tears and penalty shoot-out heartbreak. The England squad also wore the Umbro shell-suit pictured left. At the time I worked at GUS and could order this shell-suit at a hugely discounted price. So, along with the whole England squad, the whole Hindley Celtic squad (yes, by then we had changed our name and ditched the orange kit) spent the whole of the early Nineties wearing this horrendous shell-suit. Our manager, Mick Sidebotham, continued to wear it throughout most of the Noughties as well, completing the ensemble with a pair of scruffy green wellies. On any number of levels, Mick was not Roberto Martinez, but certainly nor sartorially. When Mick eventually retired in the late Noughties, he had to have the shell-suit surgically removed.
Have a great weekend.
Griff