Last week, I reflected on the remarkable demise of Wigan Athletic over the last four years, centring the discussion on the relative merits of the five managers we had in charge during that period. On Tuesday night, Rotherham's victory over Reading ensured that the demise was complete, and Wigan Athletic slipped, inevitably, back to the third tier of English football.
It would be very easy to do what plenty Wigan fans have done this week, namely lash out of at the club, its players, its management, its everything, and generally forget that they support a club that has been punching way above its weight for many a year and has probably now settled at somewhere close to its natural level.
For me, I prefer to give thanks for the good years, hopeful that they may yet return, in the not too distant future. This club has given us some great memories, especially in those Premier League years. It would be easy to think of the obvious ones; the day we won promotion from League 1 (at Huddersfield) and then the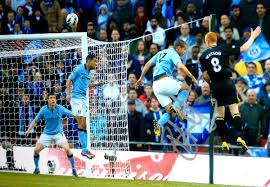 Championship (at home to Reading) or that historic European campaign or the day we won a corner at Old Trafford and didn't have a man unjustly red-carded. Oh, or maybe the small matter of winning the FA Cup.
Instead, I allowed myself just a couple of minutes to think of my five highlights from the glory years. I have thought of others since, and I may well think of more as I write this, but the following are the first top 5 golden moments from our golden era that immediately sprung to mind.
League Cup Final – If we were as giddy as baby giraffes to be experiencing our first season in the Premier League back in 2005/06, imagine our excitement when we didn't actually get relegated at the end of it and even made it to our first major final, the League Cup Final at Cardiff against Manchester United. OK, we got stuffed 4-0, but what a day out that was! Ironically, the best part of the day happened a week or so later in a league game against United when Arjan de Zeeuw gained retribution for a spot of Cristiano Ronaldo show-boating in the final by booting the Portuguese preener into the DW Stadium's East Stand.
Chelsea (a long way) away – Emile Heskey scored a late, unlikely equaliser away at Stamford Bridge under Steve Bruce on 14th April 2008. It was our first major success – ie not losing – away at the home of one of the big boys. I recall I was sat watching the Sky coverage in a bar in Marseille in the south of France at the time, comfortably the only person in there, whooping and hollering like a banshee when the final whistle blew.
Going to the wire – By the end of season 2010/11, Premier League life looked like it was coming to an end. 135 minutes before the end of the season we were two down in the pouring rain at home to West Ham and the club's accountants were peering through the "Championship" tab of the budget spreadsheet.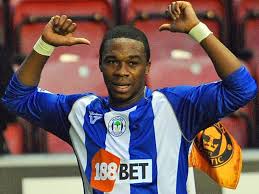 Charles N'Zogbia almost single-handedly turned it around in the second half and gave us a fighting chance of staying up the following week at Stoke. It was a chance we famously grabbed with both hands.
When it all came together – Moral victories (let alone real ones) against the so-called Big Four like the snatched draw at Stamford Bridge were few and far between in our Premier League years. However, in 2011/12 a ruin of seven victories in the last nine league games saw us beat Liverpool, United and, my own personal favourite, Arsenal away. I was sat in the Arsenal director's box that night and enjoyed some post-match boozing with John Motson (CLANG!) and had to listen to him purr over the way our midfield – especially Jordi Gomez – had out-passed and out-played the famous Gunners. Man, were we pissed that night!
When the goals almost came too quickly – I promised myself I wouldn't include that FA Cup win and I won't but we experienced a similar "pinch yourself" moment in the quarter-final at Goodison Park. Maynor Figueroa gave us a deserved lead on the half-hour and we wondered if we would be able to hang on for the next hour. A minute later, Phil Neville gave the ball away to McManaman who, unbelievably, made it two-nil. We were still celebrating that when Saint Jordi made it three and game-over. Now, if only we draw Millwall in the semis and avoid City and Chelsea, who knows what could happen?!
See you down Memory Lane – Griff