Sat in the pub the other week, a mate suggested a 5 all-time favourite footballers theme for 54F. After a bit of a heated debate, we agreed that this was probably too wide a category, as there are oodles of possible variations on this core theme;  5 favourite/best English players, 5 favourite/best foreign players, 5 greatest captains, 5 favourite/best centre-forwards, 5 favourite/best Wigan left-backs. OK, maybe not the last one, but the list is almost endless. It does, therefore, seem a shame to shoot my bolt on a general and not-too-hard-to- think-about 5 all-time favourite footballers when I could probably string this out to cover a few months' worth of 54Fs. So, this week, I will be confining myself to the greatest players – in my humble opinion, of course – that I have actually seen play live in the flesh. And to make it even more selctive, I am excluding players I have seen play at Wigan in the Premier League because that would be too easy. In any case, it will be the subject of a separate list at some point in the future.
Colin Bell – My first ever football match was an FA Cup tie at Maine Road, Manchester when non-league Wigan Athletic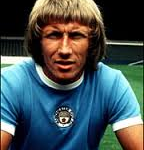 were drawn away against the mighty Manchester City in the fourth round of the 1970-71 FA Cup. I was five years old and, although I remember the day quite well, to be perfectly honest I remember very little about the players on show.  However, as I grew a little older, I do remember Colin Bell being the best of that great City triumvirate of "Bell-Lee-Summerbee". He may well have gone on to be recognised on the greatest stage of all had England not failed miserably to qualify for the 1974 World Cup finals. On top of that, his career was then curtailed by a serious knee injury suffered in a game against Manchester United, of all teams. It is a measure of the esteem in which he is still held that the stand named after him at the Etihad Stadium, City's new home, is not always gleefully referred to as the Bell End.    
Bobby Charlton – Not long after that first live game at Maine Road, my mate Andy's dad started to take us to watch various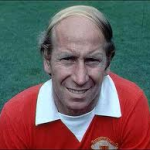 football teams play. If we were naughty he took us to watch Bolton but if we were on our best behaviour we got to go to see Leeds or Manchester United play. It was the era of United's own, arguably even more celebrated, triumvirate of "Charlton-Best-Law" and I am eternally frustrated that I was not quite old enough to appreciate and recall what I was undoubtedly privileged to watch. George Best may well have been the ultimate Golden Boy, but if I didn't list Bobby Charlton in the five greatest players of all time, let alone those I have personally seen play, Andy's dad, George, would never forgive me. He still bangs on to this day about how good Charlton was and is adamant that he would still be the best player around if he was playing today. He even bought me a Bobby Charlton DVD a few years back to support his case. It's worth including him if only in the vain hope that it might get George to just finally let it go!     
Glen Hoddle – I'm a sucker for a footballer with a bit of flair, one who believes that tackling is an activity for a player with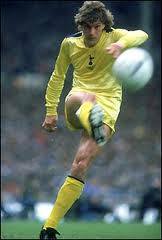 less talent, with a less creative contribution to make and who never ever wanted to get his socks dirty. Glenn Hoddle ticked all those boxes for me and he is one of my favourite players of all time. I was lucky enough to see him play at least once, maybe twice, for Tottenham at Bolton's old ground, Burnden Park, and he was the player I most wanted to emulate. Sadly, as a footballer, I was more Glenn Close than Glenn Hoddle, but it is the love of that kind of player that has seen me indulge the shortcomings of the likes of Michael O'Neill, Paul Cook and Jordi Gomez down the years at Wigan. They didn't even come close to being able to lace Glenn's boots, but you could see that they were trying to play the same way, and fair play to them for that. On holiday in Newquay at the end of the seventies as a testosterone-filled fourteen year old, I spent most of the week in the futile pursuit of a posh blonde bird from Wolverhampton who was staying in the same hotel. Towards the end of the week, I learned that the lad who I had watched playing pool all week long from morning till night was none other than Glenn Hoddle's brother. The Black Country princess never got a look-in after that. I was all over him like a tramp on a kipper.   
Paul Gascoigne – Before he embarked on a career providing cans of lager, chicken sandwiches and fishing tackle for rogue Geordie gunmen, P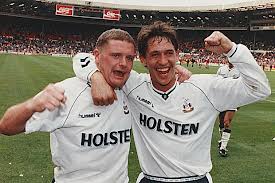 aul Gascoigne wasn't too shabby a footballer. The couple of seasons either side of the 1990 World Cup finals were probably his halcyon days and it was around this time that I saw him play for Tottenham at Old Trafford in a league game against Manchester United. I don't remember anything specific that he did during the game other than completely boss the game from start to finish. What I do remember is the warm up prior to the game which is something that I would ordinarily miss due to being in the pub. On this occasion, I watched fascinated as Gazza and Gary Lineker stood about fifty yards apart and traded passes, each one consisting of one touch to kill the ball followed by a pinged half-volley across the width of the Old Trafford pitch. The sequence only ended when Gazza horribly miscued a pass that landed a whole three feet away from a plainly disgusted Lineker. Gazza held up his hand in humble apology. For someone whose second touch is usually a tackle, it was a hugely impressive display of technique to witness.      
Ruud Gullit – Arguably, Bobby Charlton aside in case this gets back to George Charleston, Gullit was the biggest global superstar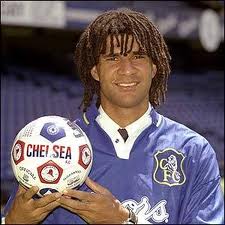 I ever saw play live. It was towards the end of his playing career in England and turned out for Chelsea against Bolton at Burnden Park. It was a fairy drab, end of season affair played out in glorious sunshine. Gullit's ability and personality shone out way above anyone else on the pitch though he barely broke sweat at any point during the game. He was absolutely magnificent, not once miss-controlling the ball, not once misplacing a pass and never, ever looking like he would lose possession.  The Chelsea team returned to the field first for the second half with Gullit bringing up the rear, a minute or so behind the rest. As he strolled out of the tunnel in that languid style of his, a round of six-fingered applause slowly began to emerge from the Bolton fans. Gullit turned slightly and stood to one side, assuming the applause was for the returning Bolton team – ha, as if! When he realised it was directed towards him, he seemed genuinely embarrassed and sheepishly raised his hands above his head, returning the acclaim. If it was designed to soften him up it didn't work; he played even better in the second half.
Enjoy the weekend – Griff