All this week's radio, TV and paper talk has been about the contender for goal of the season which was scored in England over the weekend. To be honest, I didn't think there were that many there to witness my stunning last minute game-clincher at TNF (Thursday Night Football), which involved me nut-megging the last defender before thundering a right-foot shot past the 'keeper and in to the goal off the angle of post and cross bar. However, it transpires that the great British media were actually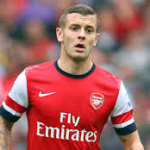 waxing lyrical about Jack Wilshire finishing off a glorious one-touch team effort for Arsenal on Saturday afternoon, not my third, and best, goal of the previous Thursday evening.
But was it that good a goal, really? It wasn't a bad one, I suppose, but some people are already calling it one of the best goals ever scored. I think that is a just a little bit over the top – much like most of my efforts on goal are usually just a little bit over the top.
Anyway, what constitutes a great goal? Is it a mazy individual run, an easy on then eye pass and move team effort like Wilshire's, or a thirty-yard thunderbolt that threatens to rip the net? Is it a greater goal if it enters the net directly or crashes off the bar or post first? It certainly looks more spectacular if it goes in off the woodwork, but does that in itself, make it a better goal? It is without doubt a subjective subject, if I can say that, and I therefore suspect that this will generate the largest volume of 5-4-Friday debate in history, until such time as I get round to writing the "5 fittest girls at the 1986 Bethel disco" 54F.
Given that is so subjective, and that there are so many goals to choose from, I vowed to take no more than five minutes to choose the first five memorable goals that sprung to mind and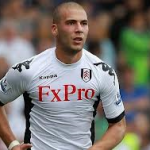 stick with that list. It actually took me just two minutes to scribble down the five and, as soon as I had done it, I recalled at least another half dozen that could easily have made the list without even thinking too hard. In fact, whilst I was writing this on Monday evening, the boy Kasami from Fulham rattled in an absolute "worldy", as Paul Merson would say, against Crystal Palace which could easily have been included. 
Anyway, I'm going with my original five detailed below, as per my self-imposed rules. I have included Youtube links so that you may view them for yourselves.  If you don't agree with my choice, please feel free to leave your own favourite five as a comment on here or on the Facebook page. Or just sod off.
Carlos Alberto, Brazil v Italy, 1970 – I have to confess to not watching this one live. I was five years old at the time, it was played in Mexico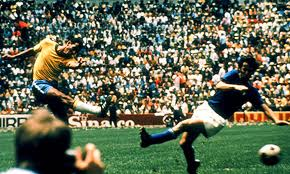 and way past my bedtime. However, to give you a flavour of the perceived quality of the goal, I will share with you the comments of one Eric Cantona, who remarked: "I have never and will never find difference between the pass from Pele to Carlos Alberto in the final of the World Cup in 1970 and the poetry of the young Rimbaud, who stretches "cords from steeple to steeple and garlands from window to window." There is in each of these human manifestations an expression of beauty which touches us and gives us a feeling of eternity". It wasn't a bad shot at the end of the pass, either. The boy Alberto certainly done good, there.  
Mickey Walsh, Blackpool v Sunderland, 1975 – This was one of the earliest spectacular goals I ever remember seeing and, of course, I saw it on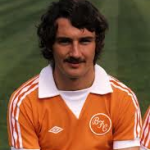 Match of the Day. Hit with his weaker left foot, apparently, the goal was no more memorable for its quality and technique than it was for Barry Davies' excitable commentary in describing it. Yet as examples of excitable commentaries go, Walsh's goal doesn't even register in the top two all-time Barry Davies excitable commentaries, let alone in the all-time list of all commentators.  I'll leave you in suspense with the make-up of that particular list, however, as an idea for another 5-4-Friday has just occurred to me, even as I type – 5 great sporting commentary moments. I'm already researching "Just look at his face!!" Look it up.
Marco van Basten, Holland v USSR, 1988 – Ironically, as I was writing this one down on Monday evening,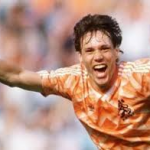 the Pajtim Kasami goal for Fulham to which I referred in the introduction was in the process of generating its own column inches. "Better than the Van Basten effort", raved his boss at Craven Cottage, Martin Jol, today. Well, again, it's all subjective, isn't it? I just wonder if we will be talking about Kasami's goal in twenty-five years time as we still do the Dutchman's effort against the old Soviet Union. Have a look at the clip and see for yourself what all the fuss was about. If you don't find it all that entertaining, maybe the Dutch commentator attempting to turn it into a soft-porn clip will help.      
David Platt, England v Belgium, 1990 – Platt's winning goal to spare us the agony of extra- time in the 1990 quarter-final against Belgium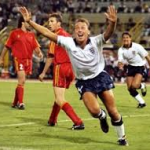 was one of the most memorable goals of the one of the most memorable World Cups of all time. Right at the death of the game, a floated free-kick into the box over Platt's right shoulder was hooked back spectacularly into the far corner to send England into an ultimately disappointing semi-final against Germany. On the night, of the Belgium game I was playing a work's cricket match in Denton, Manchester. We even won that game right at the death too, as I recall. I also recall the post-match potato pie at the cricket club being as exquisite as Platt's finish.  
Stephen Reid , Blackburn at Wigan, 2005 – Sadly, being a Wigan fan in their Premier League days, there was many an opposition goal to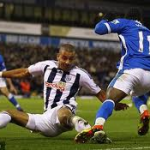 applaud between 2005 and 2013. I talked a couple of weeks ago about Thierry Henry's magnificent free-kick but Stephen Reid's goal for Blackburn takes all the accolades for my money. If there hadn't have been a net and a stand in the way that ball would still be travelling now. If we were still playing our home games at Springfield Park, the ball would probably have ended up in the Cherry Garden's car park on Wigan Lane. In the video clip it is quite difficult to see the ball travel goal-ward from his boot at real-time speed; you really need to see the slow-motion version to appreciate the power with which it was struck. Even in person at the ground, it was tough to see the ball fly through the air, though that was more to do with it being New Year's Eve, a home game and me being half-cut.          
See you on the ice – Griff