As the end to the eight-year wait for Wigan's "immediate" and inevitable relegation from the Premier League looms ever nearer, Cockney Latic, one of the many Wigan Athletic fan forums out there, has been awash with excuse-making this week. Conveniently forgetting our sieve-like defending and our impotent cow's arse-friendly forwards, the consensus of opinion is that rank refereeing decisions have cost us dear.
And to be fair, there have been many dodgy ones in our Premier League stay and quite a few in this season alone. There was Figueroa's soft ninth-minute dismissal at Newcastle, the blatant dive that earned Welbeck a penalty for The Rags at Old Trafford, and Sean Maloney inexplicably being refused a spot-kick at Goodison despite being knee-capped in the penalty area. However, in the grand footballing scheme of things, we haven't had it too bad. Here are a small selection of other refereeing gaffes, cock-ups and sense of humour bypasses from down the ages.  
Rangers v Hibernian, 1996 – When Paul Gascoigne was playing at Rangers his misplaced sense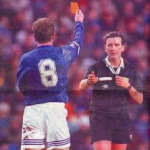 of humour frequently threatened to get him into trouble. Whilst warming up as a substitute in an Old Firm game, he mimed the playing of Loyalist flute in front of the Celtic supporters. It earned him a £40,000 fine and death threats from the IRA. Two years earlier in a match against Hibernian, there occurred what should have been a much lighter-hearted moment. Referee Dougie Smith dropped his red card and, when play stopped, Gazza gave returned it but not before waving it playfully in the face of the man in black as if giving him his marchig orders. In turn, Mr Smith waved back his yellow card at Gazza, cautioning him for real. Gazza was doubly disappointed because he initially thought he had found a Thresher's off-licence loyalty card as they looked remarkably similar to the ref's yellow card.
Germany v England, 2010 – If ever there was a justification for the introduction of goal–line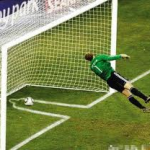 technology in football then surely Geoff Hurst's "goal" in the 1966 World Cup Final provides a cast-iron case? Fast-forward forty-four years when the two rival countries met in a World Cup Last 16 tie at South Africa 2010. There should have been no need for any form of technology to establish that Frank Lampard's long-range effort just before half-time should have stood. In fact, it was so far over the line that the keeper had to take a taxi to go and retrieve it. Goal or no goal, however, there is no denying the fact that England were totally outplayed in the game and deserved to lose comfortably.  The Germans will no doubt claim that the injustice makes up for the 1966 debacle and they probably have a point.  But, on a head-to-head basis, although we are level at one each on dubious goal-line decisions, we are still one ahead of them on World Cup Final head-to-head victories and two ahead when it comes to World War triumphs.  Ner-ner-ne-ner-neeerrrr!
Argentina v England, 1986 – Not that we English are paranoid or anything like that, but wasn't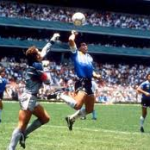 that handball by Maradona in the 1986 World Cup quarter final the greatest footballing injustice of all time? It is hard to shake the feeling that the UN had jumped into bed with FIFA and insisted that the Argies be given a helping hand, so to speak, by way of recompense for us invading the Falkland Islands a few years earlier.  But, didn't we win that particular conflict? And as such, should we not have been given a one-goal start, or some other advantage, as a reward for our military superiority? Then again, even if we had been given a goal start, there was to be no stopping Maradona's brilliantly crafted and mercurial second goal during which he waltzed, unfettered, around the entire England midfield and defensive units.  Still, let's not let the facts get in the way of a good old paranoid, jingoistic rant, eh?       
Liverpool v Wigan, 2008 – Enough ranting about the English being persecuted, it's time to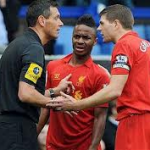 come a little bit closer to home for the last couple of items. The eight years in the Premier League have provided numerous examples to support the "big clubs get it all their own way" theory, particularly against Wigan. Nailed on penalty claims waved away, incongruous penalties conceded, and innocuous red card decisions have all winged their way in Wigan's direction since 2005. One that is particularly riling occurred at Anfield in 2008. Leading 2-1, and heading for a famous victory, Wigan were defending a free kick and the referee was struggling to get our wall to retreat the full ten yards. When the kick was eventually taken, Saint Steven Gerrard complained to the referee that Antonio Valencia had encroached before the kick was taken. The referee hadn't seen the offence – mainly because there wasn't one to see – but that didn't prevent him from showing Valencia a yellow card. A few minutes later, Valencia committed a clumsy foul and was shown a second, this time genuine, yellow card. He therefore took an early bath and Liverpool pressed home their unfair numerical advantage to eventually emerge victorious by a 3-2 scoreline. Bastards!    
Manchester City v Wigan, 1999 – Although this clash was in the Division Two play-off semi-final,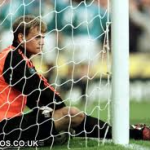 second leg, there was still an element of the Big Club in evidence when two shocking decisions went against Wigan and in favour of that huge, massive second division club, Manchester City. Very early on in the match, Wigan's full-back, Kevin Sharp, galloped into the City penalty area only to have his legs sliced from beneath him by Gerard Wiekens. It was a head in the hands moment for the City fans behind the goal, who were therefore extremely relieved and pleasantly surprised when they looked up to see that the referee had deemed there to have been no offence committed.  City's luck continued later in the game when Shaun Goater handled the ball into the Wigan net to clinch the win for City. City fans, and indeed Goater himself, still insist all these years later that it was a legitimate goal. Wigan fans are less convinced, understandably. We play City again next Saturday in the FA Cup final at Wembley. We are due a favourable refereeing call, surely?
Enjoy the weekend  – Griff