Ceefax was taken out of service yesterday. With the wealth of information readily available to us today via the internet with its search engines and social media sites, I suppose it is fair to say that Ceefax has probably had its day. From a purely nostalgic viewpoint, however, it will be sadly missed.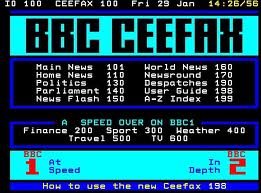 Everybody has a Ceefax-related story or two, often concerning those annoying holiday flight pages that inexplicably skipped from 86 to 88 when you knew full well the flight you were looking for was sat slap-bang in the middle of page 87.
My Ceefax memories unsurprisingly revolve around the sport pages. One Sunday night in 1995 I was on my way to bed when I remembered that the US PGA golf championship was coming to a conclusion. Before retiring for the night I checked on Ceefax to see who had won. When I finally found the page, the screen told me that Elkington and Montgomerie had tied after 72 holes and that a play-off was in progress.  
I waited for an update. And then I waited some more.  I realised that the play-off hole was a par five which might take some time to complete. Also, I had no idea how long they had been playing the hole before I arrived at the page. This could have been over in five seconds, five minutes or twenty-five minutes.  Who could tell?
The sensible option would have been to go to bed and read the result in the morning paper. Not me. I grabbed a beer from the fridge and sat on the couch watching, what was to all intents and purposes, a blank screen. After a further fifteen minutes the screen changed to simply read "Elkington wins". I drained the rest of the can and went to bed.  As sporting spectacles go, it wasn't up there with the classics.
Unperturbed, the following day, I watched a thrilling climax to a 40-over cricket match between Lancashire and Derbyshire, I think. In the last over, Lancashire's score on the screen advanced from 183 to 187. Clearly four runs had been added but I had no justification for the fist-pumping yell of "Yesss! Great shot, Fairbrother" that accompanied it. How the hell did I know it was a great shot? It could have been a fluky, streaky inside edge down to long-leg. Bizarre in the extreme!
Ah, Ceefax – gone, but not forgotten
Griff