I've never really been one for wearing replica football shirts. I own a few, of course, but they are only worn when I am actually playing football or out for a run. And as I only go out for a run once every Preston Guild that's as near as damn it not worth counting.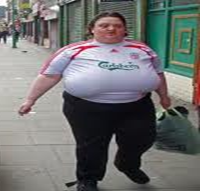 Certainly, I would never, ever wear one when watching a live football match. It's OK for kids, but what on earth possesses a grown man or woman to wear a tight-fitting football shirt that shows off every bump and crease for all to see? If you ever wanted to highlight the difference between you and those finely tuned athletes out on the pitch that's it, right there.
What I find even more bizarre are those who wear the replica shirt over three layers of jumper to keep them warm in the cold winter months. Not cool. Neither is it cool to don your replica shirt at home to watch your team play on TV. The bloke that lives next door to us does that. Then again, he's a Wiganer who is a 'fan' of Manchester United. Obviously he never actually goes to Old Trafford to watch them play and so wearing the 2003 replica shirt and watching them on tele is as close as it gets to him supporting Man Yoo, and there's plenty more like him knocking about.    
I get that people will say they are supporting their club's commercial operation by buying the shirt but why not just buy half a dozen pints at the match at half-time and bolster the clubs' finances that way? That's what I do and I bet by the end of the season I have far exceeded the £45 that they spend on one sweat-shop produced polyester shirt. And I have to laugh at those who have their hero's name splattered on the back for an extra tenner only to see him sold to a rival club in the January transfer window.
And now, thanks to Bradley friggin' Wiggins, we have replica cycling team shirts all over the sports shop floors.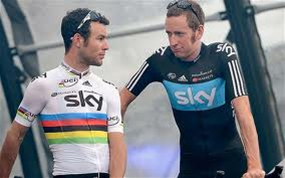 Now, I ride a road bike and I wear a cycling shirt because it's practical – it keeps the wind out and it has a small, zipped pocket for my door keys – but it doesn't have the Sky or Tissot logo plastered all over it and I don't look a complete berk.  Well, I do, but that's because of the stupid lycra shorts with a gel cushion in the arse and a daft pointy hat, not because I am wearing Bradley Wiggin's stupid bloody shirt. 
In another sports shop the other day, I saw a replica darts shirt! I kid you not. Why would anyone choose to dress like Jocky Wilson or Phil "The Power" Taylor? It's a while since I last threw arrows in anger but do people seriously turn out for their pub darts and dominoes team wearing these tent-like monstrosities?
Whatever next, replica snooker gear? I can just see people rocking up at the local snooker hall in dickie-bows and waistcoats. Maybe with the legend "O'Sullivan" stamped across the back, only for Ronnie to retire and take up professional poker. Now then, there's a thought; replica poker shirts. Surely, it's only a matter of time.
Griff