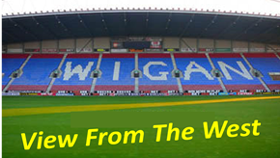 As the theme parks and fairgrounds of Britain dust themselves down for the summer season, it is an opportune time to reflect on what has been a true roller-coaster of a year for little Wigan Athletic.
A few days and a year ago, Wigan Athletic arrived at Wembley to act as cannon-fodder for the mighty Manchester City in the FA Cup Final. Even the most positive of our fans gave us very little chance and yet we prevailed that day to celebrate a triumph that cannot, and will not, ever be bettered. The cliché "it put Wigan on the map" doesn't even come close to doing it justice. There are lost Amazonian tribesmen who have no idea who Justin Beiber is, but know full well that "we beat Man City with a Watson goal!"
And then three days after that cup final, a dose of reality. Roberto Martinez took his team to Arsenal knowing that Wigan needed to win to retain their Premier League status. Sadly, it wasn't to be and after the ridiculous high of Wembley it was the deep depression of relegation after eight stubborn, but frustrating years of top flight struggle.
Or was it depression? Many fans had grown tired of that contact struggle against teams with far greater financial resources to fritter away on player wages, the biased, snobbish media and the Sky high cost of watching the self-appointed greatest league in the world (Sky high – I hope you saw what I did there?) Plus, we had the Championship to look forward to and the club's first ever European campaign to look forward to.
Then, the man who had polarised opinions more than Peter Kay, left the club. Roberto Martinez said goodbye and Dave Whelan surprised many by appointing Owen Coyle in his stead. If lots of Wigan fans were happy to see Martinez leave, then equally as many were unhappy to see the ex-Bolton manager take over the reins. Still, the early signs were promising as Coyle seemed to say all the right things and made a lot of what, on the face of it at least, appeared be good signings.
Despite being beaten back at Wembley by Manchester United in the Community Shield, a huge away following saw Wigan open up the league season with a 4-0 thumping of Barnsley. There were goals for two of the new boys in a performance full of panache and control. As we supped post-match ales in the evening South Yorkshire sunshine, it seemed as if promotion would be a breeze.
From there, progress was steady if not spectacular. Up and down, actually. Like a roller-coaster, you might say.  And then it was Europe. Giddiness took over as the Europa League adventure began. For me, Thursday Night Football means a game of 7-a-side, a few arguments, a shower and a couple of pints in Little Fifteens and yet here we were, watching our team playing Zulte Waregem away in Thursday night European competition. And not losing, either. And then, we followed that up with our first ever European victory, at home to NK Maribor. Things were looking up.
Or were they? Whilst Europe provided an enjoyable distraction, the league form was anything but great. Plus, Coyle's team selections and tactics were starting to confound people. Some fans might not have liked the Martinez way, but at least they could see what he was trying to do. There seemed no such pattern to Coyle's play. And he would shout a lot too, seemingly at anyone within earshot.
The ABC – Anyone But Coyle – protests started with a vengeance and, suddenly, the fact that he used to manage Bolton, had an apparent fondness for table tennis and a penchant for wearing football shorts with shinpad-less knee-length socks on the touchline, became major issues. He did nothing to help himself either with an insipid home defeat to Brighton, a "defeat from the jaws of victory" performance against Zulte that effectively ended the European dream and being 0-3 down at half-time at home to Derby, all inside eight days.
It was to be as low a point as the season would reach. Whelan wasn't happy and acted quickly, appointing Uwe Rosler to replace the hapless Scot. Given the anti-Bolton feeling around the club, Rosler could hardly have done better that beat the Wanderers in his first home game in charge. There were smiles on the fans' faces again and by Christmas, the ship was, more or less, steadied.
Soon, it was January and the time came to defend the FA Cup. Fans talked wistfully about another Wembley trip but lightning doesn't strike twice, does it?  Meanwhile, Rosler was quietly going about his business. Over the next few weeks and months, Wigan gradually climbed up the league table and were being talked about as genuine play-off contenders. Meanwhile, MK Dons, Cardiff and Crystal Palace were being dumped out of the FA Cup. It was as if Owen Coyle's shorts had never even been at the club.
Suddenly, it was FA Cup quarter final weekend and Wigan Atheltic were still in the hat. Manchester City were given a perfect opportunity for revenge but, incredibly, they were to be disappointed and humiliated once again. Nobody typifies the roller-coaster nature of life at Wigan Athletic than Jordi Gomez. Once vilified by many of the DW Stadium faithful, he had been given a new lease of life under Rosler and here he was, giving Yaya Toure the run-around at the Etihad and sending The Tics back to Wembley. Wembley again! Divorce lawyers all over the Wigan borough prepared cases and sharpened their pens.
We drew Arsenal in the semi-final and, once again, the smart money was on the big club. We pushed them mightily close though, eventually only losing out on penalties. It was a strange feeling to lose that game. After all, we were Wigan Athletic, and we weren't used to losing at Wembley.
And so, it was back to the bread and butter of the league for the last few weeks of the season. As the form team, Wigan were every pundit's choice to win the play-offs. Despite a final little wobble, the play-off place was duly clinched with a game to spare.  However, the away second leg of the semi-final at Queen's Park Rangers, the 62nd match of a mammoth and momentous season, proved to be one step too far and there was to be no fifth trip to Wembley in thirteen months.
However, is anyone outside of the Wigan Athletic boardroom really that upset? I don't think so. The fans have had a whale of a time since May 11th 2103, seeing the team win more matches than they have lost and enjoying some proper old school away days to proper old football stadiums.
We now have three or four weeks before the fixtures for the 2014/15 season are announced. At the same time, we can sit back and watch England fail miserably in the World Cup in Brazil and then it will be time to strap on the wristbands and hit the Latics roller-coaster once more. I can't wait.
Griff