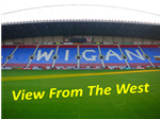 As I write this, the day before they play Coventry City at home, Wigan Athletic have just six games to go until the end of the season. And what a season it's been, too. Off the field it has been a fantastically enjoyable one. We've had some monumental away trips, the club has just announced that my renewed season ticket will only cost me 179 quid and the Chairman has managed not to drop us in the shit with the FA by insulting all colours and creeds known to man.
On the pitch, arguably, it has been even better. It all depends on your outlook on life, I suppose. We are obviously in a shit league compared to where we were just two seasons ago but, as they say, all you can do is beat whatever rabble they put in front of you on the day.
Of course the club's management and recruitment team deserve a lot of credit for the position we are in, as does the manager and his coaching staff. But it is the players who probably deserve most of the credit. Our player of the year vote might be a bit interesting this time around. A seven-hour drive back from Brighton today gave me ample time to consider this, so here are my contenders, in reverse order.
5 – Donervon Daniels – what a unit this lad is! I'd rather feed him for a week than a fortnight as me mum used to say. He's played in a number of positions when needed and, apart from the odd wobble in form that everyone has from time to time, he has rarely let us down.  Chipped in with a few goals, too.  He gets on the short-list ahead of the likes of Pearce and Morgan purely on his versatility and goals, for me.
4- Jussi Jaaskelainen –  it's probably no coincidence  that the start of our relentless climb up the table coincided with Jussi taking over the gloves. It must make life much easier for defenders to have such a consistent performer behind you week in, week out.
3 – Max Power – what's not to like? He's like Mike Flynn with talent! Infectious enthusiasm and a walking FA charge with those mental goal celebrations. Max is one of the main reasons why the fans feel connected with the club again. He gets my vote over Yanic (too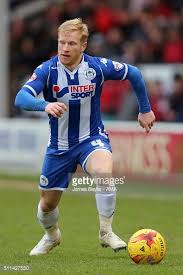 inconsistent) and Michael Jacobs (missed too many games, unfortunately) but it is a very harsh and difficult choice in that midfield area.
2- Will Grigg – it's tough to win any league title without a prolific goal-scorer and Grigg has certainly proved himself to be one of those. More than that, though, his selfless work-rate in that lone striker role has been a pleasure to watch this season. Plus, and more importantly, he looked after my lad when he was mascot at the Scunthorpe game earlier in the season. I mean my lad was the mascot, not Will.
1 – Dorothy Perkins – my personal player of the year by a mile, is Perks. What an annoying bastard he must be to play against. It must be bad enough playing with him given the amount of nagging and moaning he does. It's like being at home with the wife! Still, you'd rather have him in your team than not. He might be what Eric Cantona referred to as water carrier but every good team needs one.
Tough call though, is it not?
See you at the presentation night – Griff