As a soccer-mad dad, it has been mildly disappointing that my son has, so far, shown little interest in football. He is ten years old and, thus far, his live football-watching career is limited to two (turgid) pre-season friendlies. At the time of writing, however, he has just agreed to attend his first ever competitive match, the local home derby with Bolton on 21st March. Hopefully, the inevitable crushing victory, three-point haul and meteoric rise away from the relegation zone will result in an immediate Road to Damascus moment for him.
He is, admittedly, showing a bit of interest in the game now that he and his mates are obsessed with playing FIFA15 on the Xbox. This, I think, is a good thing, as it has undoubtedly sparked his new-found enthusiasm in football and is a contributory factor in him agreeing to come to the Bolton match.
On the downside, I am now constantly badgered into telling him who is my favourite ever player, or who I believe to be the best ever English player or to make comparisons between the global superstars from Madrid and Barcelona he has signed up for his FIFA15 Ultimate squad. He is yet to ask me the key connoisseur question – "who is Wigan's best ever left-back? – but, it is at least a start, and is allowing me to nurture his budding interest in the beautiful game.
The other day, he asked me to name a team made up of my all-time favourite players. This is a question that everybody has been asked to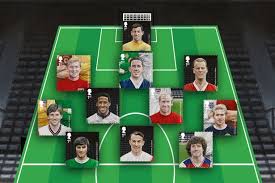 answer at some point or other. It is a very subjective question and there are literally hundreds, if not thousands, of players from which you could choose.
Whenever I am asked this question, I try to limit the scope to make me think a bit harder. For example, I might pick my best 11 foreigners, best 11 English players, best 11 players I've seen play for, or against, Wigan. My lad named Bobby Moore in his best ever team. He obviously never had chance to see Moore play but was mightily impressed when I told him that I had. Therefore, the exercise turned into naming the best 11 players I have ever seen play in the flesh.
I quickly warmed to my subject and told him that I would be using the innovative 3-4-3 formation much loved by Roberto Martinez in order to pack in to the side as many attack-minded, flair players as possible. Being a 10-year old with the attention span of a goldfish, by the time I had explained my choice of goalkeeper he had lost interest and moved on to an Xbox live Minecraft party with some kids from school. Still, as they used to say on Mastermind: "I've started so I'll finish…"
GK – Gordon Banks – I've seen Peter Schmeichel, Ray Clemence and, I think, Peter Shilton play live, but I also have a vague recollection of seeing Banks turn out at Springfield Park on at least one occasion. I may be wrong but, if he did, then he gets my choice as the best 'keeper I ever saw live. And this is despite watching Chris Kirkland play many, many times. Incidentally, Kirkland was in goal for one of those two friendlies that my lad attended. The one thing my lad took away from the game (against St Mirren, Martinez's first home game in charge) was that Kirkland's punted clearances appeared to go higher than the roof of the stand. Well, quite.
CB – Bobby Moore – Centre-backs are ten-a-penny, aren't they? Very few stand out among the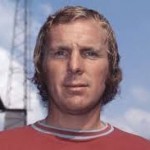 cloggers and "ave it!" merchants. Franz Beckenbauer, Paolo Mandini and Booby Moore were exceptional exceptions to this rule. I know for a fact that I never saw Mandini nor Der Kaiser play. I may, however, have seen Moor-o play at old Trafford in the very early seventies. I am absolutely certain that I saw him play live on TV in the 1975 FA Cup Final for Fulham, though I know that doesn't count. Anyway, as I said earlier, I have already told my lad that I saw him play live so I will have to perpetuate that little white untruth, if only to save face. So, Moor-o's in. And he will be my captain too, to boot.
CB – Alan Hansen – Those that know me will know that I am no Liverpool fan, far from it. However, I took my then 14-year old nephew to watch his one and only football match on the occasion of Alan Hansen's testimonial at Anfield. Hansen didn't do much in the game – in fact, the evening was memorable only for it being Ian Rush's return home from his sabbatical in Turin and the fact that Jan Molby juggled the ball across the half-way line, teasing Bryan Robson who was in hot, angry, yet futile, pursuit – but he was good enough throughout his career to warrant a place in my team.
CB – Ruud Gullit – "Gullit? At centre-back?", I hear you cry. You will see from the rest of my line-up that I am not overly concerned with having too many defensive players in my team. Sometime in the early nineties, I was at Burnden Park to see Gullit play at sweeper for Chelsea. I say sweeper, he basically roamed wherever he liked. I have rarely seen one player completely dominate a game as Gullit did that day and, to be fair, he even received a full twelve-fingered, standing ovation from the Bolton faithful.
RM – George Best – A friend's dad took us to watch Man United a few times in the very early seventies and Best played in all those games. Being about seven years old, I don't remember too much about his performances. Being an absolute lush, Besty probably didn't remember too much, either. Suffice to say, if you are picking a team of people you have seen play live, and Best is one of those that you have, then surely he would walk – or, more likely, stagger – straight into your team? Of course he would. No brainer!
CM – Paul Gascoigne – There's a minor pattern developing here on the old booze front. I only saw Gascoigne play once and, again, it was at Old Trafford. Our Wigan Ammy League game had been called off and, rather than just sit in the boozer all day, we dashed over to Salford to watch Spurs take on United. I can't remember the score, but I do remember Gascoigne being the finest thing I had ever seen play football up until that point – this was probably a couple of seasons before I saw Gullit play at Bolton. What a tragic, tragic waste of talent that man was. Who knows how good he could have been were it not for injury and booze taking its toll.
CM – Glenn Hoddle – It was a close run thing for the last remaining centre-midfield slot. Should I go with Sir Glenn, or Jordi Gomez? Actually it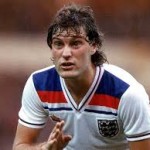 wasn't really that hard. Glenn Hoddle played football how I always wanted to play but would never, ever be able to. He had that languid, care-free, never-get-your-socks-dirty attitude to football that I took into my own, parlous football career, without coming even close to matching his unerring quality. I did meet his brother once in a hotel in Newquay and easily beat him at pool, so that will have to do.
LM – Ryan Giggs – How would the so-called golden generation of English football have fared if it had been able to call upon the mercurial Welshman? There may have been better players out there but I can't recall a left-winger who was better and I certainly can't recall seeing one live.
FWD – Thierry Henry – When Wigan Athletic won promotion to the Premier League (I never, ever get tired of saying that) I was looking forward to just one season of seeing some world class players ply their trade in WN5. Never in my wildest dreams did I think we would get eight memorable, surreal seasons of watching some of the world's best. And, of all those that did come, by far the most impressive for me was Thierry Henry. Supremely and sublimely arrogant, only Cantona could have kept him out of my team. But I never saw Cantona play live, so Thierry it is.
CF – Gary Lineker – Every team needs a goalscorer (Malky, are you reading this?) and this all-star line-up is no different. Obviously, eight years of recent premier league football has given me a decent gene pool to fish in and I have seen the likes of Aguerro, Suarez, Rooney and Crespo, not to mention Kevin Davies and Peter Crouch. But, I'm going to go back a bit further in time to Lineker. You can't really knock a bloke who scores 48 goals for his country. He played for Spurs in that same game I saw Gascoigne play at Old Trafford and the pair of them warmed up pre-match by pinging inch-perfect, one-touch forty-yard passes at each other for about five minutes solid. I thought of Shearer, too. But, I think Shearer can be a knob at times, so old jug-ears it is.
FWD – Bobby Charlton – How are you going to improve on a striker who has scored 48 goals for his country?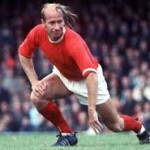 Well, by finding one who has 49 and is an even better player! I saw Charlton play in those few games with Best back in the early seventies. And even if I hadn't, my mate's dad has never let up telling me how good he was for the best part of forty years. He even bought me a Bobby Charlton video to illustrate the point. He needn't have bothered. The man was brilliant. For all he is a miserable, sour-faced bastard, he would be the perfect foil for Lineker and Henry.
I reckon with all that flair on show, that team might win more than it loses. But it might have to win every game 5-4, given its lack of defensive depth! Despite the stellar quality contained in my team, I suspect there would still be a long queue of disgruntled players knocking at my door demanding to know why they had been omitted. Still, they only let you choose eleven, don't they? So, who would be in your best-ever eleven?
Griff