Last week's 54F talked about the business of travelling for business, if that makes sense, and how it isn't really all that it is cracked up to be. Glamourous, it isn't, certainly not the way I do it at any rate. Tedious, it definitely can be, and so you look for anything that helps to pass the time or relieve the monotony. Drinking heavily is one option, though that can become costly and is frowned upon by fellow travellers, especially senior colleagues. Celebrity spotting, particularly at airports, is a far more acceptable way to counteract the boredom.
But, there are rules as to what constitutes a good and valid celebrity-spot. For example, I tend not to claim one if I just see someone going through security in a busy airport, as there are thousands of people every day who do that. I once, literally,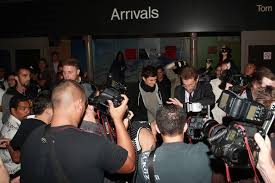 bumped into and stamped on the foot of fat Sam Allardyce at Manchester's Terminal 2 security gate. Though it was satisfying to have physically hurt the man, I wouldn't claim it as a good name-drop.
By the same token, a few weeks ago I stood next to, and exchanged pleasant "good mornings" with the golfer, Padraig Harrington, in the baggage reclaim of Dublin's Terminal 2. But as we weren't even collecting bags from the same carousel – I'd flown in from Manchester and he from New York, the big show-off! – it's hardly even worth mentioning.
An even easier place to spot the rich and famous, and therefore less impressive, is the Business or First Class airport lounge. In the summer of 2009 during the French Open tennis tournament, I shared a table and a complimentary bowl of peanuts in Paris CDG with legendary player Stan Smith, though had he not answered his mobile with the words "Hi, this is Stan Smith" I'd have been none the wiser. In any case, the week before, a colleague of mine spent a tense ten minutes in the same lounge in the company of Whitney Huston and her twenty-strong entourage before being booted out, which represents a much better claim in my eyes.
No, for me, to earn a real CLANG! for your celebrity name-drop, you have to physically sit next to, or at least share a row with, the star in question. For example, last week I had the aisle seat in row 2 on an Aer LIngus flight from Dublin to Manchester with Neil Lennon, the Bolton Wanderers manager, sitting next-door but one in the window seat. If he was still Celtic manager I might have claimed it but not while he is managing that rabble from up the road.
However, the following five close encounters have a much stronger claim to be a proper CLANG!
Paul Scholes – I sat in the opposite aisle seat to Scholes on a flight from Manchester to Paris as he took his family to Euro Disney. From the moment the fasten seatbelts sign went off the man had a constant stream of autograph hunters (some young kids, some grown men who really should have known better) arriving at his seat until the seatbelt sign came back on before landing. Comfortably one of the most unaffected, humble famous footballers I ever come across, he patiently signed every one without a murmur of complaint.
Graham Kelly – The ex-FA Chief Executive was sat opposite me on a train from London Euston up to Wigan. I said nothing to him, in respect of his privacy. However, an old lady who boarded at Watford spotted his FA blazer badge and asked him if he played in a brass band. When he said it was a football badge she asked him if he was a famous manager to which he truthfully replied, no. When he said no to that too, she asked "Well, what do you do then?" I could resist no longer – "Yeah, Graham. Come on. What exactly do you do at the FA?"
Jools Holland – On a very empty Saturday morning Heathrow to Manchester flight many years ago, the row opposite me housed a young girl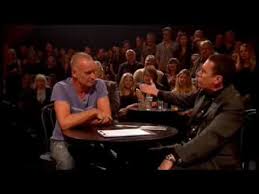 and a man with his face obscured behind his newspaper. They had evidently been to some musical event the night before and the young girl was asking – largely unanswered – questions about the people who had been there. "Who was the nice man with the blond hair, Daddy?" "Hmm? Which one do you mean, darling?" The one with the guitar and the funny hair". "Oh, that was probably Sting", was the nonchalant reply.
David Boon – On the subject of men hidden behind broadsheet newspapers, I once had breakfast in a Worcester hotel and was quite rudely reading the back pages of the newspaper held up by a man reading the inside pages at an adjacent table. The headline, central photograph and main story was about a batsman in the Australian cricket touring party who had helped himself to a panful of runs in the Worcestershire sunshine the previous day. His name was David Boon and I had never heard of him before. However, when the man finally put down his paper, it was quite clear that he and the main in the paper were one and the same person.
Javier Mascherano – Travelling to Paris on a May bank holiday afternoon at the end of the English football season, the Manchester check-in queue was heaving with foreign Premier League footballers heading home for the summer. Helpfully, the French had cancelled a couple of flights earlier in the day meaning that they, and me and everyone else, were destined to get to Paris very late and would have to spend the night there. Mascherano, ex-Liverpool, current Barcelona midfielder and all-round miserable bastard ended up sat next to me on the short flight to Charles de Gaulle. That is only the beginning of the story, however. For the rest of it, you need to buy a copy of my book A.R.S.E.D! and start reading at page 28.
See you with the Paparazzi – Griff