The only thing worse than Wigan being relegated is that it means it must be the end of the football season with no more matches until August. That can only mean one thing – cricket! I'm not the world's biggest cricket fan, mainly because I'm bobbins at it, but it's a sport and it's therefore something to watch during the school holidays and pass the time until the football season starts again. Here are my 5 notable cricketers. I'll spot-bet you two Pakistani no-balls in the sixth over that your five are not the same as mine.
Frank Hayes – as a kid, summer holidays were mainly spent playing cricket on the nearby Mornington Road school field. The games were usually one-on-one games between myself and Anthony Walsh, and you batted until you were out.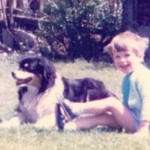 An innings of 800+ wasn't rare as your opponent obviously had to field his own bowling. So, if he didn't clean bowl you or catch you, he would be off around the field fagging you late cuts and imperious cover drives. That became very tiring for the fielder and winning the toss first thing in the morning was therefore a crucial factor in determining whether you were likely to have a good or a bad day. In that long, hot summer of 1976 for example, we were both very appreciative of the assistance provided by our border collie, Shandy (in the picture left, the kid is my nephew), who was a very willing fielder for both sides. I was a Lancashire fan at the time and would vary my allegiance between Frank Hayes, Farouk Engineer and Clive Lloyd as I envisaged striding out to bat on that hallowed Old Trafford strip. Regularly changing your persona helped you keep your focus through those marathon innings.
David Gower – In football terms, I have always preferred those creative midfield types like Zinedine Zidane, Glenn Hoddle and Jordi Gomez.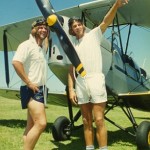 They always seemed to be the cooler, sexier players. In cricketing terms, I believe this role to be fulfilled by the middle order batsmen. They are invariably full of flair, all flowing locks and flashing blades. They are the D'Artagnan's of the cricketing fraternity. When I was growing up there were many candidate members of this club including, but not limited to, Allan Lamb, Robin Smith, Viv Richards and Neil Fairbrother. But for me, the daddy of them all was Gower. A posh nob who, had he been any more laid back, would have been horizontal. You've got to love an England captain who, during a run-of-the-mill tour game in Australia, relieved the boredom by hiring a bi-plane to buzz over the ground and water-bomb the England batsmen out in the middle. Quite literally, top bombing.        
Otto Brandes – In football, and indeed most sports, there is a definite advantage to be gained from deploying mind games,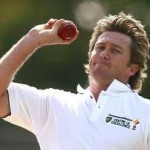 the act of verbally winding up the opposition to the point of distraction. Cricket has elevated this to an art from and has even created a term for it; sledging. There are probably enough legendary sledging stories – usually involving Australians – to fill a whole blog in its own right, but my favourite concerns Otto Brandes. No, I'd never heard of him either. Brandes, a rather portly lower-order South African batsman, was struggling against Glenn McGrath who attempted to crank up the heat by asking Brandes why he was so fat. In the midst of the pressure-cooker atmosphere of facing one of the world's best bowlers, Brandes still had the presence of mind to reply, quick as  a flash, "… because every time I f*** your wife, she gives me a biscuit." Genius!
David Boon – I find it difficult to give any credit to any Australian really. It's quite apt that their land is referred to as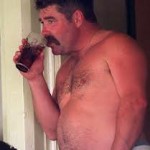 Down Under as most of them have their heads rammed right up their arses most of the time.  However, David Boon sneaks into this list for a couple of reasons.  Boon was one of those middle-order batsmen I mentioned earlier, but he was a bit more rough and ready than the fancy-Dan David Gower-types.  I was having breakfast in the Gifford Hotel in Worcester many years ago and a guy on the table opposite had one of the daily broadsheets open. As he had the paper held up in front of him, I didn't feel too cheeky reading the back page as he read the inside pages. The lead story was about David Boon who had scored a brilliant century the day before for the Aussies against Worcester. The man eventually lowered his paper to reveal himself as none other than… David Boon! I was impressed with his modesty. Had that been me I would have been unable to resist the temptation to run around the restaurant showing everyone my photo alongside the story. Boon also allegedly holds the record for drinking the most beer on an Ashes tour, Sydney to London flight. He apparently necked 52 cans of the amber nectar on the way over. For that reason alone, he would have made the list.   
Sir Ian Botham – how could a list of top swash-buckling, Aussie-hating, beer-swigging cricketing heroes not include the idol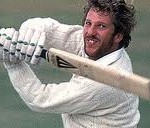 that is Sir Ian Botham? The way he single-handedly (with a little help from Bob Willis and Graham Dilley) defeated the Aussies in 1981 was the stuff of epic legend. The fact that he hated the Aussies with a passion, and liked a beer or two just as fervently, merely adds to his stock. I would like to highlight one of many stories on each of these two topics in support of his nomination to this list. Firstly, on arrival in Sydney for an Ashes tour, an immigration official asked him if he had a criminal record. Botham replied dryly that he was very sorry, but he hadn't realised a criminal record was still a pre-requisite for entry into Australia. Secondly, during a New Zealand tour match, Botham was sleeping off a heavy night's drinking in the dressing room when he was woken to go into bat. He made it twenty yards short of the wicket before the twelfth man caught up with him and gave him a bat, which they thought may have come in useful. And we haven't even mentioned his heroic charity walks. Top man!
Enjoy the rain – Griff