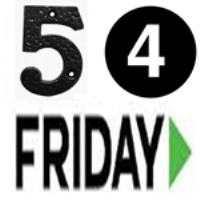 Ironically, given that I have had a day off today, I have only just got around to doing this week's 5-4-Friday. Days off are supposed to be relaxing, unless you've taken the day to do something specific. I haven't taken today off for any particular reason at all. It just happens to be end of February and, yet again, I have been left with a whole raft of annual leave that I will lose if I don't take t before the end of March,
So, the most taxing thing I had planned to do today was to get up and recover from last night's beer and curry session. I managed that well enough and by 10 o'clock I was up and at 'em, ready for a whole day of nothingness.  Well, watching the FIFA Presidential draw unfold actually on Sky Sports News, or as I said earlier, a whole day of nothingness. It didn't quite pan out that way.
Work – No matter how much I promise myself I won't do any work on my day off, I always do. I'm not trying to make myself out to be a martyr here, because I didn't exactly work my fingers to the bone but, one of these days, I am going to have a day off and not even read, let alone respond to, just one solitary email.
British Gas – I spent 17 minutes in a queue, the 10 minutes speaking to an operator, plus about 5 minutes on silent hold, all to get British gas to re-instate a direct debit they shouldn't have deleted in the first place.
Home Insurance – Twice a year, I log on to Comparethemarket.com to sort out the home or car insurance. It isn't the most taxing of jobs but still takes about an hour from start to finish. To celebrate saving almost 50% on my current renewal figure, I treated myself to a…
… Chippy Dinner – Fish, chips, gravy, three slices of bread and butter and a steaming mug of tea. After that little lot, I was fit for nothing and planned to crash on the couch for the rest of the afternoon. Then, I received a phone call that required me to get in the car and…
… collect our TNF calendars – Yep, a plug! You surely didn't expect me to get all the way though a blog without mentioning the latest charity fundraising effort for the boys at TNF Wigan? So, I now have a box-full of calendars ready and waiting to sell and deliver in aid of Prostate Cancer. What you haven't ordered one yet? In that case, I will…
… see you here, on the order form – Griff