Is your Facebook and Twitter feed filled with sentimental "new year, new me" nonsense? To be fair, mine hasn't been as bad as it has in recent years but it's still pretty sickly.  Apparently, January 1st is the only one day of the year when people have the best, most cherished family and friends – both alive and dead). It's also the day when everyone feels "blessed" and suddenly notices that their life in the year just ended has been a veritable roller-coaster, with more ups and downs than a bride's nightdress.
It is also the day, of course, when people make their New Year resolutions. Millions of people make pledges to do lose weight, watch less tele, eat more healthily, organise their inbox better – or is that just me? – and to be an altogether better and more rounded human being. In ninety percent of cases, these resolutions are broken and discarded before the draw for the fourth round of the FA Cup is made at the end of the first week in January.
Please don't run away with the idea that I am claiming to be any better than anyone else when it comes to NY resolution discipline. I am not. This is why I have not made any NY resolutions for around twenty years. What I have been quite good at though (well I was last year and, so far, this year too) is staying off the booze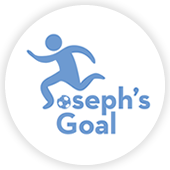 throughout the whole of January to raise money for charity. Last year, I generated over £600 for Cancer Research UK and shamed some work colleagues into joining me to swell that fund to over £1200.
This year, I am raising funds for Joseph's Goal. I have modest target of £250 and you can kindly help me achieve that goal by logging on to my JustGiving page or donating by phone – just text WAGN49 £1 to 70070 – or replace the £1 with any other amount. Packing up drinking for four and a half weeks or so might not seem to be the most challenging or life-changing of ordeals to endure, but life will certainly be a lot different for the next 31 days. Here are a few reasons why.
Thin ice – As well as going tee-total, I am also embarking on a WeightWatchers diet for the duration of the month of January. I am hoping that, by the end, I will be able to bend down and tie my shoes laces without getting a stitch, will have gone back to wearing a vest with my size 36 jeans to stop them slipping down over my hips and will have dropped at least one bra cup size.
Health Check – I am scheduled to have my annual health check sometime in the middle of January. It will be nice to be able to answer those awkward questions about alcohol consumption without knocking at least forty percent off the real number of units.
Previously on… – Friday is normally my night for staying up late and watching new episodes of my favourite tele shows whilst drinking copious amounts of wine. Saturday mornings are usually spent trying to remember the storylines I watched the night before. I am therefore looking forward to being able to skip through that opening section in which they catch you up with what has happened in the season so far.
Lime and Soda – To the best of my knowledge, George Best never drank lime and soda and just look how good a footballer he was and how well he did when it came to matters of the opposite sex? I'm just saying, I hope you all appreciate what I am sacrificing by drinking that slop for a month.
Latics – Due to the way the calendar has fallen, Wigan Athletic will play five matches in January. Just as cigarette packets carry a government health warning, I believe that Wigan Athletic season tickets should include a warning about the dangers of watching the team while sober. This is perhaps the biggest sacrifice of all and certainly the biggest challenge I face over the next thirty days.
See you at an AA meeting – Griff