Tonight (Friday), the population of England will hold its breath and grip the edge of its collective seat as the nation's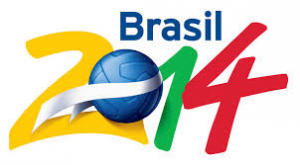 football team attempts to win the first of two games that will guarantee qualification for next summer's World Cup Finals in Brazil. Or will it? Apart from those morons who can't resist calling Talksport to argue with that Adrian Durham bloke, blissfully unaware that he is deliberately talking bollocks to get people to call in, I get the feeling that many people couldn't care less if England qualify for Brazil, or not.
The argument goes something like this: The England team is full of over-paid, pampered, preening, prima donnas who couldn't care less about the Three Lions and are only concerned with their next obscene pay packet and buying their next Porsche, so why should we bother about them? And anyway, even if they do manage to qualify, they won't stand a chance of winning the tournament because a) no European team has ever won the World Cup when it has been played in South America and b) they're bobbins. 
Fair enough. It's difficult to disagree with most of that. But, as far as I am concerned, they're my pampered, preening prima donnas and I'd much rather have them in there, at least competing with the French, German and Italian preening, pampered prima donnas. I admit that I can take or leave most England internationals – the (supposed) cannon-fodder games against the likes of San Marino or the Faroe Isles, or meaningless, money-making friendlies against that useless rabble from north of the border, for example – but when it comes to the business end of a qualifying campaign, that all changes.
Because this is England, and because we are crap and make heavy weather of any qualification campaign, there is always something riding on those final games and some hard work for the team to undertake. If you're Holland or Germany, you have usually already qualified by now, but that just isn't the English way. Far too easy. As such, tonight and Tuesday's games will be edge-of-the-seat nail-biters and I will be glued to them, nibbling away on my fingers like a good 'un. I will be desperately willing them to succeed, much to the chagrin of the Talksport Army no doubt, just as I have done so on many occasions in the past. Read on…
England v Poland, 1973 – One of my earliest memories of watching England also happened to be one of the biggest upsets in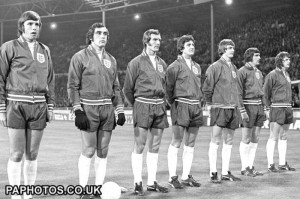 English football history. In those days Europe must have been a lot smaller than it is now as there were only three teams in our 1974 World Cup qualifying group; us, Wales and Poland. Qualification should never have been in doubt, but a disastrous defeat in Katowice in June meant that England needed to win to get the chance to spend their summer holidays in West Germany the following summer. We had thirty-five shots to their two attempts on goal, yet contrived to draw the game, 1-1. The Polish hero on the night was their hitherto much-maligned goalkeeper, Jan Tomaszewski. He was presumably helped in his quest by not wearing a pair of huge fluffy mittens like the ones that our 'keeper, Peter Shilton, appears to have donned, if this photograph is anything to go by.  
Holland v England, 1993 – Fast forward twenty years and we had another immensely disappointing night as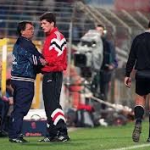 the cheating Dutch effectively ended our chances of qualifying for the American jamboree of 1994. I say cheating, but all they really did wrong was score two more goals than we did. There's an argument that we should have had a penalty when Ronald Koeman brought down David Platt but, as hindsight showed that the foul didn't occur in the penalty area, then a free-kick – which we failed to score from – was the correct decision. Koeman could, maybe should, have been sent off, in which case he would have been unable to take, and score from, another direct free-kick midway through the second half. To rub salt in the wound, Koeman was given the opportunity to take the free-kick twice, presumably because he didn't get it quite right the first time. Bitter, me? About the Dutch? Schurely not!    
Italy v England, 1997 – Right, enough of all this negativity. Let's see if we can't summon up a bit of success for the Class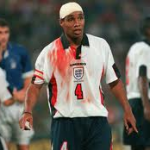 of '13 to draw on come Friday night. In October '97, England travelled to Rome for the final group game needing only a draw to win the group and avoid the lottery of a play-off. The Italians were no mugs, but England, under by far the best coach we have had in recent times, Saint Glenn of Hoddle, ground out the most memorable of 0-0 draws. There were heroes all over the pitch that night, none more so than Paul Ince who suffered a head injury which forced him off the pitch only to return with the most poorly-applied bandage in medical history. Hoddle, the absolute master of flair and creativity, had beaten the tedious Italians at their own defensive game. Hoddle was sacked sixteen months later for rambling incoherently about disabled people and reincarnation and trying to promote a woman called Eileen to the coaching staff. See, told you he was a genius!       
Germany v England, 2001 – So far, we have revisited two defeats and an honourable draw. It is surely time to celebrate an English victory? And who better to celebrate a victory over than the Germans? In September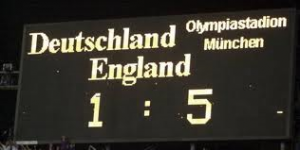 2001, the arch enemies met in Munich in a World Cup qualifier which, had England lost, as they usually do against the Germans, would have undoubtedly pitched them into the play-off lottery. As it happened, the night turned into one of the most glorious nights in English football history. Despite going a goal behind after six minutes, we eventually hammered them, 5-1. All the goals were scored by Liverpool players whose fans delightfully revelled in the reflected glory. Which is quite ironic, because the fans of the red side of Liverpool are notorious in their apathy for the national side. Anyway, this fantastic win, coupled with a subsequent 2-0 over Albania four days later meant that we topped the group and only needed to match the German's result in the final round of group games, which was…    
… England v Greece, 2001 – For a number of reasons, the day of the Greece game at Old Trafford was particularly unforgettable for me. I arose early in my Orlando hotel and strolled in 75°heat to an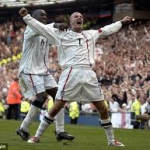 English pub near the junction of International Drive and Sand Lake Road. By the time the game kicked off, at 0900 eastern time, I was drinking lager with a new-found Yorkshire friend and by midway through the second half, we were clattered. Also, by about this same time, England were, as usual, putting us all through the emotional wringer by contriving to trail 1-2 to the Greeks, who had failed to read the script. As the Germans were drawing with Finland we needed an equaliser. Beckham, as theatrical as ever and clearly writing his own script, waited until the 93rd minute to finally get a free-kick on target and send us all into raptures. After a few more celebratory pints with Yorkie, I staggered back up I-Drive and spent the rest of the day belching by the pool being giddy, loud, annoying and generally dragging down the tone of the whole hotel complex. Still, we'd qualified for the World Cup, so who cared? More of the same this weekend chaps, please!        
See you on the beach in Rio – Griff