I tried to find a film for us to watch the other night and, having trawled for what seemed like hours through the millions of movies on offer on Sky, I finally plumped for one that we both might like. It was only when the film started that I realised I had actually seen it before. That film must have had a really profound effect on me the first time around. Anyway, we binned it and watched Jeff Green's "Back From The Bewilderness" live show. Again.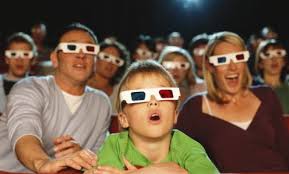 I don't actually watch many films these days. The fact that I have a memory like a sieve (as clearly demonstrated above) and the attention span of a goldfish is one reason why. Another is that it is rare to find a spare couple of hours to watch one. Finally, there is a whole host of TV shows, either sat on our Sky planner or gathering dust on DVD in the cupboard, that I would much rather sit and watch than a two or three-hour film.
Try as I might, I can't even remember the last time I watched a decent film, whether that be at the flicks, or at home. Where the cinema is concerned, visits are usually made in an attempt to entertain Alex. The last batch of films I have seen includes "Despicable Me 2", "The Smurfs" and "The Nativity" – hardly films that would have Barry Norman purring. I use these trips as an opportunity to catch up on Twitter or Facebook. Or sleep.
At home, I think the last half-decent film I watched was "Taken", with Liam Neeson. Now, "Taken" might not be the most critically acclaimed film ever made but, for me, that's the point. By way of explanation, I absolutely hate listening to that annoying Mark Kermode bloke on BBC News, a man who, in my opinion, has his head way to far up his own arse – quite apt for someone with a name that sounds like commode, I suppose.
Why can't he, and everyone else for that matter, just watch films without the need to analyse them to death. I watch a film to be entertained, solely to pass the time, to chill out…I don't want, or need, it to be some kind of academic or intellectual test. I was at college with a very clever guy who said he liked to watch the Rambo films because they provided 'escapist nonsense'. Quite right, too. Take your brain out and enjoy.  
Maybe I am just a philistine when it comes to films. There are certainly dozens and dozens of so-called classic films that I have never seen. For example, as someone who is obsessed with The Sopranos, it may come as a surprise to learn that I have never watched Goodfellas or any of the Godfather trilogy, if indeed they actually made three of them; I'm not entirely sure. I have never seen Apocalypse Now (well, the first twenty minutes before I fell asleep), One Flew Over The Cuckoo's Nest, Flatliners, Avatar, Taxi Driver or Blade, to name but a few… there is a whole plethora of 'must-see' films that I simply haven't seen.
I can almost hear the indignant, sharp intakes of breath as I type. "Well, if you haven't watched those films, then what sort of crap have you watched then, Griff?" Well, for what it's worth, and I sense that this list will generate the largest amount of sneering, snobbish criticism that my 54F has ever produced, here are my favourite five films. At least as far as I can remember they are my five favourites. My memory isn't what is used to be. And, as usual, when compiling my weekly five, I have stuck with the first five that spring to mind; no turning back.

The Quiet Man – My dad was/is a big John Wayne fan and so Westerns were a staple diet in our house when I was growing up. So, it was nice to see the big fella in a film with no chaps. Well, there were a couple of chaps in it, the most notable of which was the hilarious Barrie Fitzgerald. The fight scene, in particular, was just brilliant.
Beverley Hills Cop – I am well aware that the film was probably just an ego trip for Eddie Murphy and a showcase for his comedic talents but I bought into it, nevertheless. I loved the drawled line from the mayor, or police commissioner or some the municipal bigwig – "Is this the man who roooo-ined the buffet at the Harrow Club earlier today?" As well as Murphy, Judge Reinhold was brilliant. 
Life Of Brian – As a young catholic lad, I wasn't really supposed to appreciate and enjoy this film as much as I did. My girlfriend at the time wasn't even allowed to watch it, let alone enjoy it. Deliciously blasphemous, in my view, Life of Brian was the best of all the Python films.  
The Usual Suspects – for me, the mark of a good film is if you will watch it over and over and over again. I certainly did so with The Usual Suspects, though that was mainly because I didn't get it on the first eight occasions I sat through it. I also enjoyed it because but Kevin Spacey is one of my favourite actors, just pipped to the top spot by Denzel Washington. The only reason there is no Denzel film in this list is because I couldn't pick just one.
Airplane – The ultimate 'take your brain out and enjoy film', it just doesn't get old, does it? I prepared to wager that everyone who has seen it can recite at least half a dozen of the famous lines or gags, right off the bat. It was childish, slapstick, inane, predictable and just plain brilliant.
See you on the ice – Griff