I was struggling for inspiration, and time, to think up a subject for this week's 5-4. And then, driving home from work on Tuesday, Talksport's Matt Holland said he believed that Bayern Munich's Jerome Boateng, subject of an alleged transfer bid from Barcelona, "couldn't even kick a ball". It was a bit harsh, but nevertheless led to a related debate about players who really could kick a ball.
Matt Holland mentioned Thomas Hitzlsperger, once of Aston Villa and Everton. He has a point, but I bet Matt could have picked much better ones than Hitzlsperger, had he not just felt pressured in to coming up with a name quickly. I came up with about ten names myself whilst waiting for the lights to change at Blackley Tesco's at J20 on the M60. In fact, they took that long to change, I could probably have nipped round to visit them all personally.
I limited myself to thinking about those players who really gave the ball a good belt, no messing about. You can have your David Beckhams, Andrea Pirlos, Glenn Hoddles and Jordi Gomezs. They were technically brilliant with a dead ball but I am not looking for finesse. Just someone who would put their laces right through a football ball and once it was booted, it stayed booted.
Here goes, I bet you pick different players to me.
Stuart Pearce – the term "no-nonsense footballer" could almost have been invented for Pearce. Don't recall him ever pussy-footing about with the ball, or opponent, at his feet and when he struck a dead ball he really gave it some leather. I bet Roberto Martinez would have hated him.
Jonny Metgod – the term "no-nonsense footballer" could almost have… oh, hang on, I've done that already. But, Jonny was certainly from a similar mould as Pearce. For those of you who are pretending you don't remember him, watch this.
Roberto Carlos – What is it about left-backs and their hard shots. I have just two words to describe Roberto Carlos. Le Tournoi. Watch this from 1997. Like you don't remember it.
Peter Lorimer – Lorimer was my first football hero in early 1972.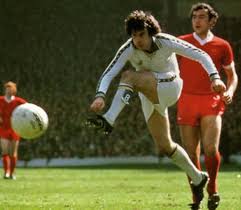 Until Alan Clarke score the winner in the FA Cup final in May of that year, that is. Lorimer was universally reckoned to have had one of the hardest shots the game has ever seen. .
Alec Lindsay – Old-timers tell me that Lindsay had an even harder shot than Lorimer. They don't need to. I once played against him in the old Leigh Amateur League (he was about 50) and he thudded a free-kick directly into my chest. I wore my nipples on my back for a week afterwards. I can confirm he can definitely kick a football. Harder than Jerome Boateng can, anyway.
See you in the defensive wall – Griff