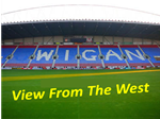 Honestly, I do try to keep my 5-4-Fridays as topical as possible and vaguely related to what's been happening somewhere along the line during my week. At the moment, that would mainly limit me to talking about working twelve hour days (no violins, please) or sitting on my fat arse for the last hour of the evening watching yet another episode of The West Wing or the shenanigans associated with the start of the new football season.
Given that work is clearly a dull subject and that The West Wing – certainly at the 5th time of watching it – is not too far behind it, that really leaves football. Sorry, but I don't really have much else going on in my life at the moment. Still, it will soon be the end of May again.
So, here are a few random things that have caught my attention over the last week.
Fickle Wigan Fans – Just three months ago Uwe Rosler was the best thing that had ever happened to Wigan Athletic, the answer to all our Owen Coyle-inflicted woes. Now, barely two games into the new season, he's a clueless know-nowt who couldn't spot a footballer if he jumped up and spit-roasted him and has but a passing acquaintance with tactics, strategy and man-management. At this rate, we'll be begging for that other clueless idiot to come back. You know, the Spanish waiter with the folded arms and the brown shoes.    
Romelu Lukaku – Talking of Roberto Martinez, when did he suddenly grow a pair? £28 million has just paid for Romelu Lukaku. Two words that have now been entered into the Oxford English Dictionary as the standard definition for putting all your Everton mints into one basket. Still, there's no reason for Toffee's fans to panic, it was a roaring success the last time Roberto spent all of his chairman's budget on one player. Mauro Boselli averaged around a goal a season in his three years in Wigan and got to see some lovely European and South American cities whilst farmed out on loan for most of that time.
Mark Robins – You can argue until the cows come home about Huddersfield's potential for success under Mark Robins. Well, you can if you want to, I'm not all that bothered. It strikes me though, as an outsider, that no matter how dire they may have been at the end of last season, if you let a bloke coach your players and spend all your money over the summer months, sacking him before some of the teams in the league have even completed their first league game, then that smacks of a bit of a knee-jerk reaction.
Glenn Hoddle – For a hardened fan of the man's undoubted footballing talents, it is brilliant to see Sir Glenn back in the game. That said, you have to think he could do better than taking on the role of bib-man for Harry Redknapp at Queens Park Rangers. I suspect that Glenn has forgotten more about football than Redknapp ever knew. I heard on pundit suggest he had been brought in because he knew more about playing 3-5-2 than Redknapp who was a dyed-in-the-wool 4-at-the-back-man. So, we are having individual coaches for different tactics now, are we? Paul Jewell would be a very lonely manager these days, he only ever had one plan.
UEFA – I've never really been one for big daft conspiracy theories, but the decision to award Celtic a walk-over victory in a second leg Champions League qualifying game that they had lost 2-0 because the opposition fielded an ineligible player for all of four minutes at the end, seems to be bending over for the big clubs just a little too much for my liking. But then to award them a 3-0 win (yes, I know that is the standard rule) which means they go through on the away goals rule is just stretching it a bit. They'll get battered in the next round anyway.
See you in the West Stand – Griff