The Ballon d'Or was awarded to the best player in the world this week, one Cristiano Ronaldo of Real Madrid. Perhaps there was a slight surprise in some quarters that Ronaldo got the nod over Barcelona's Lionel Messi but there was never any doubt that the winner would be a pretty-boy striker-type. This is because big, lumbering, ugly, smashed-nosed defenders like Steve Bruce never win football awards. Bruce, in fact, never even won an England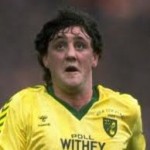 cap which, it has to be said, was less to do with him having a smashed nose and more to do with him not being very good.
But, generally, it is fair to say that it is the flair players and goalscorers who tend to be the ones that win all the plaudits and pots. Centre-backs rarely get any recognition and full-backs just never do. Full-back is probably the least sexy position on the football field. If you ever have to try to 'hide' a weak player in an eleven-a-side game, it's a fairly common occurrence for that poor unfortunate bloke to be banished to the left-back position – out of the way, where he can't cause any real damage. You might try to make him feel better by telling him he's playing as a marauding wing-back but, deep down, he will be in no doubt about his standing in the pecking order.
The position of left-back has a particular connotation amongst the Wigan Athletic online community. During the Premier League 'glory' years, there was a perception that many of the club's supporters had no knowledge of players from the years preceding our arrival at the top table in 2005. Often, a message board old-timer would pose the question "Who is our best ever left-back?" Often, this question was asked as a sarcastic response to the plethora of tedious, dull threads that would flood the board. On other occasions, it was designed to test your knowledge Latics players past.
The entirely incorrect answer to this question is Leighton Baines. Few would argue that he is the best left-back ever to sport the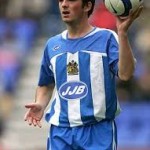 tree and crown, but picking Bainesy immediately tars you with the JCL, or Johnny Come Lately, brush. You will immediately be cast as a, well, outcast. A much better answer is Joey Hinnigan which, whilst betraying your age, at least puts you up there as a connoisseur of all things Latics.
I really have no idea what got me started on left-backs but, like Ashley Cole, I suppose I should just plod on regardless with no real end-product. So, without giving it much thought – again, like Ashley Cole – here are five other notable left-backs.
Dennis Irwin – Mr Dependable both in defence and attack, Irwin rarely put a foot wrong – left or right – for United. In fact, to add to his legend, he was really a right-back by trade who ended up playing most of his glory days on the wrong side. He was totally unflappable and less gormless looking than one of his main successors, Phil Neville.  Only just, mind.
Roberto Carlos – Carlos was probably the man who came closest to making the left-back position a sexy place to play, with his relentless and almost reckless attacking play and his thundering, swerving free-kicks. He and Paulo Maldini were probably two of the best of their era. Carlos, in particular, turned kicking a football hard into an art form.
Julian Dicks – the snarling cockney wanker was never the best technically, but I'll never forget him terrorising winger Paul Dalglish in an FA Cup tie for non-league Canvey Island at Wigan back in the early 2000s. He frightened the life out of Dalglish to such an extent that he swapped wings at half-time. The Canvey Island debacle was an FA cup tie that Wigan lost, of course. However, this  was in the bad old days when Wigan used to lose games in the FA Cup. We don't do that anymore.
Philippe Lahm – Annoyingly, the Bayern Munich captain is the epitome of Teutonic efficiency. He, like Irwin, is equally comfortable playing on either flank. It's very impressive. I am that right-footed, if I play left-back, I end up running into touch all day.  To make him even more sickening, he can also play in the centre of defence or midfield. He's probably a single-figure handicap golfer too and can go all night in bed without nodding off once.
Stuart Pearce – Pearce is derided these days for his relatively poor record as a manager but what a full-back he was! Nicknamed Psycho for his bulging-neck aggression and fearless approach he too had a wicked left-foot when it cam to taking free kicks. He earned immortality with his reaction to scoring that penalty against Spain in Euro 96. However, the least said about the miss against Germany in 1990, the better.

See you on the ice – Griff