Day 15 in the Big Dry House and Chris is in the Diary Room! 
Things I have learned/confirmed at the end of the second week of staying dry and dieting.
1)  Our Thursday Night Football crew, TNF Wigan, cannot think for itself. At least two of my team mates have followed my lead and decided to take the pledge for the rest of January – I'll let you know tomorrow if they last out and make it to this, their second Thursday. One other team member has technically given up by association but only because he's too tight to buy his own beer while we drink pop.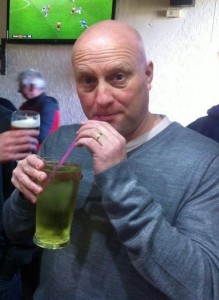 2)  Wigan Athletic are doing their level best to see me through this difficult period by regularly scoring three goals per game at the moment. But, if anyone believes there to be a correlation between me not drinking and the Latics' current potency in front of goal then they had better get a shift on and prove it, because this experiment will end on 31st January.
3)  Drinking lime and soda is infinitely more enjoyable than blackcurrant and water or orange cordial and water. However, it goes through me like Alvaro Negredo through West Ham's defence. And Rachel behind the bar in The Brickmaker's thinks it's hilarious to serve it to me complete with pink straw.
4)  People I barely know in the pub before the match are queueing up to buy me a beer, knowing full well that I have to refuse. Oh, how amusing!
5)  Being sober still hasn't helped me to remember to turn the tele off standby each night. However, it is helping me to remember which episode of Breaking Bad and Suits I am up to without having to write it down.
6)  Just about half-way in, I have lost 3.75 lbs. Not as much as I had hoped, but infinitely better than a kick in the nads.
7)  Just about half-way in, I am 79% of the way to reaching my personal sponsorship target and the PIP Team @ Guinness as a whole is 49% of the way towards its target. I know I said I wouldn't mention money again but, hey ho! A big thanks to all those who have contributed so far. Anyone else feeling generous can contribute via the button below.
See you on the ice – Griff