Saturday's trip to Macclesfield to watch Wigan progress to the 5th round of the FA Cup was just what the doctor ordered. In the middle of the annual gut-wrenching, nail-biting battle to avoid relegation from the Premier League, a trip to a small, non-league ground brought back happy memories of many a happy Saturday spent watching Wigan in quaint, ramshackle old stadiums in the days before the game went all corporate, concrete and soulless. I have many, many such memories – and Wigan fans of longer standing than me will have even more to draw upon – but these were the first five that sprung to mind. 
Macclesfield, 2013 – Why not start with the most recent? Wigan, a club constantly ridiculed for the parlous volume of its support were given 2300 tickets for this game and they were snapped up within two hours of going on sale. Not only that, but 1900 of us were stood on terracing. Without sounding snobby, it's been a long time since Wigan fans stood on terraces and it was good to have them back. It seemed that everyone who was anyone connected with Wigan Athletic was there and we marked the occasion with a couple of quiet beers during the course of the day. Having arrived in Macclesfield before noon, we still managed to miss the kick off at three, the caterers ran out of pies less than half way through the first half and there was even a bit of nostalgic half-hearted hooliganism after the game. It almost brought a tear to the eye.
Chesterfield, 2002 –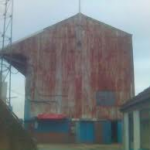 Mo and I made a last minute decision to go to watch Wigan at Chesterfield in September 2002 and when we arrived it was if we had wandered onto the set of 28 Days Later. There was hardly anyone on the streets and, for some unknown reason, everything seemed deathly quiet. Unperturbed, we walked into the first pub and I swear, had there had been a piano player in there, he would have stopped playing. There was no-one under the age of ninety-five and they eyed us with suspicion.  When we told them we had come to watch Wigan play football, they eyed us even more suspiciously – and with a hint of pity. The game and the stadium were also eerily silent. Maybe it was because the game was one of the dullest 0-0 draws ever seen. We even managed to have a brief conversation with Nathan Ellington as he left the pitch at half-time. It was that kind of game.
Brentford, 2002 – Griffin Park,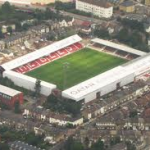 Brentford is one of my favourite grounds. Not (just) because of its name – though that's a good enough reason in itself – but mainly because there is a pub situated at each of the four corners of the ground. I can't recall what possessed us to travel all the way to West London on a freezing cold January day but it may well have had something to do with those four pubs.  Other than those four pubs, all I remember about the day was having feet like blocks of ice and a late winning goal from Sir Andrew Liddell. Yes, I think it is probably the four pubs that made it one of my favourite quaint away days.    
Bournemouth, 2000 – The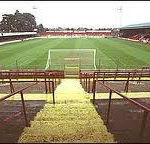 plan was to drive to Bournemouth on the Saturday morning, watch Wigan's final game of the season, stay overnight to have a few beers and catch some sun. As we did the last few miles down the M3 the dancing down rain was threatening to scupper at least one element of that plan. However, we drove into Bournemouth town centre just in time to see the sun come out and the Wigan team wander onto the beach for a light training session. Having abandoned the car at the hotel, we headed in to town to find it completely overrun with Wiganers.  The sun eventually did its job and we got burned to a frazzle on the uncovered terraces. Again, I remember little about the game. I seemed to remember it being goalless, but was told today whilst researching this piece that it ended 2-2. Well, I wasn't that far off, was I?
Doncaster, 1988 –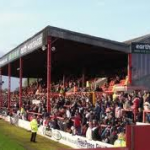 Doncaster. Good God! Why on a bank holiday the day after New Year's Day we chose to drive to Doncaster in the pissing down rain I will never know. But, go there we did, and it was a very entertaining game that Wigan ended up winning 4-3. That's not what I remember most. What I remember most is it bouncing down with rain and us being stood on an uncovered terrace. I remember two players being stretchered off, at least one of them with a broken leg. But most of all I remember Kev Dawber buying a cup of Bovril that never emptied due to the incessant rain. I don't recall ever being wetter or colder in my entire life. But, what a great day out we had at a quaint old football ground.
Enjoy the weekend – Griff