There was bound to come a time when I would a) be stuck for a topical idea for a 5-4-Friday subject and/or b) have such a shitty week that I would run out of time. It's lucky, then, that I had retained a rainy day theme in my back pocket for when both those scenarios struck, which is precisely what has happened this week. It is with great pleasure, therefore, that I give you – 5 teenage crushes! Testosterone and tissues at the ready boys, it's time-travelling tug-time!
Kate Bush –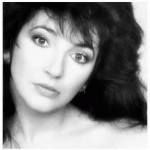 If teenage girls had their footballers to drool over, it's fair to say that us lads weren't so lucky, given that fit female sports stars weren't in such abundant supply. Aside from the odd tennis player – and even then, Chris Evert is the only one that really springs to mind as a looker from that era – we were stuck with actresses and singers to fantasize about. On the singing front, Kylie came a bit too late for me (pun intended) and so I have to plump for Kate. Exotic, sexy, gorgeous and just a little bit mental, she had it all. Especially, she had that mouth. Oh, those lips! What a bird! But definitely mental. High maintenance, I would think.
Felicity Kendal –
Until he recently dropped dead, Richard Briers was a very lucky man indeed. Imagine working with Felicity Kendal in her prime and being forced to watch her getting hot, sweaty and dirty in the kitchen and garden every day? Blonde, bubbly and beautiful, it was impossible not to fall in love with her in The Good Life. And if you ever got fed up with Flick – how on earth would that happen, by the way? – then there was always the posh totty next door to perve over as well. No wonder Tom Good never bothered going out to work. Tom Bad, more like.    
Samantha Fox – Ah yes, the Page 3 girl. The teenage boy's bathroom and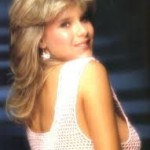 bedroom reading material of choice. Marie Helvin, Linda Lusardi, Susan Mitzy… all of these would no doubt have been the subject of many an adolescent boy's furtive fumblings, whilst their dads taxed their collective brains wondering why pages 3 and 4 were always so much crustier and more crinkly than the rest of the newspaper. Sam Fox was always my pick of the topless bunch, and then she only went and took the biscuit by joining the ranks of the rug-munchers in later life! It is the ultimate young boy's fantasy, though I can't help thinking it is still a shocking waste of talent.  
Victoria Principal –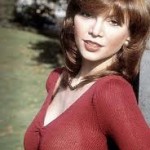 Of all the bonnie lasses that starred in the various soaps, especially Dallas, in the eighties, VP always shone brightly for me as an outstanding beacon of beauty. Some of my peers preferred Charlene Tilton, who played Lucy, the busty-blonde who, at 18-years of age, was a bit young for my 16-year old fantasising brain. Others fancied Linda Gray who played JR's wife "Swellen", though this was probably because she liked a drink and was probably considered to be game! For me though, it was always Pammy. She always seemed so polite and pleasant and she was stunning, to boot. And she had great legs. And a tidy arse. And a smashing rack. Perfect, really.    
Jan Harvey –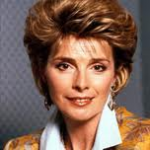 This one will take some explaining, I suppose. It was bad enough that I religiously watched Howard's Way, the cheesy soap about sea-going folk set on the South Coast in Thatcher's Yuppie times. It's quite another to admit to fancying the arse off one of its oldest characters, especially when she had an outrageously fit young busty-blonde (there's a pattern developing, here) daughter in the show. Still, you can't hide from the truth, however embarrassing and unpalatable it may seem twenty-five years later. So, before my mother and sister jump onto this thread and grass me up, I will come clean and tell you myself. Here goes… when I was at college, I had a framed 6×4 inch picture of Jan Harvey on the desk in my bedroom. There, it's out there. No going back, now!
Enjoy the weekend – Griff