We're off to Wembley tomorrow to watch Wigan play in an FA Cup semi-final and it's not often you get to say that outside of a game of Championship Manager.  Wigan Athletic has been to Wembley before, of course, for Freight Rover, Auto-Windshields and 3rd Tier Play-off Finals but not for anything as grand as an FA Cup semi-final.  And so, what better way to get us in the mood for a trip down Wembley Way with a trip down Memory Lane of trips down Wembley Way? Still with me?  Then read on.
1971 Challenge Cup Final, Leigh v Leeds – I remember leaving school at Friday lunch time to drive (not me, Dad) down to London for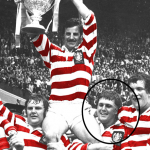 my first ever trip to the capital. We stayed in a hotel on the banks of the Thames and in the morning we went to see the Cutty Sark. We must have stayed there a bit too long because suddenly everybody piled in the car to head to North London. Everyone except me, that is. Yes folks, my family left me behind in their haste to get to Wembley. No doubt suffering from pangs of guilt they came back and, soon enough, we were in the famous old stadium.  I don't remember much about the game other than some big daft lummox from Hindley Green opening the scoring with a drop goal. It set the scene for a famous Leigh victory and tomorrow, that very same goal-scoring hero, Jim Fiddler – not looking very much today like he does ringed in that photograph  – will be sharing warm cans of Stella and chinese chicken butties in our mini-bus down to The Smoke.  Cheers Jimmy!
1979 Home Internationals, England v Scotland – Two years prior to this game was the infamous afternoon when the Scots beat the Auld Enemy 2-1 and celebrated by invading the pitch and tearing down the goalposts. For their next visit, my Uncle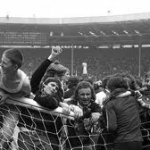 John thought it would be a good idea to take me and my cousin Peter down to Wembley to watch the match. Uncle John had a reputation from his time watching Wigan rugby for engaging in, shall we say, good natured banter with the opposition fans. Given the circumstances however, you would have thought that being the only three people in a crowd of 80,000+ who were not wearing kilts, he would have kept his head down, but that isn't really in the man's make-up.  England came from behind to take a 2-1 lead and, as they attacked again and won a corner, Uncle John warned all the furious, drunken Jocks around us that we were about to score again. Sure enough, England did score, which did not improve the mood of our visitors one little bit. Neither did Uncle John, laughing insanely and shouting "I told you so!" at them all, help matters. I'm sure I have been more scared than I was at that precise moment, I just can't quite remember when.     
1985 Challenge Cup Final, Wigan v Hull – this is a little bit heretic for a Wigan Athletic fan to admit but, when the Wigan rugby league club were on that fantastic run of eight or nine Challenge Cup wins on the spin, I went to quite a few of them. I got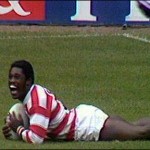 into watching the rugby when it was one of the few places you could get a beer at 3pm on a Sunday afternoon. Also, I was playing football regularly on Saturday afternoons and missed an awful lot of Latics games during that period. All of the Wembley rugby final trips involved getting totally rat-arsed on a coach or train and then trogging round Soho in the evening trying to find some decent live porn or a very cheap brass.  We rarely found either. I was twenty years of age, what can I say? I am tempted to say the Wembley trip when Wigan beat St Helens 27-0 was the best day out, but the 28-24 defeat of Hull which started the whole run of victories has to go down as one of the best rugby league games ever seen. From what little I remember of it, anyway. 
1989 Michael Jackson, "Bad" tour – Having not been arsed to go to a myriad of Wembley concerts during our formulative years – Live Aid, Queen, to name but two we jibbed –  for some strange reason we decided to drive down to Wembley to watch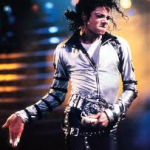 Michael Jackson. The pre-show entertainment consisted of continually interrupting an increasingly irate (and young-ish looking) Chris Tarrant as he tried to record a piece to camera for some kids' TV show. It was great fun, until he stopped seeing the funny side of things and threatened to "f****** tw@t" us. The immediate preamble to the show was a whole host of celebrities waving from the royal box and being screamed at by an adoring – and drunk – public. The only celeb I remember being there for sure was Frank Bruno, who I distinctly remember wore a very sharp, navy blue suit and was the size of small town.  The show itself was very good, though I only heard, rather than saw, most of it as I chivalrously let some girl sit on my shoulders throughout the gig. The things you will do for the potential for a feverish fumble with some random southern bird. It didn't happen, after all that. There would have been more chance of me knocking out Frank Bruno.        
2000, League Division Two Play-off, Wigan v Gillingham – And so it is on to the last time, prior to tomorrow of course, that Wigan Athletic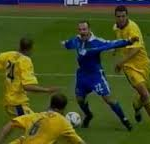 played at Wembley. This was just a few weeks before the place was knocked down and rebuilt. It was a wonder I made it to Wembley at all, as Brad had brought along with him a musical plastic sunflower in a pot that sang (squaked) an annoyingly tinny version of "You Are My Sunshine". He plonked it on the dashboard and it played non-stop all the way to London. I had almost killed myself in desperation by the time we got to Warwick Services. The match itself was Wigan Athletic in microcosm. Dominating for much of the game, we found ourselves going into extra time at 1-1 and a man down, as Kevin Sharp got himself sent off just before the end. Despite this set-back we led 2-1 with six minutes of extra-time to go but contrived to lose 3-2. My mate Andy had to miss the game because it was his daughter's birthday. I felt it was my duty, pissed as I undoubtedly was when I arrived back in Ashton at around midnight, to gatecrash his party to give him my blow by blow account of the game and the trip. Oh, how pleased he and his family must have been to see me rock up that night. I will probably be in much the same state when I arrive home tomorrow night.
COME ON YOU LATICS!!
Enjoy the weekend – I know I will.
Griff