Being a Wigan Athletic fan has never been easy.  I'm sure fans of every other team think the same about their team, but they're wrong; it's a proper nightmare, supporting Wigan Athletic.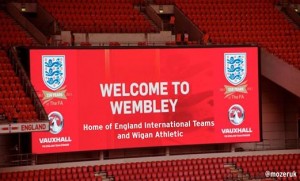 For example, right from the start, from the club's non-league days, fans of the football club have had to put up with the "Wigan is just a rugby town" nonsense from those outside the town and had the relative successes of the rugby league team rammed down its throat from within the town.
Yes, a very thick skin has been required to support Wigan Athletic over the years, particularly during the period of the late 80s through the early 90s. This was a time when the football club was close to going out of business, yet the rugby league team was simultaneously winning the Challenge Cup umpteen times on the bounce and making Wembley Stadium its second home.
The chances of Wigan Athletic making Wembley its second home are fanciful in comparison, of course. Every year, ninety-two professional clubs, plus plenty non-league teams, compete for the chance to get to Wembley in the FA Cup final.  In rugby league's Challenge Cup, about two dozen teams vie for the same honour each year, only about three of which are any good. You do the math. It ain't that hard to get there.
So, it is nigh-on impossible for Wigan Athletic to get to Wembley at all, isn't it? However, against all those odds they did it three times last year; an FA Cup semi-final, the Final itself and then the Community Shield in August. They will be there again at least once more this season in the FA Cup semi-final, with an outside chance of another trip for the final and a yet more realistic chance of making it back in May for an end-of season play-off final.
Huge, so-called, massive clubs, like Newcastle United, Leeds United, Aston Villa, to name but three, would kill for this kind of familiarity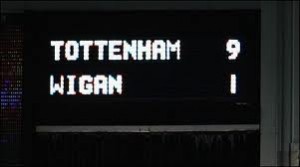 with Wembley. Yet Wigan Athletic keeps delighting its small, but loyal and growing core support, with the odd act of impudence that rocks the football world. You see, we expect to lose at home to Canvey Island in the Cup, we expect to lose 9-1 to Tottenham and we expected to get beaten 4-0 every single time we played Man United and, consequently, we weren't really shocked when these things happened. Disappointed yes, but not shocked.
Of course Wigan, like many clubs, has a history of giant-killing exploits that we can tell the grandkids. Not many clubs, though, have as many "how the hell did that just happen?" moments like Wigan has had in recent times. Here are some of my more memorable ones. They're not hard to pick, really. I'm sure all Latics fans have their own other, specific and treasured memories. As usual, I came up with mine without giving it too much thought at all.
Wigan 1 Man U 0 (11/4/12) – We were supposed to stay in the Premier League for just the one season and then politely sod off whence we came. We overstayed our welcome for eight seasons in the end, and in each
of those campaigns, we got battered 4-0 twice by Man United. Except when we didn't. This one! I have a soft spot for United and so a win over them was all I ever wanted out of our Premier League adventure. Thanks to Sean Maloney, I eventually got it. It being a school night though, the celebrations were not as extensive as they might otherwise have been.
Arsenal 1 Wigan 2 (16/4/12) – Still giddy and disbelieving, the following Monday we travelled to London to the Emirates expecting to be right royally shafted up the Arsenal, as usual. Jordi Gomez – founder member of Scapegoats R Us – had left his script at home, however, and he and Franco di Santo set us up for a win that, if anything, was even more unexpected than the United victory five days previously.  Not quite as unexpected as spending a couple of hours post-match quaffing the Emirates' finest red wine in the company of John Motson with my erstwhile co-writer, Jonny Fairclough, mind.
Everton 0 Wigan 3 (9/3/13) – we travelled to Goodison Park on a bright Saturday morning, fully expecting the wheels of our FA Cup run to come loose.  Within four, frankly unbelievable, first half-minutes we were three up and coasted through the second half to book our place in an eminently winnable semi-final against Millwall at Wembley. The day could only have been bettered if it had been the red half of Merseyside that we beat as I have to admit to having a bit of a soft spot for Everton, too.
Man City 0 Wigan 1 (11/5/13) – With Millwall duly dispatched in the semi-final it was time for us to play the role of cannon-fodder to the billionaires from Man City. A more one-sided FA Cup final there was never likely to be. On our mini-bus trip down to Wembley, during the usual round of score predictions I declared that I would have been happy with a respectable 3-0 defeat. Oh me of little faith! There are beings on Mars and other far flung planets that are now fully familiar with Ben Watson, thanks to his last-gasp winning goal. It was arguably the biggest shock in Cup Final history and sparked the Jordi of all celebrations,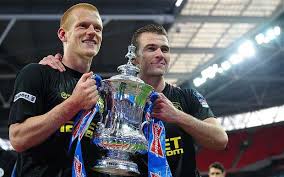 tempered only by the breaking news shortly after the final whistle that Dave Whelan had apparently broken his leg.
Man City 1 Wigan 2 (9/3/14) – Not content with winning the FA Cup against all the odds, Wigan went about defending their crown in admirable fashion.  When it got down to the last eight and we were still in it, it was nailed on that we would draw City or Arsenal and, sure enough, we were summoned to The Etihad Council House last Sunday. This time, I was prepared to settle for a 4-0 reversal – I really have no right to call myself a fan at all! Yet again, Jordi and the rest of the boys left the script at home and, after hanging on grimly for the last half an hour or so, we were off to Wembley again for a date with Arsenal. Of course, we drew Arsenal… it couldn't possibly have been Sheffield United, could it? That would be far too easy. Just four teams have beaten Man City at the Etihad this season; Chelsea, Bayern Munich, Barcelona and now, Wigan Athletic. Just about sums up this remarkable club, does that.
See you under the Wembley Arch… again!
Griff