Tomorrow is FA Cup 3rd round day, the day when the big clubs from the  top two divisions of English football join the oldest and most famous knockout  cup competition in world football . Although the competition has been underway since September,  the first Saturday in January is when all fans start to dream about their club getting to the final and looking forward to a trip to Wembley in May. Wigan's campaign starts with what should be a relatively easy home tie against League One side Bournemouth, though recent FA Cup experience tells us that we should take this one for granted at our peril. As a curtain-raiser to tomorrow's "entertainment" at the DW Stadium, here are some of my past  Wigan Athletic  cup tie memories.
Latics v Peterborough, 1970-71 – To the best of my knowledge – and although I really should know this for an irrefutable fact, sadly,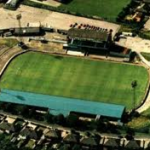 I do not – this was the first ever football match I attended in person. I was five years old and Wigan were a non-league team playing in the Northern Premier League. A home victory in the first round against fellow non-league team South Shields secured another home tie at Springfield Park, this time against Peterborough United.  I don't remember too much about the game other than the smell of newly-cut grass and tobacco that for me became synonymous with football grounds and stayed with me until the do-gooder nanny state banned smoking in stadiums. Wigan won 2-1 and secured a third round away tie at the mighty Manchester City, a game which was to become my second ever live football match in early January 1971. Wigan performed heroically on the day at Maine Road but couldn't quite prevent City from prevailing in the end. Some things just don't  change.     
Everton v Latics, 1979-80 – Victories in home replays following away draws in the first and second rounds against Blackpool and Northwich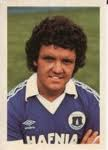 Victoria respectively earned Wigan the dubious honour of a trip to Stamford Bridge to take on First Division side, Chelsea.  In one of the most famous results in Wigan's history,  Tommy Gore's thunderbolt of a winning goal earned a fourth round tie just down the East Lancs Road with Everton.  15,000 Wigan fans were part of a huge 51,000 crowd at Goodison Park to see Everton ultimately run out comfortabe 3-0 winners. For me, the game was most memorable for my one and only act of football hooliganism. As Everton defended a corner at our end of the pitch, I hurled a fifty pence piece towards John Bailey, the Toffees' left back, who was guarding the far post. The coin caught him perfectly on the back of the head and I regretted my cowardly and mindless act immediately.  Not as much as I regretted it twenty years later, however, when I became an oft-times drinking buddy of John's in the Railway Hotel in Liverpool. It took me quite a while to pluck up the courage to tell him what I had done to him all those years earlier but, when I eventually did, he was perfectly fine about it. Until I asked him to return the fifty pence, that is.        
Latics v Chelsea, 1984-85 – Five seasons on from that famous 1-0 victory at Stamford Bridge, Latics were once  again drawn to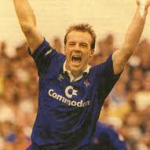 play away at Chelsea in the third round of the FA Cup. There was to be no giant-killing this time, although we lived to fight another day by battling to a 2-2 draw in West London.  Unusually, the replay took place on a Saturday afternoon and a decent crowd of just under 10,000 showed up to hopefully witness another Latics cup upset. Unfortunately, it was a thoroughly focussed and professional Chelsea side that showed up instead and ruthlessly brushed Wigan aside.  They raced into a 4-0 half-time lead before easing off to eventually win by 5-0. Kerry Dixon gave a masterclass in finishing by helping himself to four of the five goals. It was an utterly anti-climactic end to two weeks of fevered anticipation. And to think that I had travelled "all" the way back from Preston Poly to watch it!
Latics v Canvey Island, 2000-01 – After years of Wigan enjoying a reputation as one of the game's biggest giant killers, the boot was on the other foot in November 2001 when Canvey Island came to the JJB stadium for an FA Cup first round tie.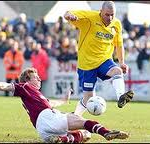 Wigan were struggling in the lower reaches of what was then the Second Division that season, and so could hardly be considered to be a huge giant, but still, to lose to Canvey Island was unthinkable.  However, our relatively pampered "star" players were clearly not up for it on the day and the Essex boys sensed blood. This was especially true of Canvey's ex-West Ham and Liverpool full-back, Julian Dicks, who spent the whole of the first half terrorising the big girl and poor excuse for a footballer that was Paul Dalglish. Dicks scared Dalglish so much that he swapped wings for the second half to avoid coming into contact with him. It was the footballing equivalent  of hiding behind the couch when Doctor Who was on TV and the Daleks appeared – or was that just me who did that? We played the whole of the second half with ten men and the last ten minutes with nine following two senseless red cards and, with two minutes left, Neil Gregory grabbed the winner for Canvey. It ensured another weekend of humilation by media, but at least the defeat distracted from the parlous attendance figure of under 4,000. Well, it almost caused a distraction. We still were roundly – and righly – abused for the rubbish crowd, as well as the defeat.           
Latics v Notts County, 2009/10 – Having beaten Hull easily in the third round, Wigan plucked the plum draw of Notts County away.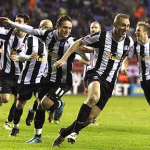 It was a Wigan supporter's dream tie;  an away trip to a proper old football ground, an opponent that was three divisions below us who were on the brink of financial collapse, an ex-jalibird, Lee Hughes, within their ranks to gratuitously abuse all afternoon,  and the expectation of a comfortable passsage to the next round. What could possibly go wrong? Well, what went wrong was Notts County taking a two-goal lead from which we just about managed to salvage a draw and take them to a replay at the DW Stadium.  In the replay we performed even worse, and two conceded goals – one a comical own goal from our new star signing, Gary Caldwell – in three second-half minutes ensured that we would not make the fifth round of the cup, yet again. And once more, the media took  great delight in abusing both our performance and our meagre crowd.
In the two competitions sinced that debacle we have exited the cup to local rivals Bolton in the third round and to bottom division Swindon Town last season. There's not a chance that lightning can strike for the umpteenth time against Bournemouth on Saturday is there? Is there?! 
Please Roberto, don't pick the stiffs!
Griff