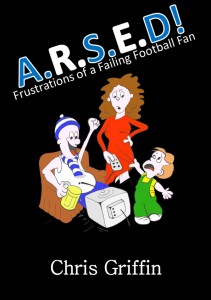 A.R.S.E.D! is my second book and is now available to buy. Ostensibly, it is about my obsession with football and my attempts to balance that with the responsibilities of my real, grown-up life.
It deals with my attempts to avoid as many chores and domestic duties as I can in order to watch as much football, live or on TV, as possible. It tracks my thoughts on Wigan Athletic and football in general throughout the last World Cup season as the unthinkable happens; namely that there is simply too much football going on and I may well be falling out of love with it.
But mainly, as with my first book, it is an excuse to tell some stories. I think it will appeal to lads and lasses alike, as it considers the arguments from both sides of the football gender divide.
The foreword, kindly provided by FA Cup winner with Everton and Wigan Athletic legend Matt Jackson, contains an extremely harsh assessment of my footballing knowledge and prowess and is probably best disregarded.
"A.R.S.E.D! Following a Failing Football Fan" is ready to order online right now from www.lulu.com. Please see below for the available formats, links to order online and prices.
Paperback – Priced at £6.99. Lulu does charge a couple of quid for delivery as the book is printed and despatched on demand.
PDF – Priced at £1.99, download and read immediately on your PC or other mobile device.
e-Book – Priced at £1.99, you will need some free software to read this format, downloadable at the time of purchase. The e-Book is currently only available from Lulu but will shortly be available via the iBookstore, Nook and on Amazon Kindle.
You can also find here on Lulu copies of  my first book, Virgin Parents – What It Doesn't Say On The TIn, in all three of the above formats