Matt Jackson, an FA Cup winning captain at Everton yet less successful centre-back at Wigan Athletic, has kindly agreed to assassinate my character in my new book, A.R.S.E.D!, which will go on sale later this week. Here is Matt's kind contribution for the foreword, reproduced in all its unedited glory: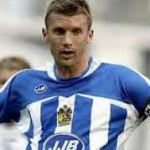 Professional sportsmen are very privileged to be able to earn a living from playing the sport they love.  As footballers, we are well aware of the sacrifices, financially and domestically, that fans often have to make to support their team both home and away, and very often question the sanity of those that do.  Here at Wigan Athletic, and indeed at all football clubs, players (well the ones with any sort of conscience) appreciate those sacrifices and efforts very much indeed and some of us even stoop so low as to mix (occasionally) with the likes of Griff.
Griff's story is written with an honesty that I am sure he is well aware may embarrass him deeply before his peers. Unfortunately, despite the dedication to the Wigan Athletic cause, such embarrassment does not prevent the same individual having the temerity to "demonstrate" his own "football skills" in the shadow of the DW Stadium while adorned in the national strip of Brazil on a regular basis. Such behaviour immediately renders his utterances (and there are plenty) on team and individual performances inadmissible.
However, as long as he and all our other magnificent fans continue to do everything they possibly can to support the team as well as they have over many, many years, everyone at Wigan Athletic Football Club will be forever grateful.
Matt Jackson