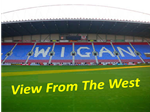 Finally, well as near as makes no difference, the football season is over and done with. In truth, Wigan Athletic's abject season ended a long, long time ago. It was around last November, in actual fact, but we managed to drag it right out until the penultimate game of the season.
It ended, inevitably, with relegation, the second time that has happened in the last three seasons. For a lot of Wigan fans, dropping to League One represents an unmitigated disaster. For others, who have seen some very dark days watching Latics, it is nothing more than a mere bump in the road; a notable, if not noteworthy, checkpoint on the timeline of the club's history.
And it isn't all bad news. Relegation has its plus points. For one thing, season tickets prices –already amongst the cheapest in the country – have seen no increase whatsoever.  Also, for me personally, this coming season will be a completely new experience – whether it's a good or bad one remains to be seen – as my son has signed up for his first ever Latics season ticket and will have the dubious pleasure of sitting amongst the moaning Stadler and Waldorf characters in the West Stand.
So, it will all be new to him this campaign. The false dawns and blind hope, followed by the feeling of impending doom, and the all too tangible feelings of frustration and, ultimately, disappointment. That said, in addition to being able to spend some quality time with my lad that doesn't involve me simply watching him play Xbox and Wiiu games, this coming season will hopefully have a number of other redeeming features.
New squad – It's fairly obvious that the incumbent squad of players hasn't exactly covered itself in glory for last two seasons. Our new embryo chairman has promised us young, hungry players  – probably classmates of his from school or uni – to propel the club back to the Championship and beyond. His first signing? A 32-year old yard dog who played in the midfield for the one team that was worse than us last season. Attaboy, young Sharpey, go get 'em!
Away games – Many Wigan fans have shrugged off, and fronted up to, recent relegations by claiming that they prefer to be in the lower leagues anyway because the away day experience outside of the santised world of the Premier League is a much cheaper and preferable proposition. What is for certain is that trips to Bury, Rochdale, Oldham, Fleetwood and Blackpool (again) will be better days out than Chelsea, Southampton and Newcastle. And much easier to win. Apart from Newcastle, of course, which would still have been a guaranteed six points.
Winning games (?)  – As proud as we were of our eight Premier League seasons, and the historic European campaign and the FA cup victory, Wigan Athletic fans have essentially endured a decade of continually losing football matches. I have sold the idea of a Wigan season ticket to my FIFA15-mad 10-year old son on the – rather rash – promise of us actaully winning our fair share of games this coming season. Only time will tell if I have been lying to him.
FA Cup – This can't be right, can it? FA Cup winners as recently as 2013 having to play in the first round of the competition? Are winners not exempt from the early rounds, in perpetuity? Even Preston don't have to worry about it until the third round of the 2015/16 competition and they haven't won the FA cup – or any trophy, actually – since about 1638. Still, hopefully we will draw some really awful non-league team in round one, beat them, and then draw another one in round two and beat them too. Both away ties, obviously.
Losing fans – Every team is bound to lose some of its not-so-diehard fans following a relegation. When this happens, it is the job of the management team to try to retain on the way down as many as possible of the fans that were gained on the way up. I see it slightly differently. A reduced fan base gives the rest of us a bit of breathing space. For example, more parking spaces outside the pub, less pressure crossing the bridge on the way home, shorter queues for the bogs at half-time, etc. That said, I'd settle for the three herberts that sat directly behind us last season to sod off and support Preston now that they've been promoted. They would appear to deserve each other.
See you at Gigg Lane – Griff